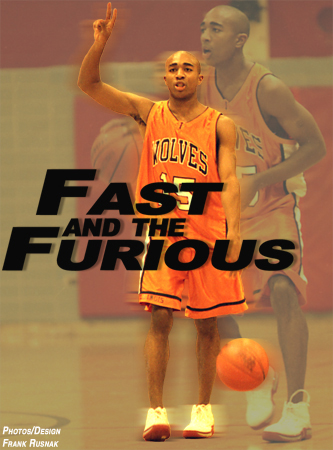 Niles West's Jarryd Loyd is considered by many as the state's
quickest player He will play at Valparaiso next year.

Loyd runs Niles West into win column
--1-27-04--
By Frank Rusnak
After spending a summer together, Niles West's Jarryd Loyd and Sead Odzic both have improved on their weaknesses. But who is to thank for their refinements?
---
"I've never seen anyone as quick as Jarryd. ... We've never had a dominating point guard like Jarryd."
Dave Genis
Niles West Coach
---
The school's security guards, they said.
"I think we obviously have some of the best security guards in the state," said Loyd, a 6'0" point guard committed to Valparaiso. "They would let us come in and they'd be shooting with us half the time. I think it made us better just because we had to go through so much adversity just to work out over the summer."
Loyd and Odzic, a 6'3" junior sharp-shooter, are teammates on 12-5 Niles West and best friends off the court. The combo just finished leading the Wolves through the toughest part of their season: against Von Steuben, Evanston and Westinghouse in a seven-day span that ended Saturday. The team came out with only one win, against Von Steuben, but fell to Westinghouse by only two points and to Central Suburban South rival Evanston by eight. All the work the team has done this high school season falls back to their efforts in the off season.
Throughout the summer, while Niles West was having work done on its gymnasium, the pair, along with an occasional friend or teammate, would workout at the school's fieldhouse at all hours of the day.
"We'd be there every day during the summer," Odzic said. "We'd wake up, go work out, then go out and have some fun. Then we go back and workout again."
These backcourt mates had nothing handed to them over the summer.
"It was honestly 150 degrees in the fieldhouse," Loyd said. "It was burning up and we'd work out. Sometimes weights would be missing, we'd have to do push ups. We'd climb a wall to get the music on. We'd be there about five hours between summer camp and working out on our own."
As Niles West hosts its own sectional this year, if Wolves coach Dave Genis hopes for his team to reach the United Center Super-Sectional, he will rely heavily on the leadership of Loyd.
"He's matured quite a bit on the floor," said Genis, of Loyd. "He's got control and he's got the respect of everyone on the floor."
Odzic and Genis agree Loyd is the quickest player in the state. And Genis said his three-year varsity starter has helped revolutionize basketball at the school.
"I've never seen anyone as quick as Jarryd," said Genis, who is in his second year as head coach and has been at the school the past 16 years. "We've always kind of struggled in our program for so many years with our ability to bring the ball up the floor. We've never had a dominating point guard like Jarryd."
Loyd and Odzic, who has been on varsity since his freshman year, helped the Wolves to a 25-3 record last season and the school's first Central Suburban League South Division title since 1976.
Heavily recruited, Odzic said wherever Loyd chose to go to school, that he would be that much more likely to follow to the same place.
"We are always together," Odzic said. "We are real close. He's my best friend."
Before they begin planning a possible reunion in college, they first have plans to go Downstate for the Class AA Elite Eight.


Copyright © 1999-2000
High School Elite, All rights reserved.