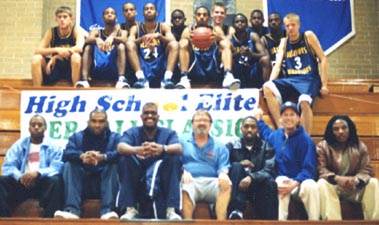 2003 Champion Illinois Warriors. Coach: Larry Butler.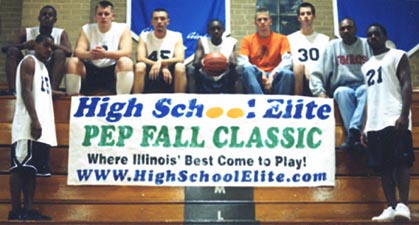 Second Place Team Bloomington. Coach: Dodie Dunson.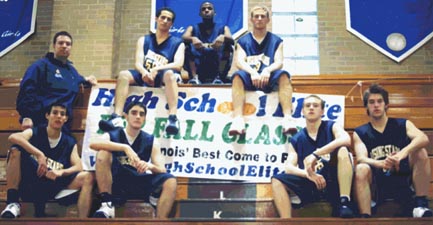 Consolation Champion Rising Stars. Coach: Mike Weinstein.
2003 HSE/PEP Fall Classic Recap
By Frank Rusnak
In an action-filled weekend at Riverside-Brookfield High School for the fourth annual High School Elite PEP Fall Classic it was only fitting that the championship game be decided on a last minute call.
With the Illinois Warriors up 49-48, Team Bloomington's 6'7" Tim Gould grabbed a missed shot from teammate Dodie Dunson. With one second remaining, Gould was put to the free-throw line for two shots. Missing both shots, Gould's teammate, 6'3" Wesley Ware (Bloomington H.S.), grabbed the rebound and went back up for a quick put-back. The basket, however, was waived off as the refs said time already expired, and the Illinois Warriors grabbed its first title at the HSE/PEP Fall Classic.
In command for the Warriors was 6'1" junior combo guard Brandon Ewing. Ewing, the MVP of the tournament, finished with 15 points in the championship game, including a perfect 7-for-7 from the free-throw line.
"This tournament was great," said Ewing, of Chicago Julian. "It was one of the top tournaments and it had a lot of competition."
Team Bloomington is a squad that Ewing was all too familiar with in the championship game.
"I've been playing against those guys since seventh grade," he said. "It seems like they've got pretty much the same guys. They have great chemistry. I always take notes from Dodie, he leads his team really good."
Dunson was held to only six points in the championship game.
"Dodie was sick," Dunson's father and coach, Dodie Sr. said. "He didn't want to say anything to me because he knew I wouldn't let him play if I knew, but we took him to get checked out by the doctor [Monday]."
With a temperature hovering around 103-degrees, Dunson did however average 14.25 points for the tournament in his team's four games. They included wins against the Illinois Wolves, Illinois Warriors II and Old Gold in a rugged, physical semifinals match.
"I thought the basket was good from my angle that I saw," said Dunson, about the deciding call in the championship game. "[The Warriors] stepped it up at the end though just to get the win."

Hot Shots:
Team Bloomington's Tim Gould knocked down five three-pointers (six total) in the first half of one game. Gould is a 6'7" senior wide body from Tri-Valley High School.
In the loser's bracket, with his team down by two points, Jonathan Scheyer (Glenbrook North) of the Illinois Warriors II got the ball with only seconds left. Set on leading his team to a victory, Scheyer pulled up for a three-pointer to give his team the win with one of the gutsiest shots of the tournament.
High School Elite's Tim Green hit five three pointers (seven total) in the second half of a game. Green is a 6'3" junior combo guard from Chicago Simeon.
Down four points to MeanStreets in the quarterfinals, High School Elite's Andre Muse (Thornwood) was fouled shooting a three-pointer. With three seconds on the clock, Muse buried the first two shots, purposely missed the third where his teammate, 6'8" Rudy Chestang (Richards) grabbed the offensive rebound and made the put-back as time expired to send the game into overtime. MeanStreets Brandon Long (Rich Central) then put the game away with eight clutch points (two three-pointers) in the two-minute overtime.
Rising Stars II's Grant Supernaut had 22 second-half points (24 total) in one game. Supernaut is a 6'5" junior small forward from Palatine.
Old Gold II's Tyrone Kent scored a tournament-high 33 points in one game. A 6'5" junior from Chicago Crane, Kent, however, was unable to lead his team to any wins.


All-Elite Teams


First-team All-Elite Team members, Jonathan
Scheyer (left) and Angel Santiago were
two stars of the tournament.




1st Team
6'3" Jason Richards 20.75ppg Rising Stars
6'1" Angel Santiago 17.25ppg Demons
6'4" Jonathan Scheyer 15.2ppg Warriors II
6'2" Dodie Dunson 14.3ppg Team Bloomington
MVP 6'3" Brandon Ewing 11.5ppg Warriors

2nd Team
6'3" Nate Minnoy 18.7ppg Old Gold
6'3" Tim Green 14.4ppg High School Elite
6'1" Brandon Long 13ppg MeanStreets
6'4" Sterling Williams 11.3ppg Warriors
6'2" Wesley Ware 10.8ppg Team Bloomington

3rd Team
6'5" Grant Supernaut 17ppg Rising Stars II
5'11" Stephon Hannah 13ppg Old Gold
6'7" Cyrus Tate 11.7ppg MeanStreets
6'8" Julian Wright 10.6ppg Warriors II
6'0" Teddy Toliver 10.3ppg Team Bloomington

4th Team
6'6" Christian Cornelius 17.5ppg Wolves
6'3" Jordan Morris 15.7ppg Gunners
6'3" Matt Corning 13.25ppg Rising Stars
6'4" Andre Muse 10.4ppg High School Elite
5'8" Maurice Acker 9ppg MeanStreets

5th Team
6'5" Tyrone Kent 25ppg Old Gold II
5'11" Willie Walker 15ppg Wolves
6'6" Dustin Warfield 15ppg Gunners
6'7" DeMarr McKnight 12.3ppg GT Peoria
6'2" Brandon Holtz 12ppg Team Bloomington

6th Team
6'4" Jeremy Fears 25ppg RBS All-Stars
6'5" Brian Nussbaum 14ppg RBS All-Stars
6'1" Terry Jeffries 13.5ppg GT Aurora
6'5" Emanual Gator 13.5ppg Rising Stars II
6'5" Paul Warren 10.7ppg Demons II


Copyright © 1999-2000
High School Elite, All rights reserved.