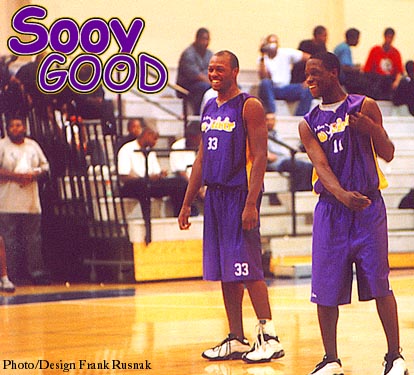 Richard McBride (left) and Dan Ruffin laugh it up on their way to leading
Ft. Sooy No Limit to the championship of the third annual
High School Elite PEP Fall Classic.
High School Elite PEP Recap
By Frank Rusnak
With a record seven overtime games (two double OTs) the first day, the third annual High School Elite PEP Fall Classic held extreme depth with the entire 16 team field.
In a final four pitting the RBS All-Stars versus the Chicago Demons on the top and the Illinois Fire and Ft. Sooy No Limit on the bottom, the finals were sure to be a memorable one whichever way the cards fell.
First place Ft. Sooy No Limit: Left to right, Verdell Jones, Brandon Lee, Sam Kleber, Eli Patten, Dan Ruffin, Rodney Edgerson, Ray Williams, Richard McBride, Aaron Williams, Ollie Harrison, Shaun Livingston, Dodie Dunson and Artie Jones.
The Demons barely edged out RBS in the top bracket while being led by 6'5" junior Ryne Hamblet (Von Steuben). In the bottom bracket, Ft. Sooy had redemption on its minds dating back to a tournament in New York during the summer, in which the Fire topped them. Ft. Sooy outlasted the Chicago-based Fire behind the play of tournament MVP Richard McBride (Springfield Lanphier).
In the championship game, it was only both team's fourth game of the tournament (second of the day) so fatigue didn't come into play, although Ft. Sooy's Shaun Livingston (Peoria Central) felt under the weather.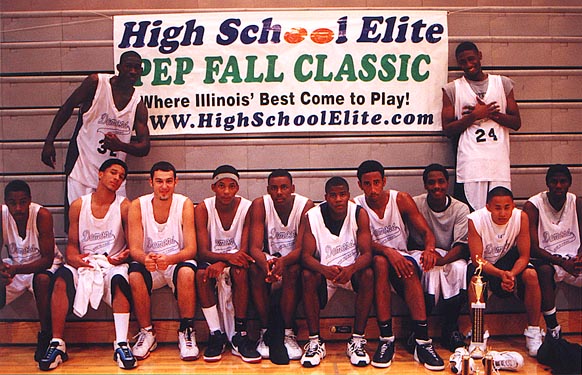 Second place Chicago Demons: Left to right, John Gardner, Demetrius Evans, Bryon Johnson, Michael Gardner, Temi Soyebo, Ryne Hamblet, Angel Santiago, Michael Roche and Vince Carter.
The Demons consisted of all players from Von Steuben High School, which is considered one of the early favorites as the top squad in Chicago. Holding the lead for the majority of the game, the Demons went into half-time with a 33-30 advantage.
The Demons junior combo of Hamblet and fellow 6'5" forward Demetrius Evans did their best to keep their team ahead with 14 and 20 points, respectively. However, Ft. Sooy never said die, fighting back for the lead as the time drained out of the game.
Consolation champion Illinois Warriors II: Left to right, Mel Waulkamp, Ian Jones, Phil Lubin, Jonathan Scheyer, Julian Lott, Cyrus Tate, Travis Leonard, Julian Wright, Mark Gant, Billy Parrish, Justin Dentmon, DeAaron Williams, Kathy Boone and Larry Butler.
Otherwise quiet for the tournament, Ft. Sooy's Brandon Lee (Peoria Central) lit the nets up for a team-high 14 points (three 3-pointers) in the final game. In the waning seconds, McBride connected on a bucket close to the hoop to edge out the Demons for the title, 63-62.
Both teams featured two undercover players that are quickly developing reputations for themselves in Von Steuben's 6'1" senior point guard Temi Soyebo (Demons) and Danville's 6'5" junior Ollie Harrison (Ft. Sooy).
In the loser's bracket, the Illinois Warriors II team overcame the Illinois Gunners. The Warriors were led by its forward combination of 6'5" junior DeAaron Williams (Limestone) and 6'7" sophomore Julian Wright (Homewood-Flossmoor). The Gunners were paced by its three-headed monster of 6'1" senior Cedrick Middleton (Marian Catholic), 6'5" senior Marcus Medsker (Quincy) and 6'6" junior Dustin Warfield (Peoria Richwoods), which caused fits for its opponents.
Once again, the High School Elite PEP Fall Classic proved to be a good proving ground for a vast majority of the state's top players and AAU teams, while allowing many previously hidden gems a platform to shine.
All-Elite Teams


Shaun Livingston gets ready to put
the moves on Julian Wright.

1st Team
6'1" Cedrick Middleton 23.3ppg Illinois Gunners
MVP 6'3" Richard McBride 20ppg Ft. Sooy
6'5" Ryne Hamblet 16ppg Chicago Demons
6'6" Shaun Livingston 9.75ppg Ft. Sooy
6'8" Shaun Pruitt 21.5ppg Troy's Warriors

2nd Team
6'2" Aaron Jackson 18ppg RBS All-Stars
6'3" Chris Hobson 29ppg Illinois Wolves
6'3" Anthony Harris 25.3ppg High School Elite
6'5" DeAaron Williams 12.6ppg Warriors II
6'8" Lorenzo Thompson 16.5ppg Illinois Fire

3rd Team
6'1" Temi Soyebo 12ppg Chicago Demons
6'5" Demetrius Evans 18ppg Chicago Demons
6'6" Dustin Warfield 19ppg Illinois Gunners
6'6" Florentino Valencia 13ppg Illinois Fire
6'7" Julian Wright 15.6ppg Warriors II

4th Team
6'3" Jimmie Miles 12ppg Illinois Fire
6'4" Ollie Harrison 12ppg Ft. Sooy
6'5" Marcus Medsker 13.3ppg Illinois Gunners
6'7" Eric Vierneisel 12ppg Warriors I
6'8" John Smith 12.25ppg Rising Stars

5th Team
5'9" Julian Lott 9ppg Warriors II
5'10" Dan Ruffin 8.5ppg Ft. Sooy
6'1" Angel Santiago 10.6ppg Chicago Demons
6'4" Jeremy Fears 18ppg RBS All-Stars
6'5" Dameon Mason 9.7ppg Illinois Fire

6th Team
6'0" Casey Rothing 13.75ppg Rising Stars
6'4" Jawond Gage 16ppg Illinois Wolves
6'3" Vondrick Ware 13.5ppg Peoria Elite
6'1" Eric Gray 9.3ppg High School Elite
6'8" Kevin Chester 6ppg RBS All-Stars
High-point games at the High School Elite PEP Fall Classic

| | |
| --- | --- |
| 36 Anthony Harris - High School Elite | 26 Cedrick Middleton - Illinois Gunners |
| 35 Richard McBride - Ft. Sooy | 24 Shaun Pruitt - Troy's Warriors |
| 32 Chris Hobson - Illinois Wolves | 24 Demetrius Evans - Chicago Demons |
| 29 Cedrick Middleton - Illinois Gunners | 23 Lorenzo Thompson - Illinois Fire |
| 27 Dustin Warfield - Illinois Gunners | 23 Jawand Gage - Illinois Wolves |
| 26 Chris Hobson - Illinois Wolves | 23 DeAaron Williams - Illinois Warriors II |


Copyright © 1999-2000
High School Elite, All rights reserved.