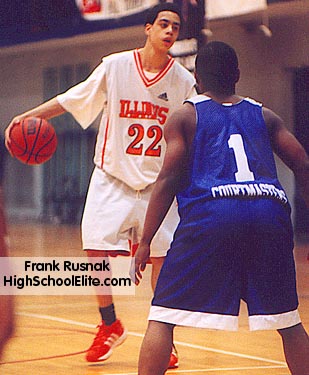 With the addition of Justin Cerasoli (above) and Michael
Binns, West Aurora is loaded with talent. But will the rest
of the puzzle come together by March? Only time will tell,
but here is a look at the top teams before things get going.
In-depth look at top teams
By Frank Rusnak
1. Peoria Central - After failing to lose a game all summer, this team has showed superior coaching, chemistry and team play than everyone. While junior guards Shaun Livingston (Peoria Richwoods) and Brandon Lee (Peoria Manual) are new to the equation, they play with many of the Central players during the summer and have teamed together in junior high. Everyone knows their role on longtime-coach Chuck Buescher's squad, and expect senior point guard Dan Ruffin to direct this team out of Peoria -- to Peoria, for the Elite Eight. Watch for sophomore center DeAndre Miranda to play a vital role with this team at 6'7" with a developing body.
2. West Aurora - Talent wise, they are second to none. They have showed in the past there is confusion as to who is the No. 1 option when the team needs a bucket down the stretch and that has hurt them. Adding stud transfers in 6'4" junior point guard Justin Cerasoli from Providence St. Mel and 6'7" senior power forward Michael Binns from Whitney Young add depth and more scoring options. Marquette-bound Dameon Mason will operate from the wing with junior guard Jaeh Thomas and junior post Shaun Pruitt a tough inside-outside combo. Pruitt is injured again this season, this time with a fractured bone above his right ankle -- not expected back until the KMOX on Dec. 12 at the earliest -- which will set back the chemistry even more.
3. Crane - This has been the year the Cougars have been pointing to since 1999. With five seniors starting, experience won't be a worry. DePaul-bound Lorenzo Thompson, a 6'8" post, is smooth with the ball as a good passing big man who prefers to hang out on the perimeter. Picking up the slack in the post is 6'6" Florentino Valencia, a hard-nosed workhorse. Running the point guard position is 5'11" Carl Marshall who is getting recruiting interest from the Pac-10. Look for Jamale Tidwell and Tremel Gilot to round out the starting lineup with stud freshman, 5'9" Sheron Collins to make his mark off the bench.
4. Proviso East - Losing Mr. Everything Dee Brown to graduation, the top player in the state, Shannon Brown, looks to pick up the pieces. In the backcourt with Brown will be Nebraska recruit Charles Richardson, who is the glue for this team. Illinois state-bound center Ronnie Carlwell will help clog the middle, along with versatile junior, 6'5" Nick Brown. Sophomore Phillip "Mickey" Perry at 6'1" should complete the starting five.
5. Whitney Young - After losing their coach Lamont Bryant two weeks before practices start, the Dolphins look to pick up the pieces and make a run at State. A senior-laden team, watch for 6'2" combo guard Anthony Harris, 6'3" shooting guard Andre Knox, 6'5" small forward DeWitt Scott and, if he plays, 6'7" post Dwayne Curtis (Auburn). Fellow seniors, 5'10" point guard David Howard and 6'5" power forward Norman Winn are coming off injuries, but will help greatly when healthy. Watch for junior swingman 6'4" Sterling Williams to contribute.
6. Von Steuben - Youth and size may be the this team's downfall, but skill, athleticism and team chemistry far outweigh the negatives. As the team's lone senior starter, Temi Soyebo, a 6'1" point guard, will lead the club. At 6'5", the junior combo of Demetrius Evans and Ryne Hamblet provide the team's only interior presence, but come full with length and athletic ability. Super sophomore Angel Santiago will start, and look for 6'3" junior Bryon Johnson to provide a spark. Watch for senior shooting guard Brandon Davis who is capable of catching fire from beyond the arc. Others that look to contribute are Michael Gardner, Steven Keys and Michael Roche.
7. Springfield Southeast - The top team in Springfield, the Spartans return all five starters led by the do-everything 6'7" senior Marcus Heard. Senior Ty Johnson will operate from the point guard position and can do damage in a variety of ways. Tony Wheatley, a 6'2" guard and Asa Clayborn, a 6'5" forward, round out the senior starters. Tommie Collier, a 6'3" battering-ram of a guard brings his football skills onto the hardwood, coming off a sophomore year finishing second on the team in scoring to Heard.
8. St. Rita - Three Division players and the Mustangs should be a state contender on paper. Last season, they went through the entire year without finding the right chemistry to bring them over the top, but have shown much improvement towards the end of the summer. Toledo-bound point guard Rashay Russell, Bradley recruit, 6'8" Michael Rembert and West Virginia signee 6'7" Jerrah Young combine with 6'1" shooting guard and small forward Bill Bendoraitis and Kevin Carrol.
9. Evanston - Team chemistry, smart play and senior leadership are all advantages going in favor of the Wildkits. Northern Illinois-bound point guard Michael McKinney will run this team while looking for a breakout year. Ivy League-recruit Austin Brown will join McKinney in the backcourt at 6'3". Another player that has the eye of the Ivy League is 6'7" post Jonathan Blakley, an athletically dominating player with superior strength. Senior Quo Vandis Harper looks to add size and versatility at 6'6".
10. Carbondale - The Terriers are the most talented and athletic team from Downstate this year. Senior Maurice Gibbs and junior Justin Dentmon are the ones that most know about, but this team is much deeper than that guard combination. Senior center Anthony Cathorne at 6'7" is athletic, mobile and a defensive backstop. Also, 6'1" senior track star - - is close to the level of Gibbs athletically -- plays an aggressive brand of ball.
---
Class A Top 10
Robinson
Mt. Carroll
Rock Falls
Madison
Manley
Prairie Central
Paris
Teutopolis
Tolono Unity
The Latin School
---
11. Thornwood - Losing its coach, Kevin Hayhurst, the Thunderbirds will need to regroup quickly. The three-headed backcourt of seniors Eric Gray, Geremie Allison and Maurice Montgomery can take this team far. Adding in 5'10" sophomore Lonte Ward and 6'6" sophomore Darnell Westbrook give the team youthful exuberance.
12. Bartonsville Limestone - Coming back this year with loads of experience, Limestone is ready to compete as one of the top teams in the Peoria area. Stud junior 6'5" DeAaron Williams does a little of everything for this team with the freedom to operate on the perimeter as well as the post. Throw in a handful of other versatile and athletic players and you have yourself a team looking to the Elite Eight.
13. Homewood-Flossmoor - Size and versatility are not a problem for the Vikings with 6'7" sophomore Julian Wright and 6'6" junior Brian Nussbaum. Add in 6'7" feisty junior post Cyrus Tate and not to many teams can match up with H-F's interior. In the backcourt will be 6'0" guards Excell Hardy and sophomore Freddie Barnes.
14. Westinghouse - The defending state champions lost a lot in coach Chris Head (now at Proviso West), seniors Darius Glover, Jamaal Brown and Richard Russell, but will regroup quickly. Youth may be the team's downfall, but behind new head coach, and former assistant, Quitman Dillard, the team will not fail for not trying. Junior swingman 6'4" Jamarcus Ellis and 6'7" sophomore DeAndre Thomas provide size and skill to fill the opponents hands. Senior post, 6'8" Bryon Booker has the capabilities to be a good player if he applies himself.
15. Springfield Lanphier - The state runner-ups lost a lot from last year, but 6'3" shooting guard Richard McBride, committed to Illinois, will not let this team fall too quickly.
16. Centralia - An Elite Eight finalist last year, look for 6'6" junior Matt Shaw to keep this team on top after the dismissal of long-time coach Rick Moss. Watch for 6'1" senior guard Anthony Jones.
17. St. Joseph - Returning a large part of their team from last year, the Chargers will look to 6'5" Chris Hart for an inside presence and the backcourt of 5'11" sophomore Tony Freeman and 6'1" Akeem Miskdeem for scoring.
18. Hubbard - Look for the Greyhounds to surprise many after a spectacular summer. Led by three versatile seniors in 6'4" Othyus Jeffers, 6'5" Reggie Bates and 6'5" Maurice Jackson, coach Calvin Holiday has big expectations for this season. This team has the ability to get out in front of teams fast, and when they get a lead are usually good at holding it with good ball movement and smart play.
19. Rich Central - Already possessing a good young team, the Olympians have now acquired all of Homewood Christian's stars. With fear that the small Christian school would not house a team, 6'3" senior Jimmie Miles (assuming he wins his eligibility appeal to the IHSA), 6'5" senior Patrick Ivy and 5'10" senior Alex Fudge have transferred. They join 6'6" junior Mike Harrington and 5'10" sophomore Brandon Long.
20. Rockford Guilford - They were almost without their star player. But when 6'3" shooting guard Aaron Jackson decided to stay with the Vikings, the prospects for a NIC-9 title increased dramatically. Averaging 18 points per game last year as a junior, Jackson is the only returning starter along with Zach Rice. Zach's twin Jordan and senior guard Brian Horton will provide an added punch this year.

21. Sandburg - A senior-led team, 6'9" Chris Rega, 6'7" Mike Applegate and 6'3" Jim Hoffman look to lead this team to a SICA West Title under first-year coach Dan Lange. With chemistry and experience behind them, look for the Eagles to make their mark this season, as the school has been pointing to this year for a breakout year for quite some time.
22. Fenwick - Jason Okrezisk, a 6'0" passing whiz committed to Rice, is the leader as a four-year varsity player. Also look for 6'4" junior Vince Humphrey, an athletic sharp-shooting lefty.
23. Schaumburg - Two years ago crowned the state champions, juniors Zach Pancratz and Craig Reichel remember their trip Downstate vividly and are hungry for another one.
24. Pekin - The junior tandem of Matt Hagen, a 6'9" post, and Jeremy Crouch, a 6'5" swingman, will be asked to carry a large load this year.
25. Quincy - Marcus Medsker is the leader on the court for this team. At 6'5", Medsker has one of the state's best outside shots and can also put the ball on the floor. Look for fellow seniors 5'11' point guard Brad Loncor, 6'0" shooting guard Tony Humphrey and 6'3" swingman Bryce Bushmeyer. Also watch for 6'5" sophomore Allan Douglas to contribute.
26. Bloomington - Scoring guard Brandon Smith can do a little of everything at 6'4". Sophomores Dodie Dunson and Brandon Holtz bring energy to the backcourt.
27. Zion Benton - One of the best backcourts in the state, Andre White and Julian Lott will not back down to anyone. White, a Wisconsin-Milwaukee recruit, is a 6'1" ex-football player with superb skills. Lott is a feisty guard with a knack for scoring.
28. Hyde Park - It was only a matter of time before Hyde Park make its mark, and this year, advancing to the Red Division, they will shine. An immensely talented team, look for 5'10" Stephon Hannah to shine, coming off an all-conference sophomore season that saw him average 24 points a game. Senior guard Ronnel Owens and 6'6" post Stephano Jones provide leadership. Hannah will receive support from what is a very solid junior class with 6'3" off guard Marvin Lee, 6'4" wing forward Mark Easley, and if could get his mind right 6'7" junior forward Antero Gardner will be a Division I player.
29. Hillcrest - No doubt about who the on-court leader is with Mr. Triple Double himself Shelby Jordan. The 6'3" senior has been a varsity player since his freshman year. Also expected to start are sophomores Maruice Aker, a 5'5" point guard, and Gerell McNeil, a 6'4" swingman. Look for 6'2" Marquis Smith to have an impact as well.
30. Lake Park - This team is young but not inexperienced. Almost the entire team returns from last year including 5'10" junior lead guard Andy Mack. Also look for 6'4" gridiron star Ryan Cibulka, along with sophomores 5'8" point guard David Mikrut and 6'7" post Chad Meyer.


Copyright © 1999-2000
High School Elite, All rights reserved.