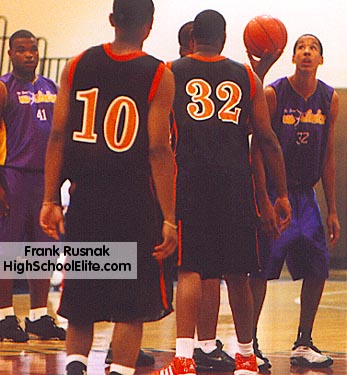 Shaun Livingston (far right) jumps center in the semifinals
of the High School Elite PEP Fall Classic on Sept. 28.
Livingston led Ft. Sooy to the title of the event.
Jumping to center stage
By Frank Rusnak
While riding his bike, with his winter gloves on, at church, the grocery store, even while in bed, Peoria's Shaun Livingston constantly had his basketball with him while growing up. Like an extension to little Shaun, where he was the ball would never be far behind.
---
"I came home and [Shaun] was throwing the ball off the garage, against the stairs, trying behind the backs, doing the two ball drills."
Reggie Livingston's
Shaun Livingston's father
---
"We'd drive in the car and I'd drive real slow in the parking lot and he would dribble out the window," said Shaun's father, Reggie. "He thought that was real neat. We did a lot of stuff like that."
A junior, Shaun began high school at Peoria Richwoods as a 6'0" lead guard. He has retained his point guard abilities even while growing to his current size of 6'6".
Shaun has since decided to transfer out of Richwoods due to indifferences with Knights' headman Bob Darling.
"I wish Shaun well," said Darling. "He's a great talent and I'm sure that he's going to reach his highest potential someday. Sometimes people need a fresh start and that's probably what's best for Shaun."
The hype that surrounded Shaun's transfer to the cross-town rival Lions was unusual for someone who had little to no effect on their high school's success while they were there.
Spending two years on Richwoods' varsity, Shaun was played sparingly, when healthy. But the only thing is, times when he was completely healthy, were few and far between. Plagued by pneumonia, a broken pinkie bone on his right foot, a broken right wrist, a pulled tendon in his left leg and an ankle three times sprained, Shaun never found his niche with two talented Richwoods teams.
Both of his years at Richwoods, the team was a top 10 squad in the state and his freshman year, the Knights advanced Downstate to the Elite Eight.
"I matured a lot from my freshmen through sophomore year, and that helped with a lot," said Shaun. "My sophomore year was a good season, but I got into it with my coach a little bit. There were a few differences and we had to work things out. I didn't quite always know what he needed out of me as a player."
When the relationship between Shaun and Coach Darling didn't look like it was getting any better, that is where the move to Central came in. Excited about his new school, Shaun is attending the alma mater of his father and Godfather/AAU coach, Verdell Jones.
But why the hype about an injury-prone, skinny-as-a-pole point guard? To understand the hype, and the validity behind it, you must go back to when a star was born.
Not when he came out of Roosevelt Junior High (Concordia Lutheran) as the most hyped player in the past 20 years of basketball-laden Peoria, not when he led Roosevelt to an eighth grade city title -- as a fourth grader -- and not even at the beginning of his serious relationship with that girl(?) named Spalding.
This brings you back to the prodigy's infant days of when he was working on those A B C's with the kiddies.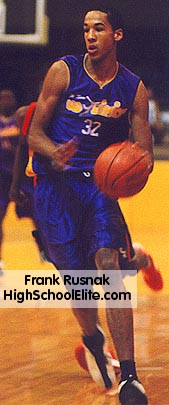 "He wanted to play Y ball at the YMCA," said Reggie, who coached a team at the time.
Giving his son a chance, he let Shaun play a couple of games that day. But the result was not flattering.
"He played like a dog," honestly admitted Reggie. "He had two points. He was terrible. So we went home that same day, with one ball then two balls, and did drills."
As the sang goes, you can only lead the horse to the water, but you can't force it to drink. This was the case with Reggie and Shaun, father and son. Son had a bad game, father told him what he could do to get better. Yes, son could listen to father's advice and work his little, shorty butt off. But, in the same breath, some kids might be torn apart inside after a poor performance against their peers. They might be discouraged to pursue that activity if they do not succeed at the start. They might lose the love before it was even officially had.
This was not the case, however, as Reggie found out to his unbelieving eyes as he arrived home from work that next day.
"I came home and he was throwing the ball off the garage, against the stairs, trying behind the backs, doing the two ball drills," said Reggie. "I was surprised."
That is when the love was ingrained into little Shaun. He could've put down his fighting gloves and retorted to the callings of a different sport, a different activity, a different game. But, no, he picked up the gloves, and sent for backup. Never ceasing to improve on his game, he drew closer to it each and every day. Watching "Pistol" Pete Maravich, Magic Johnson, Larry Bird and just about any other videos of players he could get his hands on, the love had been ingrained deep into him.
"I liked to watch a lot of those movies and I was a little copy cat," remembers Shaun. "When you see one of those moves that the pros do, your little and short, you want to do what they do. I watched all those tapes and would take little things from their games. Then, when I got older it came natural to me."
Natural is an understatement. With his game better suited for an And 1 video, Livingston is a Hot Sauced-Headache waiting to happen.
Playing at Roosevelt, Shaun was with current teammates at Central such as Brandon Lee, who transferred this year from Peoria Manual, Jacob Mottler and Dan Ruffin, the brother of the NBA's A.J. Guyton. Under Coach Lee Powers, Shaun was able to shine at an early age, when he helped the eighth grade team to a city title in the lightweight division in his fourth grade year. It was then, that people started to take notice of this basketball wizard with the invisible string attached to the ball.
"Just the way he ran the team and so savvy for his age," recalls Reggie. "He's been playing with high school kids since he was in fourth grade. He played Frankie (Williams; fellow Peoria product and NBA player) and Frankie would kick his butt, but that would make him better. He loves Frankie though, and he kind of molds his game after him."
Playing against high school kids since fourth grade, matching up against Frankie Williams as a shorty, are you starting to understand the hype now?
Rated among the best for his class coming into high school, he coasted through those first two years with the injuries and illnesses, but now has put his name back on the radar with his AAU team, Ft. Sooy No Limit.
"My teams doing really good, but with myself putting me back on the map, that puts our team on the map," said Shaun. "While I'm here I want to get Peoria on the map. Everyone's always talking about Chicago, but I want us to be known as a basketball city where we produce some talent as well. Not everyone comes from Chicago."
Shaun proved that Peoria cannot only hang with Chicago, but maybe with anyone in the country on one weekend during this spring.
Running the point for Ft. Sooy at the prestigious Spiece AAU tournament in Fort Wayne, IN on May 3-5, Livingston guided his team to the title of the 48-team senior division, defeating Ohio Red in the championship game. Teamed with highly recruited rising seniors Richard McBride of Springfield Lanphier and Brian Randle of Peoria Notre Dame, Shaun displayed an uncanny ability with the basketball in his hands and was rewarded as MVP of the event.
With this the first time that he's truly been healthy throughout his high school career, Shaun is looking for big things at his new home at Central.
In the third game of the year for Peoria Central (3-1), they were upset by Bartonville Limestone, but regrouped quickly. In its next game against defending Class AA state champion Chicago Westinghouse, the Lions traveled to the Windy City and walked away with a decisive 59-46 victory. The win was the first game Central played with Lee, who didn't suit up in his new team's first three games while the IHSA investigated his situation -- eventually coming up empty, allowing him to play. In the game, Livingston finished with 17 points and eight rebounds, while Lee added stifling defense and 12 points.
"I think we were really looking to redeem ourselves after the Limestone loss," long-time Central coach Chuck Buescher said after the Westinghouse win. "Shaun and Brandon are going to fit in just nicely."


Copyright © 1999-2000
High School Elite, All rights reserved.