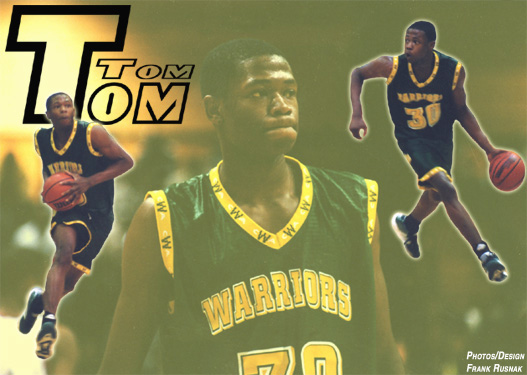 Westinghouse senior Jamarcus Ellis is will lead his team against Simeon for the city title
on Monday. What Ellis is referred to by his friends are his nicknames of Tom Tom and Tone Tone.

Fighting through adversity
--1-22-04--
By Frank Rusnak
With a father that was stabbed to death when he was 6 and a mother that passed away from lung cancer when he was in eighth grade, Jamarcus Ellis hasn't had an easy upbringing.
---
"He can bring everything; he can pass, he can shoot, he can do it all and that's what we were missing over the summer."
DeAndre Thomas
Westinghouse Center
--on teammate Jamarcus Ellis
---
With five brothers and one sister, Ellis tries to look out for his younger siblings and make sure they don't go down the wrong path.
"It was hard for me (losing my parents), but I had to be strong for my little brothers and sisters with me being the oldest," Ellis said. "I just try to make sure they go the right way and don't fall into the streets."
For that reason in particular, Ellis was disheartened to hear rumors circulating over the summer that he was hanging with drug dealers and mixing with unsavory people.
Ellis commits to the fact that all those rumors are completely false and the reason he was missing summer basketball tournaments was because he was in summer school.
When he reappeared on the basketball court for this season, there continued to be no denying his effervescent skills.
"He's just talented," said junior teammate DeAndre Thomas. "He can bring everything; he can pass, he can shoot, he can do it all and that's what we were missing over the summer."
Ellis has yet to achieve a qualifying ACT score to go along with his 2.6 grade point average. If he improves his ACT score, he has a pair of Big 12 teams he is in contact with: Oklahoma and Kansas.
As Ellis tries to lead his Warriors to a repeat of the state title Westinghouse won his sophomore year he remains focused. He will direct coach Quitman Dillard's team against Simeon in the Chicago Public League city title game Monday (Feb. 23) at the United Center. (Update: Ellis' team went on to defeat Simeon 60-48, giving Westinghouse its third city title in the last five years.) Ellis will always have the respect of Dillard.
"My hat goes off to him," Dillard said. "There's not to many kids that could deal with the trauma that he's had in his life."


Copyright © 1999-2000
High School Elite, All rights reserved.