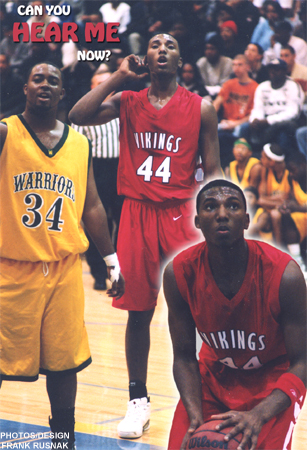 After a slow beginning, Homewood-Flossmoor's
Cyrus Tate has become a terror on the basketball court.

Tate's game now heard loudly
--1-27-04--
By Frank Rusnak
Three years ago, not many would have predicted Homewood-Flossmoor High School's Cyrus Tate would materialize into a Division-I player.
One person who did have the insight to see the possibilities for Tate was H-F coach Roy Condotti.
As a freshman at the south-suburban school, Tate did not see glamorous beginnings to his prep career.
---
"I wasn't the best thing out there. I was decent though. I started because I was tall."
Cyrus Tate
Homewood-Flossmoor Center
---
Standing barely 6-foot-2 and weighing about 150 pounds, Tate was a hardworking starter on the Freshmen-A team, who averaged about two points a game.
"I wasn't the best thing out there," Tate said. "I was decent though. I started because I was tall."
Growing four inches going into his sophomore year, Tate stood a sturdy 6-foot-6 as he was promoted to the varsity.
As a senior on a 24-1 team with serious state title aspirations, Tate has developed into a 6-foot-8, 230-pound menace in the post. The team's hard-working post presence that does the dirty work has committed to Northern Illinois. However, if Tate does not qualify academically he said he plans to attend a prep school. Just as Condotti, an NIU alumnus, never gave up on Tate as a player, he said he is not giving up on him to qualify academically and doesn't want to sell him short.
"There was just something about him," said Condotti, who added that Tate is the first player he has coached who has signed with NIU. "He was just a competitor. He had the long arms and the body and you knew he was going to get bigger."
Since his humble beginnings, Tate's attitude and confidence have changed since his freshman year.
"My teammates, they were always getting on me and being tough on me [as an underclassmen]," Tate said. "Now I'm the toughest person you've ever seen. I just thank my teammates from the past for getting on me a lot."


Copyright © 1999-2000
High School Elite, All rights reserved.