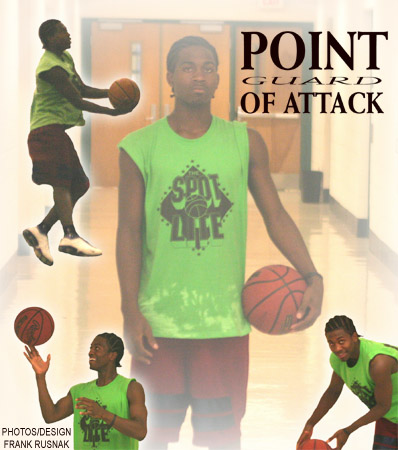 Illinois State-bound Justin Dentmon led Carbondale past
Belleville West on Jan. 20 to give them their first loss of the season.

Clutch performer Justin Dentmon
--2-4-04--
By Frank Rusnak
For Carbondale's Justin Dentmon, when a close game is on the line everything goes into a fog.
"It's like a dream," Dentmon said. "Everything in the game is like a cloud. It's just you and the defender."
Dentmon's late-game heroics have drawn him praise as a big-game player that comes through in the clutch.
"He won probably about six games for us in the two years he's played on the Warriors," said his Illinois Warriors AAU coach, Larry Butler. "You can't teach that."
---
"He won probably about six games for us in the two years he's played on the Warriors."
Larry Butler
Illinois Warriors coach
---
Butler can remember a three-pointer at the buzzer, last second free-throws to win the game and free-throws to send it into overtime where the 6'2" senior point guard has saved a win.
Dentmon showed his abilities in his team's biggest game this season, versus previously undefeated Belleville West on Jan. 20 in the Belleville East Conference Challenge. Belleville West's Xavier Price and Dentmon are two names that are regularly talked about when discussion of the top player in southern Illinois begins. Matched up against the Purdue-bound Price and the Maroon's J.B. Jones, regarded as one of the state's top defenders, Dentmon scored a game-high 25 points including four three pointers in a 70-66 upset.
In the six-team, three-game event Carbondale also defeated Belleville East and O'Fallon while Dentmon averaged 23 points and won the event's MVP honor.
With a 16-4 record, the Illinois State-bound Dentmon has a different role this year for the Terriers.
Last season 6'2" high-rising senior Maurice Gibbs was the team's go-to-player while Dentmon patiently waited in the wings.
"I think he'll do good at ISU if he puts his mind into it," Gibbs said. "Once you get away from home it changes you a lot. He's going to have to put a little more weight on, but everything else is there."
With Gibbs now starring at Moberly Junior College in Missouri, Dentmon has stepped to center stage.
"Last year it would go to Maurice all the time," Dentmon said. "Now I've got to be more of a leader."
Accepting the challenge, the crafty guard has bumped his scoring average up a couple of points and became the team's headman with his affable personality.
Dentmon has matured a lot, said Aaron Lee, coach of the TLC Titans -- a second summer team he has competed with since he was in eighth grade.
"He's got great character and he's gone through some things that make him grow up quickly," said Lee, who Dentmon calls a father-figure. "Understanding that character is a lot more important than skills is something he has done. He was homecoming king [this year] at a predominantly white school. When you can do that it shows that people like you. And he takes that in stride."
Performing at a high caliber during huge games and crucial situations is something else the well-rounded guard takes in stride.
Said Dentmon, "After the game everything comes back into reality and you can hear the crowd."


Copyright © 1999-2000
High School Elite, All rights reserved.