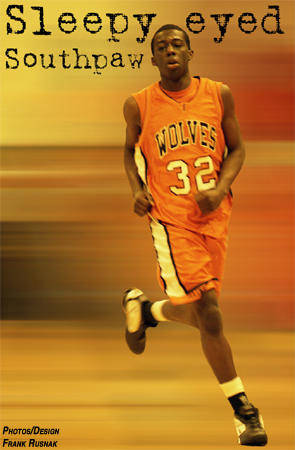 On a youthful team, Vince Humphrey has led
Fenwick to a 14-1 record in 2004 as they face
Oak Park tonight in the Lyons Sectional.

Humphrey wins Lawless Award
--3-9-04--
By Frank Rusnak
On the night of Feb. 27 when Fenwick's Vince Humphrey and Brother Rice's Dave Telander were hanging out on the Southside of Chicago, it was only natural when a mutual friend brought up the Lawless Award.
Given to the Catholic League's top senior, Humphrey edged Telander by one vote for the prestigious award, which they were unaware of at the time.
---
"He is in my top five all-time in just being a winner on and off the floor."
John Quinn
Fenwick Coach
---
"We were just hanging out and playing video games at a mutual friend's house," said Humphrey, an uncommitted academic qualifier. "Another kid brought [the Lawless Award] up and we knew it would probably come down to us two. We were both saying that the other one should get it. I'd say, 'Dave, you really deserve it.' And he'd say 'Oh, Vince, you should probably get it.' But deep down we both really wanted it more than anything."
While Telander, a long-range shooting expert, has helped Brother Rice to its first undefeated conference season ever, Humphrey has not had the supporting cast Telander has.
Humphrey, a three-time All-Catholic League performer, is surrounded by a sophomore and three juniors in the starting lineup.
A 6'4" left-handed shooting guard, Humphrey has seen his numbers almost plateau from last season, but his coach John Quinn said his star has done more than what the stat line shows.
"We lost five of our top seven who were seniors last year," Quinn said. "Now, Vince is the only senior on the floor. He's done a terrific job leading this young group and never letting them get too down."
While Humphrey lives on the south side of Chicago, out of junior high he opted to go to Fenwick which is located in Oak Park, a western suburb of Chicago.
"I live about three minutes from Brother Rice, but I just felt like Fenwick was the best decision for me," said Humphrey, who is being recruited by St. Bonaventure, Evansville, Bowling Green and Rutgers. "I was pretty close to going over there, but I just liked the whole atmosphere more at Fenwick. I just liked the tradition more."
Another of the reasons behind his selection of Fenwick over Brother Rice was last year's starting point guard for the Friars, Jason Okrzesik.
Humphrey remembers seeing Okrzesik, now a freshman reserve for Rice University, at a summer camp when Humphrey was in junior high.
"I watched him growing up and I knew if he was there I would probably go there too," Humphrey said. "Last year I thought we were one of the best one-two combos in the state."
In a supporting role, with Okrzesik taking the leadership role, Humphrey averaged 21 points and five rebounds for a 21-4 team that won the Catholic League North title last season.
This season, he is averaging 20 points and six rebounds for a 20-6 team that plays Oak Park today in the Lyons Sectional semifinal.
"The last three years he had Jason who did most of the ball handling," Quinn said. "This year he's had to become a better ball handler and more of a setter when in the past he was more of a scorer; but he's still our primary scorer. He's just a very heady player and he's the marked man on our team right now, but we are ready for the state playoffs and really playing our best basketball."
All of Fenwick's losses have come to teams ranked in the Chicago area: Brother Rice, Leo, Homewood-Flossmoor, Schaumburg, St. Patrick's and Hales Franciscan. But the Friar's are 14-1 in 2004, with their only loss being a double-overtime game against Hales Franciscan.
If anyone can help Fenwick as deep as they possibly can go in the playoffs, Quinn knows its Humphrey.
"He is in my top five all-time in just being a winner on and off the floor," said Quinn, who has also coached Corey Maggette (NBA), Chris Williams (ex-Ball State player) and Jabari Harris (UIC). He has an absolute determination to win games. This year he's really stepped up as a leader rather than deferring to the older kids. The kids follow him naturally."


Copyright © 1999-2000
High School Elite, All rights reserved.