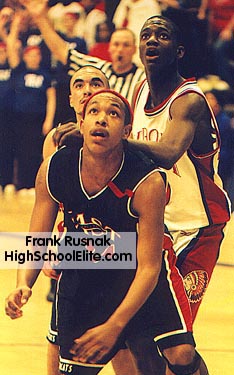 East Aurora's Jarrah Price attempts to block-out
West Aurora's Dameon Mason Friday night.
Brotherly Love
By Frank Rusnak
After West Aurora's 74-54 win over East Aurora on Friday night for a regional championship, the first one to console the Tomcats' leading scorer Travis Brown was Jessie Brown, of the victorious Blackhawks.
Brothers separated by a mere 11 months, one grade and a school rivalry that is, well, more than just a school rivalry, the bond of these two goes deep.
---
"We're not just brothers, we're best friends."
Jessie Brown
West Aurora Reserve Guard
-on his brother who plays for rival East Aurora
---
"We're not just brothers, we're best friends," said the elder Jessie, a senior reserve guard.
While East Aurora was having a terrific season with growing expectations, they didn't plan on losing this early in the playoffs. As a matter of fact, Travis saw his Tomcats' advancing Downstate to the Elite Eight. But if his team were to bow-out this early, it takes away some of the sting when he sees his brother on the other end of the court smiling.
"Now I'm going to support them," said Travis, who finished with a team-high 10 points
"He supports me everyday," countered Jessie. "We were thinkin' whoever comes out of this game is going Downstate."
Travis, the team's starting point guard at 6'1", helped lead East Aurora to a 21-5 record in only his first year on varsity after sitting out last season due to IHSA transfer regulations.
Spending his freshman year at West, Travis saw the trend of transfers coming to West, coupled with school problems, and decided a move across town may be best for him. After a call to his uncle, Wendell Jeffries -- East Aurora's head coach -- Travis had a place to stay and moved out.
"He was having academic and social problems here on the West side," Jeffries said. "His GPA has really come up since his move. He's really got a chance to have a successful year as our main point guard here."
Occasionally, Travis slides over to the two-guard position, like Friday night, and lets Wendell's cousin, Terry Jeffries – a 6'0" junior – take over the lead guard position.
Travis and Jessie joked that there is a conspiracy to make sure their teams meet in the playoffs.
"Last year we were a one-seed and they were eight, now we are one and they are six and we still meet," Jessie said. "They are just trying to get us to play each other."
The similarities between the two brothers are abundant. Their birthdays are separated by seven days, and they both work together at an Acura Auto in Elmhurst detailing cars to support their families. Two years ago, Travis had a baby boy, Traevon, and seven months ago Jessie had a baby girl Janae.
"[Travis and Jessie] hang out and support each other all the time," Wendell said. "They are not only good basketball players, but just great people."
With a capacity crowd of more than 2,400 packed into West Aurora's gym Friday night, chants from the West Aurora Rowdies began as early as 4:35 left in the game of, "Why are you leaving?" to the East side who had many taking early exits to their cars. While No. 1 ranked West was expected to win, a 20-point victory wasn't expected as these two rivals fought it out in an overtime battle earlier this year that West eventually won. East held as much as a 24-16 lead in the first half, but with a bushel-full of high-major level players, West proved too overpowering. With such colleges as North Carolina State, Houston, Iowa, Illinois, Northern Illinois and Ball State in attendance, the Blackhawks put on an impressive run, outscoring East 47-26 in the second half. There were, however, many upsets that did transpire Friday night around the state.

Upsets
At St. Ignatius: (8)St. Ignatius 60, (1)Crane 58. Ian Barney led the Wolfpack with 15 points.
At Bloom Township: (8)Thornton 56, (2)Bloom 55. Donnell Lyons and Robert Bush led the Wildcats with 13 points each.
At Rich Central: (5)Rich Central 55, (3)Homewood-Flossmoor 49. Jimmie Miles led the Olympians with 29 points.
At Schaumburg: (11)Fremd 62, (3)Schaumburg 55. Alex Wereminsky led the Vikings with 18 points.
At Argo: (5)Hubbard 74, (2)Curie 68. Othyus Jeffers led the Greyhounds with 22 points.
At Sycamore: (8)Sycamore 60, (4)Rochelle 49. Andrew Gones led the Spartans with 14 points.
At Loyola: (7)Loyola 50, (2)New Trier 47. Colin Falls led the Ramblers with 18 points.
At Pekin: (7)Pekin 66, (3)Normal Community 60. Matt Hagen led the Dragons with 18 points.
At Neuqua Valley: (5) Waubonsie Valley 56, Neuqua Valley 50. Mason Stewart led the Warriors with 21 points.
At Wheaton North: (5) Wheaton W. South 45, (4)Wheaton North 51. Scott Niedergang led the Tigers with 19 points.
At Villa Park: (7) Glenbard West 64, (2) York 62. Lafeyette Bell led the Hilltoppers with 29 points.
At Jacobs: (5)Prairie Ridge 60, (4)Jacobs 53. The Wolves were led by Brett Cole with 23 points.
At Mt. Prospect: (5)Glenbrook North 68, (2)Conant 60. Jonathan Scheyer led the Spartans with 22 points.
At Grayslake: (5)Lake Forest 50, (3)Warren 49. Danny Hodgkinson led the Scouts with 19 points.


Copyright © 1999-2000
High School Elite, All rights reserved.