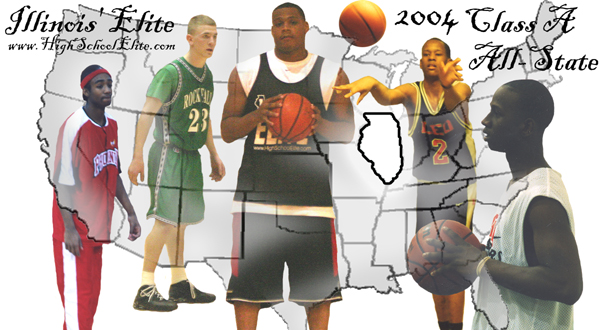 HighSchoolElite.com's 2004 first-team Class A all-state squad, from left,
Jimmy Williams, Isaiah Johnson, Nate Minnoy, Frank Clair and Ray Nelson.
High School Elite 2004 Class A All-State
--4-22-04--
By Frank Rusnak
As crazy of a year as it's been for Class A, it ended remarkably similar to last year.
Hales Franciscan was unable to defend its state title in 2004. Unusual?
Hales coach Gary London began the season serving a suspension. Then Hales was suspended from the playoffs after the IHSA determined they did not comply with the set guidelines accurately enough.
While the Hales Franciscan players were left at home, they supported Leo, a fellow Chicago Catholic League team. Leo used the motivation to bring the title back to Chicago and ran past Winnebago 65-57 in the championship game. The last time a Chicago-area team won the title prior to Hales was in 1985. Now, with Leo's triumph, a Catholic team from the city won it two years in a row. Unusual?
In the playoffs, outside of Frank Clair -- the only Class A player to sign with a Division I school at the time – Leo was led by senior Tracy Robinson. A 6'7" point forward who came into high school at 5'11", Robinson did his damage off the bench as his team's sixth man. Unusual?
The only team in Illinois, in either class, to finish with an undefeated regular-season record was Cairo. Finishing at 29-0, Cairo was led throughout the season by Brandon Childs, who had a pending court date for felony charges of aggravated battery and attempted robbery of a 65-year-old woman on July 18, 2003. Unusual?
Childs entered a guilty plea March 30 to a single misdemeanor charge of attempted theft of property not exceeding $300. Because of the plea, his other charges were dismissed.
Cairo took its perfect record into the regional finals against Massac County on Feb. 27. After the completion of that very heated game, a 64-61 Massac County win, a brawl ensued. More than 30 police officers responded, Mace was sprayed and five people were hospitalized including Cairo coach Larry Baldwin. Unusual?
After review by the IHSA and nation-wide scrutiny to the town in the southern-most tip in Illinois, Cairo was suspended for the 2005 postseason. Unusual?
Many questions still are left to be answered. Hales Franciscan returns its entire team with the exception of senior Jerod Haynes. But will its star Nate Minnoy transfer after getting in trouble after the end of the season? Century, a preseason favorite to win the 2005 title, still needs to find as a replacement after firing coach Andy Palmer. The tallest player in the state, Latin's Kenny George still needs to get a college to play at. After he was the first Class A player to commit to a Division I school prior to the season, George has since backed out from his verbal to Valparaiso. The 7'5" center is still searching. Very unusual.
1st Team-
Frank Clair 6'6" senior Leo

The first Class A player to sign with a Division I university, Clair led his team to a 27-5 record and a state championship. In the 65-57 title-game win over Winnebago, he saved his best for last and had a game-high 25 points on 10-of-13 shooting as he was nearly unstoppable. On the season the Northern Illinois-bound forward averaged 14 points, seven rebounds, two assists and shot 47 percent from the field.

Nate Minnoy 6'3" junior Hales Franciscan

Consistently the state's most unstoppable Class A player, Minnoy was unable to help the Spartans defend its state championship of 2003 after being barred from the post-season. He did, however, help guide his team to a 20-6 record while using his Charles Barkley-style of play to give opponents fits. On the year he averaged 19 points, 12 rebounds, five assists and three steals.

Ray Nelson 6'2" junior Century

Possibly the best thing for Nelson was beginning the season with his cousin and star teammate Josh Tabb on the sidelines with an injury. While Tabb was gone for his team's first seven games Nelson tore up the nets for several 30-plus point games. And when Tabb came back healthy, Nelson just kept right on going to the tune of 25 points, six rebounds and five assists while shooting 63 percent from the field. Century ended with a 22-5 record and lost in the regional championship to Eldorado.

Isaiah Johnson 6'0" senior Rock Falls

This four-year starter was one of the state's top scorers. With a no-nonsense attitude on the court, Johnson used his gritty demeanor to blow past defenders and finish strong at the hoop, but was also able to rely on his marksmanship abilities from beyond the three-point arch to cripple opponents. He ended the season averaging 21 points for a 28-3 team while guiding the Rockets to the super-sectionals against eventual second-place finisher Winnebago. Committed to Iowa Western Junior College.

Jimmy Williams 6'3" senior North Lawndale

His school's all-time leading scorer, Williams' season was ended by Leo, the eventual state champions, in a 58-54 overtime affair in the sectional championship. This smooth guard with a sweet pull-up jumper averaged 22 points, five rebounds and four assists on the season. An academic qualifier, he may wind up going to a national-level junior college if he doesn't get the offers he's looking for. Committed to Independence (KS) Junior College.
2nd Team-
Daniel Maddox 6'8" senior Pinckneyville

While the Panthers lost to Massac County in the super-sectionals, the highlight of their and Daniel Maddox' season may have come on Jan. 31. Facing Hales Franciscan, the defending state champions at the time, Pinckneyville and Maddox didn't exactly greet them with open arms at Dick Corn Court. The Spartans went back to Chicago with a last-second 65-63 loss while Maddox finished with a game-high 30 points on 12-of-13 shooting from the field and 6-of-6 from the free-throw line, including four in-your-face dunks. On the season Maddox averaged 13 points, five rebounds and two blocks while shooting 57 percent from the field. Likely headed to a junior college.

Jerod Haynes 6'1" senior Hales Franciscan

He was the starting point guard on the Spartans' state championship team in 2003. While Hales was barred from this year's playoffs, it had the biggest effect on him as the only senior starter. He overcame the lack of publicity that is usually gained in trying to help his team to the state finals and committed to Idaho after receiving interest from DePaul. He averaged 18 points and eight assists on the season while helping his team to a 20-6 regular-season record.

Devan Bawinkle 6'4" sophomore Winnebago

Showed clutch play while playing with an all-senior lineup in garnering his team second-place honors at the state tournament. This versatile guard had clutch free throws against both Rock Falls in the super-sectionals and St. Anne in the quarterfinals to help his team pull out victories. He helped his team to a 31-2 record while averaging 14 points, six rebounds and four assists while shooting 54 percent from the field.

Brandon Childs 6'0" senior Cairo

Was the leader of his team performing the unthinkable: an undefeated regular season. However, his team was upset, 64-61, in the regional finals against eventual Elite Eight finisher Massac County. He averaged 19 points, five assists and four steals for a 31-1 ball club. He'll likely head to a national junior college powerhouse.

Josh Tabb 6'3" junior Century

He began the season missing his team's first seven games with a fractured left wrist. After he came back he averaged 20 points, eight rebounds and four assists while shooting 62 percent from the field. He made his first season appearance on Dec. 27 coming off the bench to help his team survive a 17-point deficit to Galatia with all 10 of his points in the fourth quarter. Century finished with a 22-5 record after losing to Eldorado in the regional championship game. This slashing guard will be one of the state's most coveted players by college recruiters next season.
3rd Team-
Jordan Delp 6'0" Mt. Carroll

After helping his team to a second-place finish in 2003, Delp led his team almost single-handedly -- he was his team's only returning starter -- to a 17-11 record this season. He averaged 26 points, five rebounds, three assists and two steals. This sharp-shooter lit up the nets to the tune of 50 percent from the field and 40 percent from three-point range.

Josh Simpson 6'1" senior Tri-Valley

Well, Simpson and Tri-Valley began and ended the season just how they didn't want to, but other than that they were perfect. After starting the year with a season-opening loss to Mahomet-Seymour, the Vikings finished the season with a super-sectional loss, 51-43, to St. Anne. The high-scoring guard led the team with 20 points and seven rebounds en route to a 20-2 record.

Micah Lavender 6'0" Peoria Christian

This wiry guard helped his team to a fourth-place finish at the state tournament. An acclimated scorer, he averaged 15 points and five rebounds while shooting 51 percent from the field. Peoria Christian ended with a 30-5 record after falling to Quincy Notre Dame in the state tournament's third-place game.

Joel Brown 6'0" senior Springfield Calvary

The son of Calvary coach Phil Brown, Joel finished his prep career with 1,660 points as a four-year varsity player. This season he helped the Saints to a 23-7 record with averages of 20 points, seven rebounds six assists and two steals. He shot 44 percent from the field and 36 percent from three-point range. His career came to an end in a regional final loss to Illini Central.

Evan Busen 6'4" senior Brown County

This hard-nosed banger led Brown County to a 27-2 season before losing to eventual third-place finisher Quincy Notre Dame in the sectional finals. He averaged 18 points, 10 rebounds and four assists in leading the Hornets.