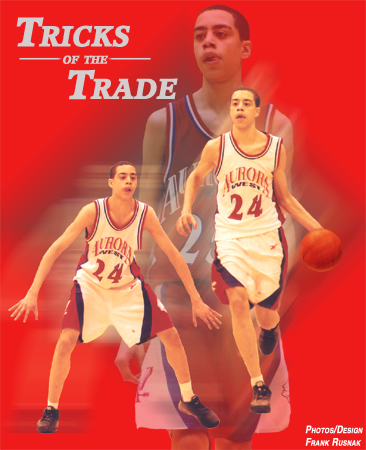 Justin Cerasoli advanced to the Elite Eight for his second time in helping
West Aurora to a third-place finish this season. As a freshman
he helped Providence St. Mel advance in Class A.

Cerasoli to Seton Hall
--4-9-04--
By Frank Rusnak
No one is going to confuse Justin Cerasoli for Pablo Picasso or Ludwig van Beethoven anytime soon, but what he does on the basketball court is similar in a sense, his father Paul Cerasoli said.
---
"I don't even like And 1. My style of game is just something that I learned from the players that I grew up playing with."
Justin Cerasoli
West Aurora Guard
---
When Justin left Providence St. Mel, a private school in Chicago, for West Aurora after his sophomore year, controversy stirred rampant around the move.
"If there were a student who excelled at violin or piano and made a move where their skill could be cultivated there would be no problems," Paul Cerasoli said. "My feeling with Justin was basketball was that skill, as long as he didn't suffer academically. People think it's different if it's Fine Arts than athletics, but to me it isn't. This is what he loves to do."
Justin has loved basketball since he was given a ball to dribble at age 3. And he has yet to stop dribbling.
Committed to Seton Hall, Justin will have his skills on display at the New York versus Chicago All-Star game at noon Saturday (April 10) at DePaul's Athletic Center. (Update: Cerasoli has since dropped out of the game.)
In this all-star type game, Cerasoli lives for a stage to put his skills on display. However while Justin's game personifies the And I-style of play, he said he doesn't even care for the companies' highlight videos.
"I don't even like And 1," he said. "My style of game is just something that I learned from the players that I grew up playing with. I would watch what they did and then go home and work with it."
For Justin, though, it all began with Isiah Thomas, the Hall of Famer who grew up close to where Justin did on Chicago's West Side.
"Isaiah Thomas was our guy," Paul Cerasoli said "He was so smooth and so good."
When he was younger, Justin enrolled at Thomas' basketball camp held at Michigan's Detroit Country Day High School. The event was for 9 to 12 year olds and of the 200 kids there, Justin won the MVP award. The only thing is, he just turned 9 two weeks prior to the camp.
"He always played up," Paul Cerasoli said. "He was always the small guy."
With both parents 6'3", Justin is no longer "the small guy" and has sprouted to 6'5", but still has a frame that looks like it could be blown away on a windy day in Chicago.
Justin will take his 170-pound body to Seton Hall, which, in an odd string of events has an assistant coach, Billy Garrett, who recruited Justin for both Seton Hall and Providence St. Mel. The former varsity coach at St. Mel, Garrett courted Justin for the Knights when he was in fifth grade.
"It was funny because he always told me when he was on his way out at St. Mel that he was going to be my coach again one day," Justin said. "I didn't even think of it then, but now it's just weird how it ended up."
In 2002, St. Mel, under Garrett's replacement, Tim Ervin, made it to the Class A Elite Eight with Justin as a sophomore starter. Justin was the only non-senior on the team who played, and the next season looked bleak.
That is when he transferred to West Aurora with a team of all-stars, including current Marquette guard Dameon Mason and Illinois-bound Shaun Pruitt. St. Mel went on to a 0-25 record that season.
"If I would've stayed at St. Mel I probably would've been scoring a lot of points, but we probably would've won about five games at the most," Justin said. "But I didn't feel that was going to help me as an individual and for the next level."
Despite a 23-2 regular-season record, West Aurora was upset by Downers Grove South in the first game of the sectionals last season.
"Last year we felt like we just had too many individuals," Justin said. "I was guilty of that too. Everyone more or less was worried about the individual stats, but I feel this year it's all about the team. My one goal this year is to win state."
In addition to the early exit in the playoffs last year, Justin's time at West Aurora has been scattered with obstacles. The biggest of which is Blackhawks' longtime coach Gordie Kerkman, who wasn't raised on the flashy type of basketball that Justin occasionally likes to play with.
"I think he's getting more and more adjusted to our style," Kerkman said. "We keep telling him more substance and less flair. Sometimes he can dress his game up a little more than he has to. But he has the substance too. He's a good player and I'm starting to realize that more."

Rosters

New York versus Chicago All-Star game at noon Saturday (April 10) at DePaul's Athletic Center.

Chicago
New York
Ollie Bailey 6'8" Farragut
Brian Beckford 6'7" Christ the King
Calvin Brock 6'5" Simeon
Keith Benjamin 6'2" Mt. Vernon
Justin Cerasoli 6'4" West Aurora
Bryant Dunston 6'8" St. John Prep
Jamarcus Ellis 6'5" Westinghouse
Sundiata Gaines 6'1" Arch Bishop Molloy
Shaun Pruitt 6'9" West Aurora
Gavin Grant 6'6" St. Raymond
Eric Vierneisel 6'7" Jacobs
Dexter Gray 6'6" Mt. Vernon
Jeremy Fears 6'4" Joliet Township
Randall Hanke 6'11" Trinity Pawling
Gordon Watt 6'5" Evanston
Brian Laing 6'4" St. Raymond
Demetrius Evans 6'5" Von Steuben
Eugene Lawrence 6'1" Lincoln
Stefhon Hannah 5'11" Hyde Park
Courtney Nelson 6'1" Bloomfield Tech
Jerod Haynes 6'0" Hales Franciscan
Ronald Ramon 6'0" All Hallows
Sterling Williams 6'4" Whitney Young
J.J. Watson 6'5" Julian


Copyright © 1999-2000
High School Elite, All rights reserved.