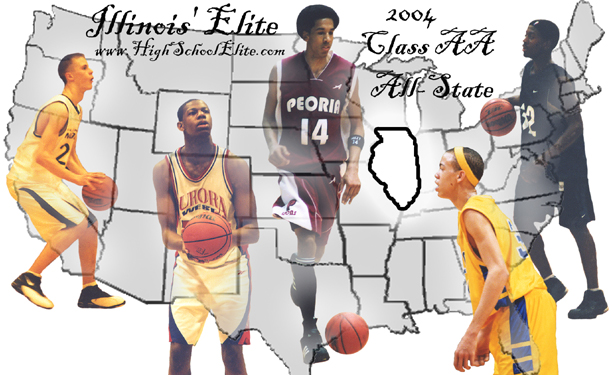 HighSchoolElite.com's 2004 first-team Class AA all-state squad, from left,
Jon Scheyer, Shaun Pruitt, Shaun Livingston, Calvin Brock and Justin Dentmon.
High School Elite 2004 Class AA All-State
--5-2-04--
By Frank Rusnak
Potentially Shaun Livingston is right up there with the best ever to come out of Illinois. It is that potential that is getting Livingston proclaimed as a sure-fire NBA Lottery pick if he declares for The League. Duke coach Mike Krzyzewski extended a scholarship to Livingston on what he could potentially do for his Blue Devils. As a 6'7" point guard, Livingston has potential oozing out of his ears, nose and sneakers.
He showed, however, that he is a little more than potential in leading Peoria Central to back-to-back state titles on March 20. In 2003 he was the guiding force that led the Lions to the title over Thornwood on a driving lay-up with four seconds left in the game. This season he didn't need any last-minute heroics as he pounded the opposition from the beginning, ending with 27 points and nine rebounds.
It is for those reasons and countless others that make Livingston the 2004 HighSchoolElite.com Player of the Year.
Facing a large heap of pressure, expectations and nay-sayers the entire season, he helped Peoria Central to a nearly flawless record. It lost to Indianapolis' Pike during the tail-end of a long, grueling stretch of games, and again to West Aurora right after losing starting center DeAndre Miranda to injury and getting starting power forward Dustin Warfield back from one of his first games back from surgery.
What lies ahead for Livingston could be very spectacular next season. If he's running the courts in Durham, North Carolina or standing next to NBA Commissioner David Stern holding a baseball cap, the future is undetermined, but certainly very bright. Potentially speaking, that is.
1st Team-
Justin Dentmon 6'1" senior Carbondale

The top performer at the state tournament in Peoria, he finished with 78 points in his team's three games, 24 more than the next highest individual. He led his team to a 28-7 record as the only squad to give Belleville West a loss, as Carbondale defeated them twice. His season was ended with a loss to West Aurora in the state tournament's third-place game. He averaged 22 points, three assists and three rebounds while shooting 49 percent from the field and 48 percent from three-point range. He has signed with Illinois State.

Shaun Pruitt 6'9" senior West Aurora

Constant double teams and two other Division I teammates to distribute the ball to helped deplete his statistics a little. Signed with Illinois, he still averaged 16 points, eight rebounds, four blocks and shot 63 percent from the field. He led his team to a third-place finish at the state tournament. His Blackhawks finished with a 32-2 record and went undefeated in the DuPage Valley.


Calvin Brock 6'5" senior Simeon

The surprise of the entire state, this athletic small forward came from a very humble beginning in his prep career. At the start of his junior season he was not even a starter. As this season progressed he proclaimed himself as the state's most improved player in guiding his team to a 26-5 record and Elite Eight appearance. Committed to Illinois, he averaged 22 points, 10 rebounds, five steals, four assists and four blocks.

Jon Scheyer 6'5" sophomore Glenbrook North

The state's second best player behind Shaun Livingston, there were no evident weaknesses to his game. The lone underclassmen on the first-team and only sophomore on the first three teams, he averaged 25 points, six rebounds and six assists in leading the Spartans to a 25-4 record and sectional loss to Schaumburg. As a freshman last season he was his team's leading scorer (16 ppg) and passer (three apg) when he helped the Glenbrook North to the Elite Eight. One of the state's premier marksmen, an almost flawless passer and athleticism that is disguised by his other bountiful skills, he will have his pick of the litter in two years for college.


Shaun Livingston 6'7" senior Peoria Central

Led his team to back-to-back state titles, the first succession of such since Peoria Manual in 1996 and 1997. The rangy point guard had 27 points and nine rebounds in the championship game this year. He averaged 19 points, six rebounds and six assists while shooting 50 percent from the field and 34 percent from three-point range for a 31-2 team. He has signed with Duke but may choose to declare for the NBA Draft as a projected lottery pick.

2nd Team-
Jamarcus Ellis 6'5" senior Westinghouse

Despite being on the varsity only three years, he possibly had the best prep career of any seniors this season other than Shaun Livingston. He finished high school with two city championships and a state title. After following up his city title with a state title in his sophomore year, he was unable to duplicate that feat this season. However, he averaged 21 points, 13 rebounds and five assists in guiding the Warriors to a 28-4 record and 60-48 win over Simeon for the city title. Westinghouse lost to Farragut in the sectional finals to end their season. He is uncommitted.

DeAaron Williams 6'5" senior Limestone

Headed to Wisconsin, he ended as Limestone's all-time leading scorer (1,868) and rebounder (860). In his four years on varsity he helped Limestone, not traditionally known as a basketball power, to a 84-31 record. He averaged 19 points, eight rebounds and four assists this season. To end the year, he knocked off defending state dunk champion Demetrius Evans of Von Steuben in the dunk contest.

Kevin Lisch 6'2" junior Belleville Althoff

One of the most overlooked players in the state, he averaged 24 points, six rebounds, three assists and two steals for a 20-9 team. Four of Althoff's losses came against Belleville West, including a season-ending 78-76 overtime loss in the sectional semifinals. A sterling shooter, he knocked down 158 of 185 free throw attempts (85 percent) and 40 of 75 three-point attempts (53 percent). He is receiving recruiting interest from such schools as Illinois, Kansas, St. Louis and Marquette.

Ollie Bailey 6'7" senior Farragut

A four-year varsity player, he really came into his own during his senior season. He averaged 21 points and 11 rebounds for a 29-4 Elite Eight finisher, losing to eventual state champion Peoria Central. Despite usually making his home near the basket, he showed off an impressive shooting touch going 59 percent from the field, 72 percent from the free-throw line and 100 percent (12 for 12) from the three-point line on the season. A star in the classroom as well, he will play at Rutgers next season.

Jeremy Fears 6'4" senior Joliet

He helped lead a depleted Joliet team to a SICA West Championship with his smooth and effortless play. He averaged 21 points for the Steelmen while taking command of his team from the point guard position. He saved his brightest for the best going for 29 points on 10-of-14 shooting from the field in a four-point loss to eventual third-place finisher West Aurora. Shunning offers from high-major colleges, he signed with Ohio.

3rd Team-
Excell Hardy 6'1" senior Homewood-Flossmoor

Quite possibly nobody started the season hotter than who H-F coach Roy Condotti called his team's top player. Hardy won the MVP award at both the St. Rita Thanksgiving Tournament and Proviso West Holiday Tournament. He averaged a team-best 15 points and three rebounds while shooting 57 percent from the field and 40 percent from the three-point line. He helped guide the Vikings to a 31-3 record and a second-place finish in the state tournament.

Eric Vierneisel 6'7" senior Jacobs

In the best season ever for the Fox Valley, with a handful of Division I capable players, he finished as the best player in conference. He averaged team-bests of 19 points, eight rebounds and six assists as his team's point forward. Committed to California, he showed his outside shooting prowess going to Peoria for the state three-point contest.

Xavier Price 6'3" senior Belleville West

After showing off impressive individualistic skills in three years at O'Fallon, he transferred to a talented Belleville West team coming off an Elite Eight finish. With the Maroons, he molded his game into a team-concept being surrounded by other players of his capabilities. He ended the season with a team-high 17 points, seven rebounds and four assists. Headed to Purdue, he shot 55 percent from the field and 77 percent from the free-throw line for a 28-2 team with its only losses of the year to Carbondale -- the last one being an 81-72 sectional championship failure.

Tommie Liddell 6'5" senior East St. Louis

This smooth lefty averaged 17 points, eight rebounds, four assists and two steals for a 26-5 team. Committed to St. Louis, his season was ended at the hands of a 58-56 super-sectional loss to Carbondale where Liddell led all scorers with 27 points. Late in the season he also spear-headed a near upset victory over national power St. Louis Vashon with 25 points and 11 rebounds in a one-point loss.

Gordon Watt 6'5" senior Evanston

After riding the coat-tails of some very talented seniors in the 2002-'03 season, he stepped into his own this season as one of the state's most improved players. He averaged 22 points, 10 rebounds, five steals and five assists for a 23-5 team. Signed with Boston College, he led Evanston which went undefeated in the Central Suburban League South and advanced to the sectional finals where they fell to Von Steuben.