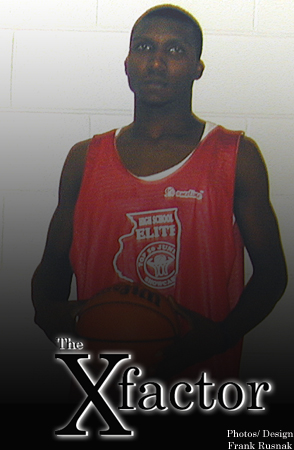 A three-year O'Fallon star, Xavier Price is transferring
and has committed to play in the Big 10.

Price commits and transfers
By Frank Rusnak
Southern Illinois high-flying rising senior Xavier Price has committed to a college, and a new high school for next year, in the same week.
---
"I just want X to have fun for at least one year. For the past three years he hasn't had any fun, period."
Demetrius Price
Xavier's father
---
A three-year starter for O'Fallon, Price verbally committed to play for the Purdue Boilermakers, but only before he spends a year at Elite Eight qualifier Belleville West.
"I just want X to have fun for at least one year," said Demetrius Price, Xavier's father. "For the past three years he hasn't had any fun, period."
'X' averaged 19 points, six rebounds and three assists this season for a 15-14 team, which finished on the lower half of the Southwestern Conference with a 6-8 mark.
Demetrius expects to have a closing on their house within the week, which, from there they'll take up residency in Belleville.
"We have four boys and the house we are in, we've really just outgrown it," Demetrius added. "In hindsight, I wish we would've moved after X finished eighth grade. X is a player where he loves to pas the ball. Now, hopefully, he has some players that can catch the ball and finish."
One who will be able to "catch and finish" – and certainly distribute – is West's returning leading scorer, point guard J.B. Jones. A 6'2" rising senior, Jones averaged 15 points as the conferences third-best returning scorer – behind X and East St. Louis guard Tommie Liddell (15 ppg).
"He gives us another option in our offense," said Jones, who is receiving early college interest from several teams in the Missouri Valley. "He will be a great asset to our offense next year."
Jones talks of an offense that helped guide the Maroons to a 27-6 record. They return Jones and 6'4", 254-pound center Sean McPeak, who averaged 10 points and seven rebounds, to the starting lineup. X will be a welcome addition to the Maroons, who eventually had their season ended thanks to Evanston in Peoria for the Elite Eight.
"I've only been [to the Elite Eight] for the Dunk Contest and it was so fun for that, so I couldn't imagine how much fun it'd be to go down there to actually play," said X.
X will get the chance to experience it in his last year of prep hoops along with Jones, whose friendship has grown since they meet as the only sophomores playing in a varsity tournament two years ago. This year, through X, Jones has joined him on the St. Louis Eagles AAU team, and the two look forward to an entire year together.
Jones describes his experience at the Elite Eight: "There is nothing else like going down there and playing as a team with a packed gym on TV," which X can relate to … sort of.
Through his trip to the Elite Eight in 2001 for the Dunk Contest, X got a small taste of the Original March Madness. He became the first freshman to ever win the dunk contest. While he says it has narrowed some people's opinions of his abilities, where they think he is only an athlete, he wants to let everyone know there is much more to his game this year.
With an improving outside jump shot and the ability to glide through defenses and get to the hoop, he has always known what to do when he gets to the basket. Possessing hands larger than his 6'8", 245-pound AAU teammate Kalen Grimes, X can cup the ball with ease in his accent to posterizing numerous defenders with a thunderous flush.
"Winning the dunk contest is one of the main things that gave me my name," said X. "It's good, but at the same time it's bad when people mention me there's more to my game than just dunks."
He'll have a chance to prove it this year, and he hopes it's with a statewide audience watching in late March.


Copyright © 1999-2000
High School Elite, All rights reserved.