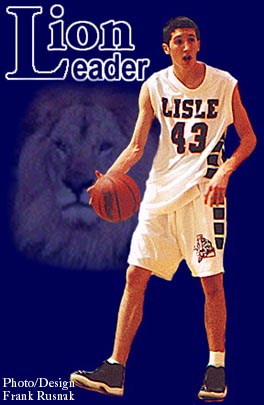 Joe Cortez will join another Lisle-native at EIU
next year in high-scoring Henry Domercant.
Cortez gets prepped for Eastern
By Frank Rusnak
Friday, June 14 marked a blissful day in the Eastern Illinois basketball program, as the Panthers' 6'4" star Henry Domercant mailed a letter to the NBA informing them he will return to Charleston for his senior year. This decision made head coach Rick Samuels and his staff very happy, but one individual in particular was ecstatic.
Incoming EIU freshman Joe Cortez remembers the 2000-01 season vividly when the Panthers made the NCAA tournament. In full support of Eastern, he was rooting especially hard for the fellow Lisle-native Domercant.
---
"I'm looking forward to getting a chance to play with Henry [Domercant]."
Joe Cortez
Lisle High School
---
"I'm really looking forward to getting a chance to play with Henry," said Cortez, who's been attending the EIU Team Camps since he was a freshman. "He's right at that level where he'll be a pro next year. I remember watching [EIU] a few years ago when they made it to the tournament with Henry, so that showed me they got a good system and Henry is a definite pro. With him coming back, I'll be able to see his work ethic and everything, and see what I have to do to get to that level."
With Domercant the nation's second-leading scorer last year with 26.4 points a game, he needs just 135 points to become the Panthers' all-time leading scorer, and Cortez would be delighted to help.
A 6'4" passing whiz, Cortez starred for Class A Lisle as a four-year starter at the lead guard position.
In the Cortez Connection, fellow Illinois prep star 6'5" wing guard Cortez Forte from Lyons Township will join Joe. Forte averaged 15 points, seven rebounds and four steals his senior season for an underachieving 17-9 team, but was a key component in LT getting fourth place at State his junior year.
"[Joe and I] play really well together," said Forte, who will make the three-hour drive to Eastern from the Chicago area with his new friend and teammate on July 7 to workout with the team. "It's going to be a good friendship, I can see that now."
During his senior year, Lisle's Cortez brought the Lions all the way to the Sectional finals before losing to Providence St. Mel.
Guiding head coach Mark D'Amico's team to a 25-4 record his senior year, Cortez amassed team high averages with seven rebounds per game, five assists and four steals. And he displayed his shooting touch by connecting on 60-percent of his field goals and 35-percent of his 3-point tries helping him average 19 points an outing.
"Without Joe, we don't win all our games," said D'Amico. "He's one of those players you can tell by how he plays that he just loves the game."
Indeed, Cortez's love shines through when he's on the court. While he fancies distributing the ball he is a master at deception with the rock in his hands, and has taken a special liking to the point guard position.
"That's my favorite spot, you get the ball all the time, you get to set people up and it's like your running the show," said Cortez, who also played football at Lisle, starting three years on the varsity at wide receiver and safety. "I don't see me playing any other position, maybe I'll play the two (shooting guard) every once in a while, but for the most part the coaches haven't said anything to me other than point guard."
Making his job easier this past season at Lisle was the emergence of 6'2" senior T.J. Parker, the brother of NBA all-rookie performer Tony. The younger Parker made the move with his family from France to Lisle for the start of his junior year. However, it was rough at first with the entire Lisle squad having played together since junior high and him being the "new guy." He managed to average 13 points for that season. This past year, the Northwestern-bound guard was the team's high scorer with a 22 point per game average.
With the T.J. Parker still a regular oversees -- he is playing in Europe this summer -- Cortez and him may hook up again after their college careers for the European professional leagues. But Cortez ideally would like to make a reunion with Domercant.
"That would be my ultimate goal, to get to where Henry is as a pro prospect headed for the NBA," said Cortez.


Copyright © 1999-2000
High School Elite, All rights reserved.