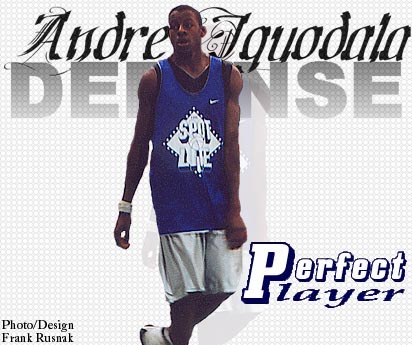 Arizona-bound Andre Iguodala has the defensive
capabilities to shut down almost anyone.
In constructing the Perfect Player, you look for many attributes to make that player superior to others. You need him to be a good scorer, rebounder, passer, ball-handler, shooter, tough on defense, have good athleticism, his leadership abilities have to be second to none and of course he has to have the capabilities to become better with a wealth of potential.

In the next few weeks High School Elite will be taking a look at some of Illinois' top seniors in those particular categories and what it is that makes those players so elite in their own way. Note: Any one player will not be named as tops in more then one category.
Perfect Player: Defense
By Frank Rusnak
Great defenders come in all different shapes and sizes. There are those that can dominate a game with their on-the-ball pressure, or those who protect the basket like it's their home.
Lincoln-Way Central's James Augustine and Crete-Monee's Charles Bass use their length, agility and great timing to block and alter any of the opponents shots that get close to the rim. Rarely letting their defenders score on them in the post, they are also adept at weak side help to guard their basket like a robber is trying to break in.
Joliet Township's Kellen Easley uses his quick hands to pester the opponents backcourt, but also has the length to get into the passing lanes and disrupt the offense before it even gets set. Bloom Township's Joe Chapman is the most clever of players at slipping between his defender and the basket to draw the offensive fall on his opponent with a charge.
Thornwood's Pierre Thomas, Proviso East's Jeffrey Martin, Peoria Richwood's John Little and Schaumburg's Tony Young are some of the premier on the ball defenders with quick lateral movement and the tenacity to rattle their opponents constantly.
One player stands above the rest in the defensive category, however, and that player is none other than Springfield Lanphier's Andre Iguodala. For his state runner-up Lions, he often times wasn't instructed to solely guard his own man, but also to wander the rest of the court and disrupt the other team's intent. Frequently helping out others, rushing back for blocked shots, jumping in the passing lanes, he did it all for his squad. But, when he was asked to have the sole objective to hold the man he was guarding down, and not to let them score, it was defensive greatness. Headed to Arizona next season, he brings with him a similar arsenal, and defensive style as former Wildcat and current New Jersey Net Richard Jefferson. With his long arms, denying style, athleticism and intensity, if Iguodala doesn't want you to score, you won't.
The state's top defenders

| | | | |
| --- | --- | --- | --- |
| 5'8" Adam Teising - Naperville Central | 6'1" Luke Rogers - Von Steuben | 6'3" Sean Dockery - Julian | 6'5" David Moss - Thornwood |
| 5'9" Ray Muskeyvalley - Rock Island | 6'1" Jeffrey Martin - Proviso East | 6'3" Jay McAdams-Thornton - Moline | 6'6" Elliott Poole - Farragut |
| 5'10" Robert Davis - Bloom Township | 6'1" Walter Woghiren - Rich South | 6'3" Jeremy Cartwright - Joliet | 6'7" Rome Sanders - Curie |
| 5'10" Jamaal Brown - Westinghouse | 6'1" John Little - Peoria Richwoods | 6'4" Cortez Forte - Lyons Township | 6'7" Kellen Easley - Joliet Township |
| 5'11" Steve Harris - Rockford Boylan | 6'2" T.J. Parker - Lisle | 6'4" Pierre Thomas - Thornwood | 6'9" James Augustine - Lincoln-Way Central |
| 6'0" Tony Young - Schaumburg | 6'3" George Jones - Robeson | 6'4" Joe Chapman - Bloom Township | 6'10" Charles Bass - Crete-Monee |


Copyright © 1999-2000
High School Elite, All rights reserved.