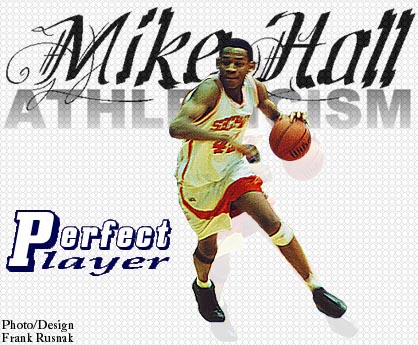 A 42-inch vertical and an 8'7" reach, spell trouble
for the opponents of Shepard's Mike Hall.
In constructing the Perfect Player, you look for many attributes to make that player superior to others. You need him to be a good scorer, rebounder, passer, ball-handler, shooter, tough on defense, have good athleticism, his leadership abilities have to be second to none and of course he has to have the capabilities to become better with a wealth of potential.

In the next few weeks High School Elite will be taking a look at some of Illinois' top seniors in those particular categories and what it is that makes those players so elite in their own way. Note: Any one player will not be named as tops in more then one category.
Perfect Player: Athleticism
By Frank Rusnak
Athleticism is to a basketball player what an oven is to a master chef. A chef could find ways to operate without the oven, but when it comes down to it, a Grade-A working oven is what could make a good player great, and separate him from the pack.
Athletes come in all shapes and sizes. Gordon Tech's Joe Soroko is generally listed above 6'0", but the skinny kangaroo-legged Ram can rise up in the middle of traffic and throw down on the big boys. John Little, another smaller player playing a game made for giants, plays beyond his listed 6'2" because of his athletic ability. A great outside shooter and supreme defender, Little's athleticism often gets overlooked.
Players such as Stevenson's Reuben Trotter, Whitney Young's Marcus White and Providence St. Mel's Stan Gaines have the vigor to elevate with such force that you fear for the rim's safety every time take-off begins. Skywalkers that defy gravity and continue to elevate in space are Thornwood's David Moss, Lockport's Alando Tucker and Bloom's Antonio Cool. All take the smooth approach to the game and their acrobatic aerial trips prove that theory correct. And you certainly can't forget Delavan's Jason Fisher, Illinois' 2002 Duke Champion.
The player, however, with the finest athleticism is Shepard's Mike Hall. A tall, rangy player, Hall has a vertical leap of 42 inches that is not matched by many. When you combine that supreme ability to get off the ground with his physical attributes you have a high-octane athlete. At 6'7", 220-pounds, Hall is a tall, rangy player that puts the "l" in length with a 6'10" wing span and 8'7" reach. Dangerous on the fastbreak looking for alley-opps, he is equally as menacing around the basket in a half-court offense. With the ability to jump twice before the average player jumps once, he can spring off the ground to put back anything around the rim with a seemingly effortless ease. The dunks that he does are not necessarily what are amazing, but the fact that he does them in complete traffic with multiple defenders around, ala The Human Highlight Film, Dominique Wilkins. Headed to George Washington next year, Hall will certainly be looking to give the Atlantic 10 Conference a taste of his athleticism.
The state's top athletes

| | | | |
| --- | --- | --- | --- |
| 6'0" Joe Soroko - Gordon Tech | 6'3" Jason Fisher - Delavan | 6'5" Alando Tucker - Lockport | 6'7" Rome Sanders - Curie |
| 6'1" Marcetteaus McGee - Farragut | 6'3" Sean Dockery - Julian | 6'5" Antonio Cool - Bloom Township | 6'7" Andre Iguodala - Springfield Lanphier |
| 6'1" Anthony Bennett - Westinghouse | 6'4" Reuben Trotter - Stevenson | 6'6" Patrick Peoples - Eisenhower | 6'7" Robert Faulkner - Peoria Richwoods |
| 6'2" John Little - Peoria Richwoods | 6'5" David Moss - Thornwood | 6'7" Marcus White - Whitney Young | 6'7" Stan Gaines - Providence St. Mel |


Copyright © 1999-2000
High School Elite, All rights reserved.