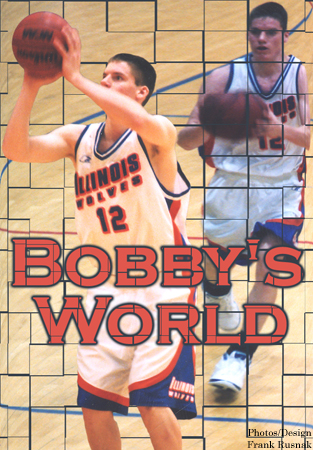 Even bigger things are expected from Brother Rice's
Bobby Frasor after a standout summer that saw him
catapult his name onto the national scene .

Expected breakout seasons
--6-27-04--
By Frank Rusnak
Breaking out, jumping onto the scene, making a name or just elevating their game, whatever way you put it these seniors have big expectations waiting for them in their last year. Look for considerable improvement from the following players in the 2004-05 season.
John Johnson - Von Steuben
A quick, speedy guard at Von Steuben; got to be talking about Angel Santiago, right? Wrong. The 5'10" Johnson was a sixth man last year and will now hold a starting and starring role for the Panthers.

Sean Wallis - Glenbrook North
With an improved game, but, most importantly, a larger stage to display his skills, the 6'1" point guard will show his true colors. Junior Jon Scheyer gets most of the credit, but Wallis is steady, consistent and crafty with the ball.

Josh Cummings - Thornridge
The spotlight last year was held by Ronald Coleman (graduated), but now the nephew of former NBA player Terry Cummings will be flying highest for the Falcons. He is a 6'2" strongly-built point guard with scoring ability.

Wesley Ware - Bloomington
He sat out last year with a torn hamstring and meniscus. Possibly the most important key to state-title contender Bloomington, the 6'2" combo forward will need to stay healthy and be the Purple Raiders' low-post muscle.

D.J. Posley - Homewood-Flossmoor
You can't go in any other direction but up after being your team's last man off the bench. Posley, who's had a great summer, could have the biggest jump of anyone in the state as the Vikings make another run at the Class AA state title.

Jeremy Pargo - Robeson
He has been great his entire career at Robeson -- at times. Now, as a senior in his last year of prep ball he will need to show that he can be dominant consistently.

Bobby Frasor - Brother Rice
His 13-point-per-game average could be excused with sharp-shooting triggers on each wing. Now, after a sterling summer that saw him give North Carolina a commitment, he is expected to have a huge season despite continuing with his PG duties.

Rudy Meo - Evanston
Last year he rode the coattails of Boston College-bound Gordon Watt. This season the 6'4" Meo is ready to shoulder the team's majority of scoring, leadership and just about everything else.

Mike Rose - Neuqua Valley
Was he on the team last year? Yes, but after transferring from Missouri the 6'4" swingman had a timid junior season. Now, he isn't trying to appease anyone except himself. So, look out.

Marcus Green - Leyden
He entered the summer unheralded and now will exit with a scholarship in hand from the Big Ten's Purdue and a bright season ahead for Leyden.

Tyrone Kent - Crane
The versatile and athletic Kent is about to be this year's version of Hubbard's Othyus Jeffers from two years ago. All eyes have been on flashy point guard Sherron Collins, but Kent has been waiting patiently for his turn. And it's now.

Adam Powers - Lyons Township
Generously listed at 6'6", Powers may be undersized for the power forward spot on the next level, but there is no disputing his impact this summer where few can counter his strength and arsenal of low-post moves.

Kenyale Evans - Morgan Park
The Mustangs are very well-balanced and can hurt you in a variety of ways, but the 6'7" Evans will garner his fair share of ink with a big, strong and talented frontline that could see him at the small forward position.

Marcus Vann - Curie
Chances are you hadn't heard of the 6'8" Vann until now. Well, growing a couple inches and filling out his frame with a little muscle didn't hurt his cause, nor the Condors'.

Julian Wright - Homewood-Flossmoor
He was called by some the top player at the prestigious Nike All-American Camp. After not averaging double digits (9.9 ppg) last year, his scoring is expected to soar with less ball-handling duties bestowed on him.

Deon Jones - Bremen
Will he have a better season than last year? That's not a question, as his highlight last year was starring in local recreation leagues. A transfer from Shephard the wiry 6'7" forward will look to make a name for himself.

Zach Jones - Morris
Morris? We're talking football, right? Well, sort of. The 6'7" Jones runs a 4.5 40-yard dash and is the team's standout quarterback, but will also be looked at to help the Redskins to their best hoops season possibly ever.

Hales Franciscan forwards
Everyone knows what Nate Minnoy is capable of. Now the 6'7" combo of Austin Chapital and Jeff Wilson will also be brought into the limelight as everyone will have their eyes set on the state's top Class A team.

DeMarr McKnight - Peoria Manual
If he plays, and at 100 percent, McKnight could be Peoria's best player. He did not play last year and with off-the-court issues and an unsound relationship with Manual's coach, the chances don't look much better for this season.

Blake Nielson - Fenwick
The Friars bring back everyone except Valparaiso-bound Vince Humphrey. This experienced squad will depend on the 6'8" Nielson to anchor the ballclub.

Clarence Holloway - Fenger
A breakout season has been in the waiting since he left junior high. Injuries and a transfer have not obliged in making that happen. This is the Louisville-bound 7-footer's last shot.


Copyright © 1999-2000
High School Elite, All rights reserved.