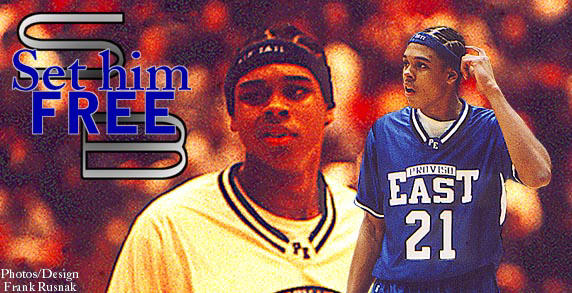 Shannon Brown will bring his 46-inch vertical, scary athleticism and mammoth hands to Michigan State.
Brown to Michigan State
By Frank Rusnak
He's an aberration that will abash any defender with an unreal combination of athletic ability and skills put on a body only suiting of a basketball superstar. Said simply, he's No. 1 ... well, maybe No 2.
The top player in Illinois, Shannon Brown gave Michigan State University a verbal commitment on Friday, August 2. A 6'3" senior combo guard at Proviso East, Brown has cemented his status as the Land of Lincoln's top player with an unreal summer of hoops. Possibly the only thing left to discuss now is his national rank.
"I think he deserves everything he gets," said good friend and teammate Charles Richardson, who lists Ball State, Nebraska, Florida State, DePaul and Notre Dame as his finalists. "He works hard and he keeps his head on straight. He's been working to get more national attention, and to me he should be No. 2."
---
"[Shannon] works hard and he keeps his head on straight. He's been working to get more national attention, and to me he should be No. 2."
Charles Richardson
Proviso East H.S.
---
Richardson is obviously referring to Akron, OH's star senior LeBron James, who is a consensus No. 1 player. James, who broke his wrist and missed the summer camps, attended the Nike All-American Camp as a spectator in early July. James came away, proclaiming Brown as the best player at the camp. Game recognizing game.
Brown's rise to the top came in a modest fashion. As a freshman at the Maywood high school, him, along with Richardson, played their rookie years on the sophomore team, while serving as captains to their elders.
"People always told me that I wasn't good enough and that I wouldn't go far," said Brown, who passed up on offers from Illinois, Kansas, Louisville, Cincinnati and Duke, who came on late. "They always said I wouldn't make it and I was too little. Then, I proved them wrong. They're still saying it now, but it mostly came during my eighth grade, freshmen years."
Brown's desire to prove his critics wrong came strong -- and with it, he has developed an utter confidence in his game that is not belied in many.
With a confident swagger that he carries with him on the court, his demeanor is almost saying to his opponent: You can't stop me, and I'll laugh at you while I watch you try.
"The only person that can stop me is myself," states Brown. "There's a lot of great players out there; you've just got to have [that confidence]. "It's all about confidence. If you don't have confidence then you're done for it."
Which is what most of his opponents have been this summer. While he has jumped into most everyone's national Top 10 rankings, what's he's done this summer is nothing more than play his regular game.
Creeping into the spotlight this past year, while teamed with Illinois-bound All-American Dee Brown, Shannon showed repeatedly throughout the year that he should be known as one of America's best. It is just the stage he was put on this summer to display his abilities that brought the attention.
One of the events Brown shined in was the first annual And 1 High School National Championship Tournament, where Proviso East finished with a fifth place showing (out of over 200 teams). That was without the services of its 6'9" center Ronnie Carlwell, who was out with a broken foot. (Carlwell is expected back in four weeks.)
"We've got a good team; Me, Little Charles, Mickey (Perry, 5'11" sophomore) and Ronnie, our big man," said Brown. "We've got a lot of people and a real good team."
While Brown admits that last year's team, which finished with a 26-3 record bowing out in the supersectionals, was a better team, his goal remains the same.
"Our number one goal is to win the state championship," he said.
No. 1 wants to stay on top. It's only natural.


Copyright © 1999-2000
High School Elite, All rights reserved.