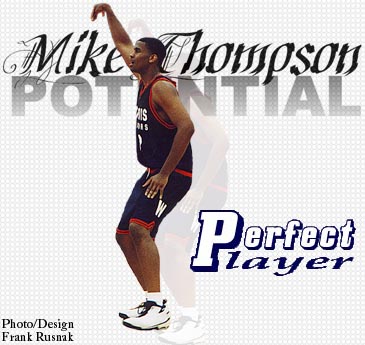 Providence's Mike Thompson has set himself up to succeed at Duke,
whether it be on the court or after basketball.
In constructing the Perfect Player, you look for many attributes to make that player superior to others. You need him to be a good scorer, rebounder, passer, ball-handler, shooter, tough on defense, have good athleticism, his leadership abilities have to be second to none and of course he has to have the capabilities to become better with a wealth of potential.

In the next few weeks High School Elite will be taking a look at some of Illinois' top seniors in those particular categories and what it is that makes those players so elite in their own way. Note: Any one player will not be named as tops in more then one category.
Perfect Player: Potential
By Frank Rusnak
Potential is something that all levels of basketball love to attach with their players. It is how so many high school players turned pro get picked in the Lottery, and what make major Division I college coaches gamble on prospects that have yet to peak.
A large deal to do with potential is height and athleticism. It is said that if a player has height and is athletic, all the rest can be taught. Here is a look at some of Illinois' players who have a high ceiling ... in theory.
One thing is for certain, while the SICA East had a record year with talent, the potential for its players is possibly even more scary, with nine of the 28 players hailing from the East.
It took Davis Moss (Indiana State) until his last year at Thornwood to begin to really show what he was all about. With abundant skills in almost every category that basketball offers, he still could use refining. The skill factor and instinctive basketball nature he carries with him, coupled with his aerial abilities, could make him an instant impact college player. Moss's teammate Just Williams is an odd case. He is a player that had D1 programs stalking him prior to his senior year due to his excellent play on the summer circuit. However, the interest quickly died out after the high school season brought no love his way. Rarely seeing time on the court he is headed to prep school for a year. For Williams, one thing is certain after a rocky senior year; his best days clearly ahead of him.
Shepard had its own pair of players for the future in Mike Hall (George Washington) and Reggie George (Prep School). Hall is a streaky player that teases with glimpses of what could be, with scary athleticism and great slashing abilities. George is a player that never grew serious about the game until his senior year. There was even a time when he contemplated not going out for the team at Shepard's until the reality of what could be finally set in.
Bloom Township Coach Gary Meyer said that he feels Antonio Cool (Westark, AK, JuCo) has as much talent as the highly-hyped Marquette-bound Joe Chapman. The talent level was never questioned on Cool's part, as he is oozing with scary athletic abilities and still refined enough to possess an adequate handle on the ball and a jumper able to turn flame in the blink of an eye. Don't be surprised if Cool ends up at a high major college after two years at the junior college level.
The player with possibly the most potential is Providence Catholic's Mike Thompson. While he averaged 22 points, 10 rebounds and four blocks going up against mostly sub 6'4" competition, Thompson has set himself up for greatness. Already a great student in the classroom -- which helped pave his way to Duke -- he is a hard-working big man with serious girth and soft hands. Headed to a highly competitive Duke program, Thompson will see great competition day-in and day-out in practices, which should trigger his development that much more. While he was stationed on a typically sized high school team in New Lenox, he rarely was positioned against players his own size in game situations and certainly never in practices. Time is certainly on his side, and with Coach K in his corner, its a safe bet to go with the quirky-humored big man originally from Joliet.


The state's players with most potential

| | | | |
| --- | --- | --- | --- |
| 6'3" Martell Mahon - Dunbar | 6'7" Mike Hall - Shepard | 6'7" Cole Grapperhaus - Breese Mater-Dei | 6'9" Justin Williams - Thornwood |
| 6'4" Travis Nunn - Moline | 6'7" Robert Faulkner - Peoria Richwoods | 6'7" Rome Sanders - Curie | 6'9" Garret Grimm - Macomb |
| 6'5" David Moss - Thornwood | 6'7" Kellen Easley - Joliet Township | 6'8" David Genslinger - Stagg | 6'9" Aaron Spears - Dunbar |
| 6'5" Antonio Cool - Bloom Township | 6'7" Josh Argue - Bloom Township | 6'8" Luther Boyd - Bloom Township | 6'10" Reggie George - Shepard |
| 6'5" Alando Tucker - Lockport | 6'7" Melvin Buckley - Thornwood | 6'8" Marlon Brumfield - Collins | 6'10" James Hughes - United Township |
| 6'6" Richard Russell - Westinghouse | 6'7" Tristian Parham - Thornridge | 6'9" Brian Algee - Herrin | 6'10" Charles Bass - Crete-Monee |
| 6'7" Andre Iguodala - Springfield Lanphier | 6'7" Keith Gayden - Tilden | 6'9" Marc Daniels - Waubonsie Valley | 6'10" Tom Howland - Normal West |


Copyright © 1999-2000
High School Elite, All rights reserved.