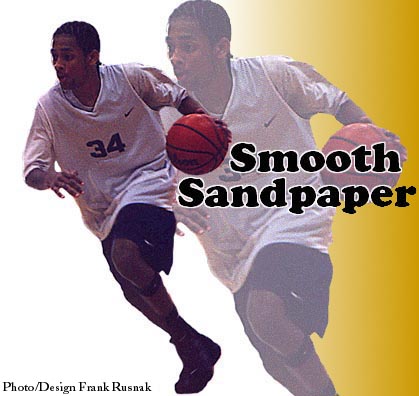 Shepard's Mike Smith remains one of the
elite players in the state still unsigned.
Smith makes domination look easy
By Frank Rusnak
With his dangling cornrows, a shaggy goatee and oversized T-shirt he wears under his jerseys, Mike Smith's look is rough but his game is as smooth as they come.
Hailing from Alan B. Shepard in Palos Heights, last week Smith led his team to a second consecutive Big Dipper Holiday tournament title while repeating as the event's most valuable player. He culminated the tournament with a career-high 30-point performance in a 76-63 win over Leo for the championship.
"Mike is key for us," said Shepard coach Tony Chiuccariello. "He's been our most consistent player if you look at our whole season. There are a lot of good players in the Big Dipper and it's a very prestigious tournament."
---
"He's the best player I've seen this year, and I've seen a lot of games."
John Gianotti
Argo H.S. Coach
---
With a certain effortlessness to his game it appears as though dominating a basketball game is the equivalent to Smith as tying his shoes or reciting the alphabet. Seemingly floating on defense, his feet are a constant blur as they position his body in front of his opponents every crossover or spin attempt.
Smith is known as a natural scorer from last season where he was the team's leading scorer on a contingent that finished 23-5, eventually losing to Brother Rice in the Sectionals. While Smith is once again the leading scorer on this year's squad, returning all of their starters, his ability has at times been questioned to play the point guard position.
Teamed with 5'9" Lorenzo Yelder, the majority of the ball-handling duties are given to the shorter Yelder. "I'll usually take the ball up if I just get the rebound, but the team looks to me more to shoot." But don't question his ability to handle the rock at the lead guard position.
"I think I can play the point all the time though, and I feel comfortable there. I know I'm going to have to play it at the next level so I've been working on it hard in my off-time."
But there has to be something missing to his game that keeps him as one of the remaining unsigned elite seniors? Not according to long time Argo coach John Gianotti.
"He's the best player I've seen this year, and I've seen a lot of games," said Gianotti without hesitation after his team lost to Shepard 69-46 on Tuesday (1/8/02) while Smith finished with 17 points. "Defensively, he can handle any guard, he can pick the guy up full court. He can get rebounds, shoot the three, he can drive and set up his teammates. He's just incredible.
"Sometimes its not just points and not just how you shoot the ball, but its how you involve all your teammates and because of that, that's why I think he's one of the better kids, because he does more than just shoot the ball--although he does that very well. If a Northern [Illinois] or a Loyola were to pick him up, it would be amazing! Dwayne Wade (Richards / Marquette), we played against him a couple years ago, Mike doesn't quite have the size as Dwayne, but I think except for that size factor he's right there with him."
At 6'3" Smith is getting strong looks from UIC and Wisconsin Green Bay, who have both offered, while he is hoping to see additional interest from Southern Illinois and Southwest Missouri State. With a 19 on his ACT and a 3.2 GPA on a 5.0 scale, he looks to be a likely qualifier.
While the Astros currently stand at 12-2, they have surprised many who felt that last year was a fluke. Going into the Big Dipper, their appearance in the championship game was unexpected by many. With their decisive win over Leo, the Astros became the sixth school in the 24 years that the tournament has been held to win back-to-back titles. Smith was just the second player in the history of the event to bring home two MVP awards.
"He can penetrate and score and has a little bit of creativity there, and he has a nice outside shot," said Chiuccariello, who is getting his Astros ready for an always tough SICA East game against Bloom tonight. "A great kid as far as practice and work ethic and very coachable. We are going to call everybody under the sun and see who is interested in him.
"My friends who come to the games, they have a nickname. We call him the Big Smooth. He plays big for us and he's so smooth going to the basket. He kind of floats in the air, he can get bumped a little, he still hits the shot. He finds a way to finish, he has a nice touch off the glass and he's just a very smooth player. I love the kid. He's as good of a guard as we've had here and we've had some good guards here. He's got a very good sense of humor. Everybody's friends with him, but he's good with occasional one-liners. Very quiet by nature, but he's just a fun kid."
While Smith has certainly experienced his fair share of success, it doesn't look like any of the accolades have gone to his head like many prima donnas in the 21st Century are famous for. With Smith, he has taken a large bite out of some Humble Pie and insists on letting his game, and teammates, do the talking for him.
"Mike is by far the best player on our team and in the south suburbs," said teammate and George Washington signee, Mike Hall. "Behind probably Dee [Brown], I think he's the best scorer in the state. Other players get their numbers, but they're the only player on the team. Proviso East and us have a hand full of players that can score and those two still get their numbers consistently. I love playing with Mike because he is so fun to watch and takes so much pressure off the team. He is one of the top players in the state, but he's so humble you'll never hear it from him."


Copyright © 1999-2000
High School Elite, All rights reserved.