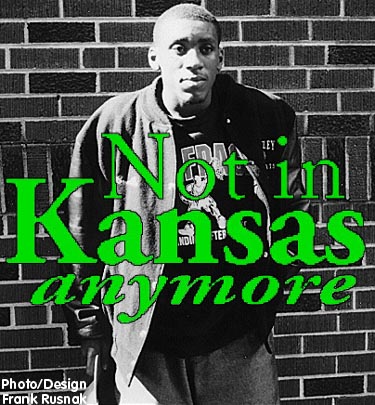 David Harper is a smooth shooting guard that
looks to bring Manley to greatness in the Blue West.
Singing the Blues

By Frank Rusnak
Three names are in the hat: Marshall, Curie and Manley. Two of the names will be chosen and the remaining one will be detached from the group in pure isolation.
---
"A lot of people think that just because we are a Blue West team that they have an easy win over us, but we have been beating everybody we needed to so far."
David Harper
Manley H.S. Guard
---
The result for the name left is to be dropped from the Red West -- one of the nation's strongest conferences with high-profile teams, a bevy of Division One talent and a common ground where recruiters flock.
Being dropped means banishment to the Blue Division -- where it would take a George O'Leery written resume for a recruiter to even consider a player.
After Marshall had to forfeit five of its games last year for using a fifth-year player, there was a three-way tie for last place in the Red West, calling for this meeting last year with use of the flipped over lid.
"There were no coaches present at the meeting, just J.W. Smith, George Stanton and the Public League Officials, and they say that we were the one left in the hat," said an unconvinced Manley coach Bo Delaney.
However, Delaney has made the best with the cards dealt to him. While losing 6'3" guard Luther Head to graduation -- now at the University of Illinois -- the Wildcats bring back a bevy of talent with three returning starters.
"We're going to have a good season in the Blue," said Delaney. "Because we don't have the same type of competition as if we were in the Red, I scheduled a lot of tough non-conference games to get us ready for the Public League Playoffs."
Fairing well against their tough schedule, the Wildcats started the year off beating a previously undefeated Dunbar team, and downed a Leo team in the Curie Shootout that is widely regarded as one of the state's top Class A teams. In the Proviso West Holiday tournament, Manley upset then top ranked Proviso East and lost by a narrow margin to Farragut.
"The reason why we wanted to play Proviso so bad is because they were ranked as the best high school team this year," said Manley senior David Harper. "We want to play against nothing but the best. That game against Proviso East was one of our team's best games and we knew what we had to do and we took care of it."
Currently 18-4, Manley's losses came against Bloom, Farragut, Whitney Young and a 19-1 underrated Collins team. But all of the Wildcats' games now are only getting them ready for its ultimate goal come playoff time.
"About us being in the Blue-west, well, it hurts," said Harper. "But now I am looking at it like the Blue will be like a practice for us and our season won't start until the playoffs. A lot of people think that just because we are a Blue West team that they have an easy win over us, but we have been beating everybody we needed to so far. Don't get me wrong, being the Blue West your senior year doesn't feel good at all, but I have a great team that believes and that's all I need."
Currently, Manley High School is 19-0, but first place in the state belongs to Whitney Young with a 20-0 record. Julian is close behind with the addition of transfer Richard McBride, and under the guidance of former Manley player, Roy Hegwood, Crane looks to be a force.
But before you think you've lost your mind, realize that the above is only the case for the league that David Harper and a few of his Manley High School teammates made on their game for Sega Dreamcast (NBA 2K1).
"We created all of the high school basketball teams we could think of and we're playing a season," said Harper, a 6'1" combo guard. "I've got everybody on there, but some high schools I don't have all their rosters. I got Richard McBride playing with Julian because I don't know a lot of players that he plays with on [Springfield Lanphier]."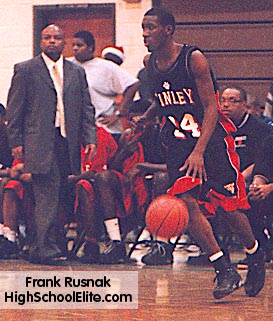 David Harper (24) drives the lane, while coach
Bo Delaney (rear, left) observes
It is a ritual for Harper and three of his fellow starters on the 16-3 Wildcats to gather at his house the day before a game.
"If we've got a game, we'll all get together at my place and play the game out on the Sega Dreamcast (NBA 2K1) to get us psyched," said Harper.
Joining at Harper's house are seniors Roy Hegwood and Al Stewart, along with sophomore Marcus Jackson (6'6" sophomore Tremaine Edwards rounds out the starting five).
"We all like to be Manley when we play, but Roy, he likes to play with Crane. I think he wants to transfer," said Harper with a laugh.
But there is nothing comical about this year's Manley team. Despite losing 6'6" senior Eugene Green and current University of Illinois star Luther Head to graduation, the Wildcats' coach Bo Delaney had anything but an empty plate in front of him.
"We have a very talented team and we're going to have a successful year," said Delaney, despite his team being lowered to the Blue Division after his team lost a lottery with Marshall and Curie last year.
Utilizing a quick, press and fast-break brand of ball, the 5'10" Stewart holds down the majority of the point guard duties with a terrific handle on the ball. The 6'5" Hegwood provides a solid rebounding presence and is a good baseline slasher on offense. The 6'4" Jackson possess an all-around game and is a pest on defense. Edwards is a developing player with improving interior tools. Junior guard, 6'1" Herbert Windfield comes off the bench to provide marksmanship from the perimeter. Harper is the main catalyst on offense, with the ability to put the ball in the basket from various situations.
He's not Dorothy and this isn't the Wizard of Oz, but David Harper is a 6'2" shooting guard that will have defenders crying; 'There's no place like home.'
Traveling to Kansas after the completion of this past high school season for a Jayhawk basketball camp, Harper gave the 'Sunflower State' a taste of what basketball in Chicago is like.
"Bo (Delaney, Manley's Coach) knew this guy from Kansas and he basically was looking for Luther (Head) last year, and he brought me, Kelly (Whitney Chicago Marshall C/O 2001) and Butch (Elliott Poole Chicago Farragut C/O 2002)," explained Harper. "This year, Roy (Hegwood), Kelly, Butch and I went back."
Staying about a month in Kansas, it was long enough for Harper to make a lasting impression on the local Kansans.
"[Harper] did outstanding," said Delaney. "He really showed what he could do over there and had all the people talking. Dave's a terrific player, an athletic combo guard with a great outside shot, a good defender and a hardworking player."
A captivating performer, Harper is a silky-smooth player that always plays under control. However, when he wants he can make the crowd get on their feet in a hurry with his acrobatic arial arsenal. Like Barry Sanders shifting through the defense, it is seemingly done with effortless ease when Harper attempts to get to the front of the rim. Equally versed at distributing the ball as he is at scoring -- with an on-point outside jumper that he rises high in the air on -- he is a handful to cover for any defender.
Harper proved that in the 2001 High School Elite PEP Fall Classic when he finished the talent-laden tournament as the third leading scorer, ahead of such superstars as Florentino Valencia (junior), Dee Brown (Illinois), Dameon Mason (junior), Marcus Arnold (Illinois State), Brian Randle (junior) and Melvin Buckley (Purdue), among others.
Whatever happens in Harper's future, he is sure to exert the same handwork that got him to where he is today. And a clicking of the heels might help, as well.


Copyright © 1999-2000
High School Elite, All rights reserved.