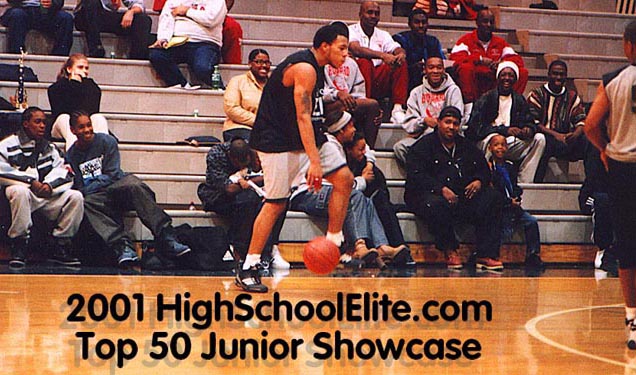 Tino Valencia puts on a show with his dribbling abilities combined with his dance skills in front of the crowd
at the HighSchoolElite.com Top 50 Junior Showcase.
Top 50 Shootout Recap
By Frank Rusnak
"When I went to Five-Star last year, it was supposed to be good and have the top 100 sophomores in the nation, including LeBron James (who is rumored to be going to the NBA after his junior year of H.S.), but this was even better." These lofty comments regarding Frank Rusnak's HighSchoolElite.com Top 50 Junior Showcase on October 14, came from Quincy's rising star, Marcus Medsker.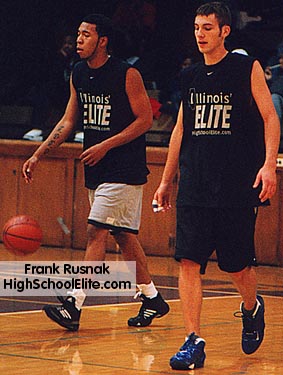 Tino Valencia (left) and Marcus Medsker (right) formed a fierce duo.
A 6'5" shooting guard for the Blue Devils, Quincy is located two hours north of St. Louis and the sharp-shooting Medsker made a five hour trek to Chicago's North Park University to take part in the showcase.
Leaving Saturday morning, Medsker and his family stayed overnight in downtown Chicago for Sunday's showcase. His first time in Chicago, Medsker saw a lot in the Second City that cannot be found in his hometown.
"We went to Hard Rock Café, Nike Town and did a lot of other cool things," said Medsker.
But the most astonished he was all weekend came when he arrived at the gym on the corner of Foster and Kedzie on the North side of Chicago.
With the state's top juniors from the class of 2003, this was a prestigious invitational that only a select few were invited to participate in.
"Down here (in Quincy) we never get to play against that kind of competition," Medsker said.
However, Marcus has faced his fare share of top players throughout his career, including Richard McBride, who attends nearby Springfield Lanphier (and was also at the HSE Top 50 Junior Showcase), and Marcus has competed against since he was in junior high. Also, Marcus attended the out of state and nationally renowned Five-Star camp last summer that has housed many great players from throughout the past 36 years, including Michael Jordan, Isiah Thomas, Vince Carter and many other greats.
However, Marcus felt that with the HSE Top 50 Junior Showcase being such a select group and not having any lower echelon of players, it ranked up with Five-Star very favorably.
"The Five-Star event I went to was supposed to be special and it was invitational only and all that, but this was the best event," said Medsker. "Everyone there on Sunday (at the HSE Top 50 Showcase) was just as good as the next person. Everyone could hold their own. You really don't ever see that many good players in one place at the same time."
---
"Everyone there on Sunday was just as good as the next person. Everyone could hold their own. You really don't ever see that many good players in one place at the same time."
Marcus Medsker
Quincy H.S. Guard
---
Just coming off of a broken finger that put him away from hoops for eight weeks, one would think that Medsker would be even more in awe of the players in attendance and unable to compete on their level. But Quincy's leading scorer is not going down without a fight.
With each player assigned to a team and every team getting three games for the day, Medsker made the most of his opportunity.
While he may speak as if he was in admiration of all the players in attendance, his play sung a different song.
The first one to arrive on Sunday, Marcus was fully prepared for what was in store for him. Coming out of the blocks quickly, he started his first game as his team's leading scorer and second leading rebounder with 25 points and six rebounds.
While he performed solid in his other two games with 14 points and five rebounds in his second game, and 12 points and four rebounds in his last, he let the spotlight swing over to some of his teammates.
Teamed with such stars as Thornwood's 5'10" Gerimie Allison, Crane's 6'6" Tino Valencia and Sandburg's 6'9" Chris Rega, everyone had their time to shine.
Allison did his best to show that Thornwood's cupboard will not be bear yet another year, after this season. In his team's last game, Allison and Crane's Carl Marshall battled each other in an amazing show of long-range artistry.
While the 5'10" Marshall guarded Allison and vice-versa, they brought the crowd to their feet and left their teammates with their jaws down to the ground. Matching each other shot for shot, they nearly took the nets right off the rims. While Marshall finished with 24 points on six three-pointers, Allison amassed 25 points on seven three-pointers.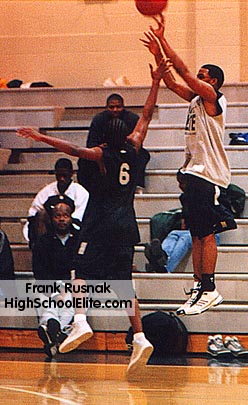 Gerimie Allison (left) and Carl Marshall (right) both showed that they have unstoppable jumpers when they catch fire.
The show was not over yet, though.
Valencia wanted a piece of the action and he did not disappoint. Dribbling the ball on the baseline he was loosely guarded by St. Rita's 6'8" Michael Rembert.
"The thing I remember the most was when Tino was playing around with the ball on Mike from my school," said St. Rita's fellow 6'8" junior, Jerrah Young.
"Tino got the ball and Mike was guarding him and he rolled around on the ground with the ball and started to dance with it and did almost every And 1 move in the book," Young said. "Me and Rashay (Russell, 5'10" junior from St. Rita) made sure to remind Mike about that at school on Monday."
In Mike's defense, he had a marvelous day of basketball. Impressing many with his rebounding and supreme post moves, his stock has definitely risen up the charts.
With players coming from all corners of the state, including Rockford, Springfield, Peoria, Champaign, Chicago and surrounding suburbs, there were many players that made names for themselves in the basketball community that weren't able to display their skills on a platform like this prior to Sunday.
"There are a bunch of hidden gems," said one notable scout that has already seen many of the state's best.
With it a day for sleepers to let everyone take notice, the dunk contest was no different. Favorites, Shannon Brown from Proviso East and Tremel Gilot from Crane were both eliminated in the first round. In the final round it was Chicago Latin's Tyrell Bell against crowd favorite Dameon Mason from West Aurora.
Mason connected on a dunk from the baseline called the East Bay Funk Dunk (ala J.R. Rider), where he went in-between his legs in midair to flush the ball through the hoop with authority. However, the 6'5" Mason's downfall was the fact he made it look "to easy," according to the judges who gave the edge to Bell. The 6'3" Bell connected on his attempt, jumping over a seated 5'9" Royce Parran from Lincoln Park, who was the shortest dunk contest participant.
Overall, the event went smoothly and was evidently enjoyed by many.
"I thought it went great and I had a lot of fun," concluded Young.


Copyright © 1999-2000
High School Elite, All rights reserved.