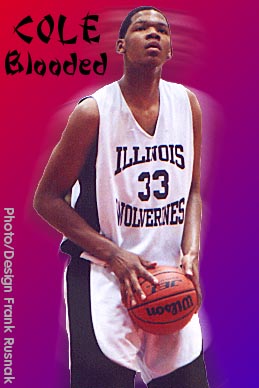 His game is 'cole blooded,' as Brandon Cole can
take the ball outside but is rugged near the hoop.
Overcoming a loss
By Frank Rusnak
It's July 22, 2001, on an increasingly hot summer morning when Margaret Cole called Diane Flowers and her grandson Brandon Cole, Rich South's star power forward. "Quick, get over here, there is something terribly wrong," Margaret sobbed into the phone. Waking Brandon, Diane and him left their Matteson home in the blink of an eye. Brandon, unknowing of what was going on, asked what the matter was as they were headed across town to neighboring Richton Park, as they sped down Sauk Trail. "He is probably gone," is all Diane said to Brandon.
As they arrived, they hesitantly walked into the house and crept downstairs. While Brandon didn't want to believe what Diane told him, he was all the more shocked at what his eyes were about to see. Lying on the couch in the basement was his grandfather, Marvin Cole. Peaceful in his appearance, he was unconscious and at the same time lifeless. His life was ended at the age of 53.
---
"It hit me hard and I regret a lot because I didn't spend nearly enough time with him while he was sick, as I should have."
Brandon Cole
Rich South High School
--On his grandfather Marvin's passing away
---
A true role-model and friend to Brandon, Marvin was suffering from lung cancer for three years, and was slowly losing his strengths. But he refused to lead on to anyone that he was indeed weakening.
Still walking around with the same toughness, attitude and stubbornness that he always had, Marvin was a very proud man. Refusing to have any visitors while he was in the hospital, he didn't want anyone feeling sorry for him.
"He used to tell people to leave when they tried to visit," said Brandon.
With Marvin involved tightly with Brandon throughout his life, Brandon feels an empty feeling since he passed away.
"It hit me hard and I regret a lot because I didn't spend nearly enough time with him while he was sick, as I should have," said Brandon. "I loved him very much. He taught me a lot about life. That's where I get my toughness and determination from."
Formerly in the Military, Marvin was a veritable expert in martial arts and self-defense techniques. Passing on much of his knowledge to his grandson, Brandon credits him for allowing him to protect himself while he was younger.
Currently, at a very sturdy 6'7" and 225-pounds, self-defense techniques are not something that Brandon has much use for anymore. But his grandparents are something that he has, and always will, have use for, as he holds a special place in his heart for all of them.
A senior at Rich South, Brandon averaged 19 points and 11 rebounds last year for the Stars. A menacing rebounder, he uses his wide frame, good ball-sense and supreme athleticism to seize all rebounds within his vicinity. Also, fully loaded with an arsenal of offensive moves, Brandon can put points on the scoreboard in more ways than putting back his offensive boards.
"He's such a good ball-handler that when I get a long rebound, I have confidence in him to give it up," said Illinois Wolverine AAU teammate and point guard Adam Dauksas. "I know that he could take it up the floor or make a good enough decision on the break to an open teammate. Also, he has such a sweet 10-foot jumper."
With a bushel-full of skills and a great love for the game, Brandon has made an early decision on where to take his game after high school.
Committing to Xavier University, Brandon is ready to compete in the Atlantic 10 Conference. While there, he will have frequent duels with his south-suburban friend and rival, Shepard's George Washington-bound Mike Hall.
While Brandon and Mike are both headed to the same conference, the similarities run much deeper for these two. Both from the same region of the state, 6'7" and athletic, light-skinned, wear glasses--or contacts--and overall, just look a like.
"Who else said me and Mike look alike? Practically every high school hooper and fan in Illinois," said Brandon. "When people see him they think he's me and vice-versa."
Also with similar goals, they have both have their eyes set on the A-10 Freshman of the Year award.
"I think Mike is going to do real good there," continued Brandon. "I think he could step in and contribute right away." But when the talk of a possible showdown occurs, Brandon isn't as nice with his compliments: "I'm ganna kill Mike. Mark it down, I've got the freshman of the year locked up."
While things are going very well for Brandon now, it wasn't always as smooth, as he incurred an unusual beginning while growing up.
It all started at the tender age of 17, when Leslie Cole was pregnant with Brandon. His father, Donald Luster, preferred to distance himself from Brandon.
The current mayor of Dixmoor, IL, Donald has yet to speak or meet with his son.
"Looks like I'm doing pretty good without him though," said Brandon. "He wanted to get in contact with me numerous times (in the past year), but I want nothing to do with him. "
With Donald not in the picture, Brandon's step grandfather, Mike Flowers, has picked up the responsibility, stepping into a father-like role to his stepson.
Living with Mike and his blood-grandmother, Diane, for the majority of his life Brandon has always been surrounded with a very nurturing family system.
"I consider [Mike] more like my father," said Brandon. "I owe my grandparents a lot because they've always been there for me. They are the best and will do anything to help make me become a better person."
While Donny was no where to be found, Leslie took her only child into Mike and Diane's house in Matteson.
Living there until Brandon was in the fourth grade, Leslie then took Brandon to University Park for a year where Brandon went to Crete Elementary. Then, after one year, they moved back Matteson in a condo of their own.
With the condo right down the street from his grandparents, Brandon and Leslie lived there until 1999, until Leslie moved in with her boyfriend in South Holland.
Wanting to stay at Rich South, Brandon moved back in with his grandparents, where he currently resides.
"It was hard to choose not to move with my Mom," said Brandon. "But me and my Mom are real tight. We talk about everything. She is young and relates to all of my situations."
Throughout Brandon's nomadic childhood, he could have winded up in several different scenarios which could have pit him with current Chicago Bull and former Thornwood star Eddy Curry last year in South Holland, or with Ohio State-bound Charles Bass in Crete. However, his love has always been with the Stars of Rich South.
"I feel something is happening real good here at Rich South," Brandon said. "We are putting in a new system defensively where we won't be in that same old trap like we used to have, and Walt (Woghiren, 5'11" guard for Rich South) is on the verge of reaching his potential. This is my team here and I like it that way. I want the responsibility of being The Man."
Ready for that responsibility, Brandon has made an early commitment to college, so that he could focus on his senior year. At Xavier, he will have a chance to follow in the footsteps of a similar player, currently suiting up for the Musketeers, David West.
---
"My humerus bone was snapped like a pencil. It wasn't even connected anymore."
Brandon Cole
Rich South High School
---
With head coach Thad Motta and his staff preaching to Brandon about how hard of a worker West is, and how he'll be their next NBA player and noting the similarities in their games, it played a factor in Brandon's decision. Also, liking the campus, facilities and chemistry with the coaches, it was a no-brainer for him.
Putting Brandon into a position to be seen by high majors such as Xavier, he took the summer circuit this past year with the Illinois Wolverines.
"Brandon actually before this summer was nobody," said Wolverine coach Ron Newquist. "He wasn't being recruited by anyone at all. To me he was the best big man in the AAU nationals. I'm not discounting Ricky Cornett, etc., but Brandon was a workhorse, a blue-collar post player. Does anything I ask him to do, never gives me attitude and just takes care of business."
Averaging 22 points and 16 rebounds at the AAU Nationals in Orlando, Florida, Brandon would've liked to have the opportunity to experience all of the exposure tournaments the summer going into his junior year as well, but it wasn't meant to be.
Breaking his left arm last spring, Brandon caught a two-handed alley-oop pass off the backboard in P.E. class and swung on the rim, falling while his arm was caught behind his back.
"It totally broke in half," recalled Brandon. "My humerus bone was snapped like a pencil. It wasn't even connected anymore.
"That turned out to be the best thing for my game though. I sat and watched my boys play all summer and got a new passion for the game. For the last month and a half in my cast I started playing, shooting and dribbling with one arm. And through that, I actually got better through the summer with a cast on the whole time. I knew that when I got it off I was going to be a lot better."
Undoubtedly having raised his level of play--and passion--since that experience, his work ethic and leadership has increased tenfold.
"Brandon has become more of a vocal leader this year leading into the season," said Woghiren. "Last year he led more by example. I've also noticed that he has been working harder in the gym; he beats me to the gym now. I walk in and I see him working on his inside-outside moves, he seems more determined this year."
But there is a method to his madness. With Brandon having a list of goals that he wants to accomplish before he graduates, he knows that they will not be achieved sitting on his rear.
"My goals this season are to get downstate and be all-state," he said. "If we win 20-plus games then I will be in a good position to make it because all-state players must play on successful teams and those are my two main goals along with winning conference (SICA South) and of course the Big Dipper (Holiday Tournament, hosted by Rich South)."
With a long journey ahead, he will never forget to look behind at his past that made him who he is today. And if he ever needs more of that toughness or determination that Marvin instilled in him, he can always look down at the tattoo on his left arm that reads:
"R.I.P. Gramps 7-22-01."


Copyright © 1999-2000
High School Elite, All rights reserved.