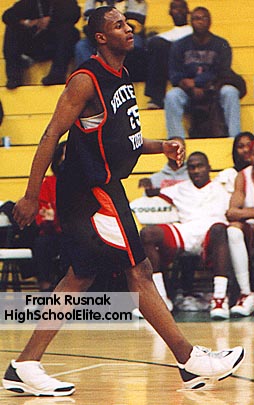 DePaul recruit Marcus White led his
Dolphins to the title at Proviso West.
Road Trip- Part 1
By Frank Rusnak
Four days, five tournaments, 64 teams, 196 years of basketball tradition equals my belated Christmas present and one major mile-producing road trip. Here's a little how it went.
Proviso West
Spending the entire day at Proviso West (Dec. 26th) it was a day with first round matchups that were more appealing than some tournament's finals. From the tip-off of the first game (Fenwick Vs. Evanston) to the final buzzer of the last game (Thornridge Vs. Hillcrest), it was a great introduction to the 41st Annual event held in Hillside.
With Evanston holding a decisive lead that was as high as 20 points over Fenwick, it looked like the Wildkits would cruise to victory. However, behind the stellar play of guards Vince Humphrey (6'4" So.), Ashtyn Bell (6'1" Sr.) and Jason Okresik (6'1" Jr.), and Evanston's inability to hit free-throws, Fenwick stormed back to take the lead. With three seconds left in the game and Evanston down by three, Evanston senior forward Stacey Moragne (6'4" Sr.) connected on a high-arching three pointer from the left corner to send the game into overtime. Despite Evanston having the momentum, Fenwick rolled to a 78-68 victory.

Tournament MVP's
Proviso West:
Marcus White, 6'7" Sr. Power Forward
Committed to DePaul
Big Dipper:
Mike Smith, 6'3"
Sr. Combo Guard
Uncommitted

While St. Joseph displayed one of the state's top teams with regard to young talent, the Proviso West crew looks to be losing its touch while not inviting the Chargers back for next year's event. That combined with other imprudent decisions show that former tournament director Joe Spangalo is sorely missed.
The attendance came close to 4,000 as Proviso East got ready to do battle with Providence St. Mel, in a showdown between the two Player Journal writers: Proviso East's 6'0" Illinois-bound Dee Brown and St. Mel's 6'7" Minnesota-bound Stan Gaines. However, the show belonged to junior guard Shannon Brown (6'2") as Proviso East ran away with an easy victory behind 20 points from Shannon Brown, including several highlight-reel dunks, including one that he caught on a fastbreak with his right hand and in midair switched to his left and emphatically pounded the ball through the rim.
Tournament favorites Proviso East and Farragut would eventually both fall in the second round. Proviso East bit the dust courtesy of Hillcrest and Farragut fell to New Trier. Manley showed that they are not your typical Blue Division team dropping Proviso East for the second time and giving a valiant effort against Farragut in the fifth place game--in which Farragut eventually won. Roy Hegwood (6'5" Sr.) led the attack for Manley while being named second team all-tournament.
Eventually capturing the crown was Whitney Young, as they topped New Trier 77-70. Tournament MVP Marcus White (6'7" Sr.) was unstoppable for the Dolphins while his teammate, guard Anthony Harris (6'2" Jr.) was voted to the all-tournament first team along with Hillcrest's guard Shelby Jordan (6'3" Jr.), Schaumburg's senior guard Tony Young (6'0") and Farragut's senior post man Elliott Poole (6'6"). The leaders statistically for the tournament were Dee Brown with a 22.3 point per game average, St. Joseph's Chris Hart (6'4" Jr.) with a 12 rebound per game average and Homewood-Flossmoor's Adam Dauksas (6'4" Sr.) with a six assists per game average.
Big Dipper
On the 27th it was off to Rich South High School for a day of action at the Big Dipper. In its 24th year of existence, the Big Dipper features many of Chicago's south suburban powers with a couple of city teams mixed in for good measure.
Among the stars of the loser's bracket were Marian Catholic's 6'1" junior guard Cedrick Middleton (scored 40 points against Hinsdale South) and Prosser's super sophomores Jason Bowden-Keys (6'1") and Perrick Robinson Jr. (5'10").
The winner's bracket featured a nice assembly of top caliber teams, as well as individual talent. Rich South displayed great team chemistry with players that do not try to veer out of their roles in sacrificing for the good of the team. Guard Eric Epps (6'0" Jr.) is the director, while Xavier-bound Brandon Cole (6'7" Sr.) leads the scoring and rebounding attack.
Leo's Chris Burras (6'6" Sr.) can put up 30 points on any given night, and at the same time you will come away feeling he didn't get enough touches, as he shoots a high-percentage and works his tail off on every possession. In the championship, Shepard faced off against the Burras led Lions. However, it was sophomore swingman Frank Clair (6'5") who led the attack for the Lions in this battle, with a team-high 20 points. However, Shepard was too much to handle for a young and undersized Leo team.
Repeating as the Big Dipper Champions, senior guard Mike Smith (6'3") has made it a second year running being crowned the tournament MVP, as well. Scoring 30 points in the championship game, Smith showed why he is one of the state's top remaining unsigned players--with grades. Reggie George, Shepard's 6'10" senior, also displayed an ability that would certainly call for high major interest if the academic portion were in line with his game on the court. George Washington-bound Mike Hall (6'7" Sr.) continued to do the intangibles for the Astros.
Click here for: Road Trip- Part 2


Copyright © 1999-2000
High School Elite, All rights reserved.