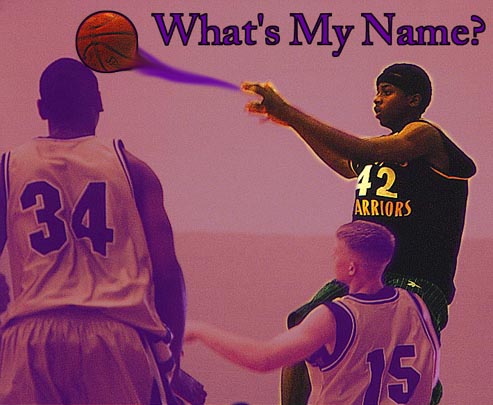 Headed to Wisconsin next year, Lockport High School's Alando Tucker has elevated
his game to the elite level with the state's premier players.
Tucker Earns His Stripes
By Frank Rusnak
Orlando, Alando; What's the difference?
For starters, Orlando is a major city in Florida that holds 164,693 people and houses a certain famous mouse in Disney World. Alando is a 6'5" senior shooting guard for Lockport Township that finds enjoyment in making opponents look silly in their ill-attempted efforts to guard him.
---
"Now, some of the other kids are trying to step-up and play with him instead of watching him play."
Larry Thompson
Lockport Coach
---
What is in a name anyhow? Does a name distinguish if you're good or bad? Does it tell about whom a person really is inside, about their personality, thoughts and beliefs or sense of humor? No, but it's common courtesy not to continually refer to someone under their incorrect name.
"I hear my name get pronounced and written wrong so much," said Tucker, who has signed with the University of Wisconsin. "But once you establish that respect in the basketball world people are willing to find out what your actual name is instead of just saying anything."
A swingman for Lockport High School, 6'5" Alando Tucker is a high-flying, basket-scoring, defensive-hawk that has certainly established that respect as one of the best in Illinois.
Averaging 22 points, eight rebounds and three assists for a 15-8 Lockport team, Tucker has been pleasantly surprised with his team's output this year.
"We had a bad start to the season, but during the course of the season we beat a few high ranked teams, so it's been a pretty successful season for us," he said.
Specifically referring to the Porters' time spent at the 71st Annual Pontiac Holiday tournament where Tucker shinned as a unanimous all-tournament selection. Defeating United Township, Peoria Manual and West Aurora, Lockport fell narrowly to Joliet in the finals.
The loss to Joliet in the championship game was something that Tucker and his team was all too familiar with.
SICA West Conference rivals, the Steelmen and Porters have met seven times in the past two years in which Joliet has won every dual. However, Tucker prefers to remember back to his sophomore year of varsity for a more pleasant memory of this rivalry.
"The last time we beat them was a 106-101 score in triple overtime at our home court when I had 33 points," Tucker vividly recalled. "I can't forget that one. But it's a great rivalry. No matter how many times they beat us or we beat them, you still see the same number of fans with a great turnout. That game is very anticipated every time it comes around. That's definitely one of my main goals is to at least beat them one time out of this last two years."
With both teams placed in the Oak Lawn Sectional, No. 4 seed Lockport could have another shot at No. 1 seed Joliet in the third round, assuming both teams win out.
Always saving his best for Joliet when they face off, it is crucial for him to have a good output for the success of the team.
"It's important for him to not only have a good game for us to be success, but for him to have a good all-around game," said Lockport coach Larry Thompson. "Not just the scoring aspect, but when he's playing good defense, rebounding and outlets to the other kids, then the other kids' confidence levels pick up. Now, some of the other kids are trying to step-up and play with him instead of watching him play. When he struggles, we struggle because the other guys don't have enough confidence yet to go out and pick it up. They can play along with him when he's playing well, but when he's not playing well its another story."
A four-year varsity player, Tucker has nothing but the rest of his season to worry about, with his college decision (the Badgers) and grades (3.5 GPA, 20 ACT) already taken care of.
With a serious approach to the game, a ridiculous vertical, sweet jumpshot and effortlessness style, Tucker's game is nothing to joke about. But off the court, there is plenty to smile about.
"I'm just an outgoing character," he said. "I just like to make people laugh. When I'm out on the court it's not all smiles, but off the court it's all fun for me. That's typical Alando Tucker."


Copyright © 1999-2000
High School Elite, All rights reserved.