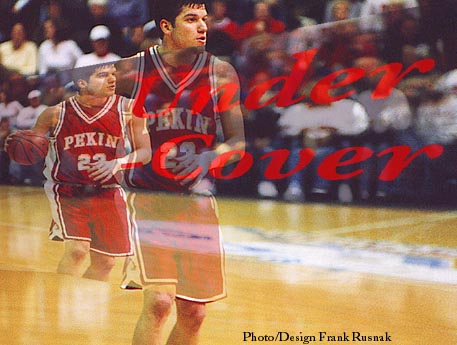 Committed to Western Illinois, Joe Brownfield of Pekin often goes unnoticed,
but the results he produces are truly evident of his abilities
Brownfield Does the Dirty Work
By Frank Rusnak
Pekin's Joe Brownfield isn't one to wander around the court in agony--despite how discomforting the situation.
Dislocating his shoulder during a game at Centrailia earlier in the year, Brownfield continued play as if nothing happened. Racing back on defense to breakup a fastbreak, he inadvertently popped his shoulder back in place swiping at a pass and finished out the game.
---
"I threw Joe to the wolves as a freshman on a not very good team that couldn't get the ball up the floor. Probably the only good thing to come out of that year was Joe."
Joe Stoner
Pekin Coach
---
"If I were going to war, Joe would be my first pick," said Pekin coach Joe Stoner.
While many players in Central Illinois have garnered more publicity and accolades than the 6'1" senior, the ones close to the Western Illinois-bound point guard know his worth.
"Brownfield is tough as hell," said Pekin junior Kevin Jones. "He somehow finished that game out and then played one of his best games of the year the following Friday (Jan. 11) when we beat Richwoods. Driving down the lane as much as he does beats the hell out of him. The Mr. Hustle award he won at the Pekin Tourney is definitely fitting for him."
The leader on a 19-6 team that is 7-2 in conference with a brutal Mid State Six schedule, Brownfield has sacrificed for the better of the team this season.
Averaging 16 points last season as a junior, he has saw his average decrease to 12 this season. With the team achieving increased success, as well as having a more balanced attack, the drop does not faze him.
"We have pretty balanced scoring this year," said Brownfield. "All five starters are averaging double digits. If it were between points or a win, I'd rather take the wins."
Despite being a four-year starter on varsity, Brownfield has not developed the reputation as many others around his area including Richwoods' Robert Faulkner and teammate Todd Peterson. But he rationalizes the lack of ink: "I'm not 6'8", 6'7" and I don't get too much publicity being white and 6'1". There's a lot of them out there."
Beginning his high school career on varsity, a feat his Northern Illinois-bound teammate, Peterson, can't even claim Brownfield had a rough situation greeting him as a rookie.
With Pekin not having the caliber, nor cohesiveness of this year's team, Brownfield was, more or less, forced into his position on varsity out of necessity than the coach feeling the time was right. With the 1998-'99 squad finishing with a 9-18 record there was a load of injuries at the guard position, with one quitting the team after catching ammonia, leaving a void.
"I threw Joe to the wolves as a freshman on a not very good team that couldn't get the ball up the floor," said Stoner. "Probably the only good thing to come out of that year was Joe."
Soaking in all the knowledge he could his freshman year, Brownfield not only raised his level of play, but found out just how good he could become.
"One of my first high school games was against Jerrance Howard (Peoria Central, University of Illinois), and he never stripped me," boasted Brownfield. "The first comment I heard before the game was one of the [Peoria Central] assistant coaches told me that Jerrance said, 'Where's the fresh meat?' That game really let me know what I could be. Especially when Jerrance went on to Illinois, I said I got three more years of high school left, but that was a good start for me.
While the chemistry on that year's team was virtually nonexistent, the 2002 version of the Dragons has received a tremendous facelift, in comparison.
"We were pretty weak [my freshmen year]," said Brownfield. "That team was kind of crazy because we always had everyone yelling. There were a lot of individuals on the team and a lot of seniors were thinking they were the team. No one really was good friends on the team, just a few here and there. This year it's different."
With Pekin returning its top eight players, they have the capability to achieve its goal of getting out of the sectionals and making it to the Elite Eight, which they fell short of last year with a loss to Normal West in the first game in sectionals.
Many people continue to not give the Dragons credit as a legitimate state title contender this year despite not having any noticeable weaknesses. Senior leadership is provided by Brownfield, Peterson and 6'5" forwards Brandon Dietrich and Brody Utley. With two players over 6'8", size is not absent and experience is definitely plentiful. Despite this, they were voted as a number two seed in their sectional behind Richwoods--prior to the Knights redeeming double overtime win on Friday (2/15) who was given the top spot. One coach went as far as to vote Pekin as a number three seed.
If Brownfield has his way, Pekin will still be alive well into March. But chances are he won't be guiding his team vocally, but rather by example, which is how he prefers to lead. Just as that day against Centrailia.
STANDING AT THE top of the key, with two minutes remaining in the first half, he whips a pass to the wing in front of a hawking defender. As he passes the ball, the defender swings down at the ball before it leaves his hand. Smacking his arm so hard the defender dislocates his shoulder. First instinct for this all-out performer is to continue play, just as he has so many times prior with other injuries--none as severe.
Putting his shoulder back in place when attempting to block a pass, he continued to play until a dead-ball. He then sat out the remaining time until the second half, where he came back to score eight of his 15 points.
"It wasn't my shooting hand," said Brownfield, sounding as if anyone would've played through the pain. "During the game it was pretty much numb. I was so pumped to play just because all the hype that coach was talking about. Especially with Centrailia being the winningest team [all-time in Illinois]. I'm just so disappointed we didn't win that game. After the game on the ride home it didn't feel to good though."
Combined with Brownfield's all-out efforts, his impeccable skill level is what has the coaches at Western Illinois smiling. An above-par jumpshot is only one part of this one-man press breaker's arsenal.
"It is impossible to put into words what he has meant to this program," gushed Stoner. "He has been our floor leader for four years. He is as tough as any player I have ever coached. Throughout the past four years he has had sprained ankles, separated shoulders, etc., and has never missed a game. Just a great kid, hard-nosed, and I think WIU got one of the real steals in the state with Joe."


Copyright © 1999-2000
High School Elite, All rights reserved.