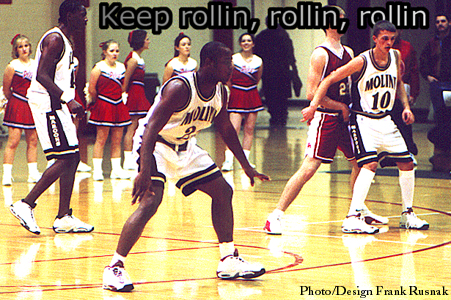 Having a banner year when no one expected it, Moline, led by Travis Nunn(left),
Jay McAdams-Thorrnton(center) and Anthony Beaird(right), is rolling
into playoffs after an undefeated season in the WB6.
McAdams-Thornton leads Maroons
By Frank Rusnak
Losing seven of its top eight players from last year's Elite Eight qualifying team, Moline has done the unthinkable; improve.
While there is still a long winding journey that awaits the Maroon's in their quest to a second straight trip to Peoria, regrouping this season they have gone undefeated in the Western Big Six Conference--one of the toughest in the state--and topped last year's 25-6 mark with a 21-4 record this year.
---
"Everyone knows what Jay brings to the table and he is the main force that drives us every night."
Travis Nunn
Moline Forward
---
The only remaining player from last year's main core, returning starter, Jay McAdams-Thornton, points only to team unity as being the key for the improvement.
"Chemistry....we've been together since we were in elementary school," said McAdams-Thornton, who didn't start playing organized basketball until the sixth grade. "Every since [I started playing], all we've done is play on the same teams and win. We used to go to AYBT (American Youth Basketball Tournaments) and it would be all of us on two separate teams and we would meet each other in the championship. We know each others' limitations and we all know our roles."
From last year's team, 6'3" shooting guard Chris Hickey is at Black Hawk JuCo in Moline, 6'5" wing Justin Ward is playing at SIU Edwardsville and 6'6" center Travis Hoyt and 5'9" Eric Boster are both at Augustana College. McAdams-Thornton was second on the team in points and rebounds while leading them in assists.
The one with the latest start at basketball, McAdams-Thornton has saw the most drastic change.
A three year starter and three-sport athlete (football and track), he has elevated his game to the elite level, averaging 14 points and eight rebounds this season. A powerful 6'4" combo forward, McAdams-Thornton is possibly known best for his efforts on the opposite side of the ball. Applying tighter defense than Shaq Diesel in a Ugo, he is capable of shutting down the opposing team's best player.
In the opening tournament of the year for the Maroons, McAdams-Thornton held Northern Illinois-bound Todd Peterson to eight points while registering 22 of his own, along with 18 rebounds in a Moline win. Soon after, in a one point loss to Rich South on a last second shot, McAdams-Thornton was probable for the game with a sore ankle, but suited up--limping the entire game--and held Xavier-bound Brandon Cole to a 16 points.
As a sophomore he kept both former Quincy all-state player, 6'2" J.D. Summers (Western Illinois) and former Rock Island star, 6'7" John Banks (Indian Hills JuCo) below their averages.But this year's team goes much further than just McAdams-Thornton.
Senior Travis Nunn, a 6'5" forward, provides an interior presence--although he is capable of swinging to the perimeter. Averaging 11 points and seven rebounds, Nunn provides serious athleticism around the basket.
"He has only one dunk this year," said McAdams-Thornton, "but he really has bounce he can do any dunk pretty much. He has taken so much off my back. When we played Lanphier I was like, 'Tee, I need you man.' And he stepped up and did his best against Andre (Iguodala) and he did a good job. He helps lock the paint down on both ends and he has countless big time put backs. He rebounds and runs the floor. And I haven't seen an And 1 move that he can't do; he's very lanky and agile. He don't do them in the game but he has those kind of handles."
Also a big fan of defense, Nunn has held Northern Illinois bound, 6'10" James Hughes to 9 and 8 points this year, both in wins. With a 2.5 GPA and a 17 ACT (waiting on most recent results), Nunn will take the junior college or Division II route.
One of the biggest surprises has been the emergence of 6'1" senior combo guard Anthony Beaird.
"Anthony has really shocked people with his outside shooting," said Nunn. "And ever since he dropped 30 on Quincy he's right now getting respect that he is a deadly outside shooter."
Averaging 15 points on the year, Beaird has one of the most lethal shots in the state and an adequate handle to sub the only non-senior in the starting lineup.
"We knew we would have another good player that was gonna help us out and that was Wes," said Nunn, referring to the 6'0" sophomore point guard Wesley McCorkle. "Seeing him play sophomores last year, Coach (Frank Dexter) knew that he would really help us next year. He gives us athleticism and quickness on the court, which is really helpful for the types of teams we have been playing."
One of the top up-and-coming players in the WB6, McCorkle resembles the future for the Maroons.
David Burke, a 6'2" senior wing forward averaging eight points and four boards rounds out the starting lineup for this year's Maroons.
"What really separates us from last year is that we play together," said Nunn. "Last years' team had high hopes and with all the seniors on the team it was hard for us to get playing time. But all of us just kept working on our game, and practicing with last years team helped us out a lot."
But the driving force behind this team continues to be McAdams-Thornton.
Also a star on the football field, all-conference and all-metro (Quad Cities) as a flanker, McAdams-Thornton (2.7 GPA and waiting on most recent ACT attempt) is waiting to see if last minute offers come for any Division I's or high Division II's.
"Everyone knows what Jay brings to the table and he is the main force that drives us every night," continued Nunn. "Since he has "been there and done that" he got the most experience on the team and we just feed off of his leadership. Jay is one of the most hard workin' and all around complete players. He does what is needed for us to win and we just follow his lead. We all knew that next year would be our year. And right now we have shown what Moline Basketball is all about, and we ain't playin."


Copyright © 1999-2000
High School Elite, All rights reserved.