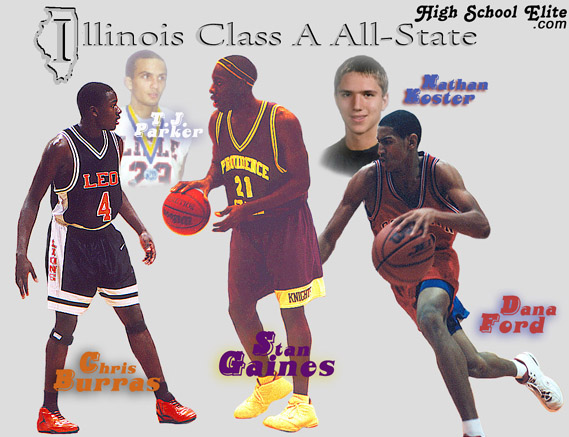 This year's Class A All-State first team consists of five prime time Division I players. (from left to right)Burras
(undecided), Parker (Northwestern), Gaines (Minnesota), Koster (Evansville) and Ford (Illinois State).
Class A All-State
By Frank Rusnak
Providence St. Mel coach Tim Ervin feels that his star player, Stan Gaines Jr. should have serious consideration for Class A Player of the Year. And who is to argue with him?
A 6'7" senior averaging 27 points, 13 rebounds, four assists, two blocks, Gaines has done it all this year leading his team in scoring in 19 of their 22 games. That is why he is HighSchoolElite.com's 2001-02 Class A Player of the Year.
---
"[Stan Gaines] is pretty much unstoppable. One-on-one you can't handle him."
Mark D'Amico
Lisle H.S. Coach
---
"I just don't think there's a better player in Class A," said the third year coach, Ervin. "He's done so much for us this year on and off the court. He epitomizes the word student-athlete. He's a special kid that continues to work hard. He's our leader and leads by example."
Guiding his Knights to the Elite Eight, where they fell to eventual third place finisher Bureau Valley, Gaines had a return trip Downstate after advancing to Peoria as a freshman starter for St. Mel. Gaines finished with 25 points and 14 rebounds in his last game of his high school career. Twenty-two of his 25 points came in the second half where he shot 10-14 from the field.
To advance to the Elite Eight, Gaines had to lead his Knights through a rough schedule that included a Hales Franciscan team that topped Leo and a Lisle team that possess two all-state players.
"He's pretty much unstoppable," said Lisle coach Mark D'Amico, who had the unenviable task of facing Gaines twice during the year. "Against us he put 30 points on us, and that's with two guys on. The team he's paying with right now I'm sure he sees a lot of double teams and a lot of gimmicks and right there the numbers he puts up that just speaks for itself. One-on-one you can't handle him. It's as simple as that. [Player of the Year is] very deserving."
The numbers that Gaines has put up, against double teams or not, have been quite mind-boggling.
Prior to his team's loss to Bureau Valley (30-3) in the Elite Eight, St. Mel (16-12) went the entire season undefeated against Class A competition, with games against such notable opponents as Rock Falls, Cissna Park, Walther Lutheran, Lisle and Latin. In his games against Class A teams, Gaines lifted his level of play, averaging 33 points.
Throughout the year, he had three games with over 40 points including a school record 48 points against Waukegan. An honor student and academic qualifier Gaines has signed with the University of Minnesota to continue his basketball career and schooling.
1st Team
Chris Burras, Leo, 6-5, Sr.
Second year Leo coach Jerry Tokarz couldn't have been happier with his 6'5" star and co-captain, Burras. "He causes a concern for the other teams," said Tokarz, who cites double teams being the norm against Burras. "The averages are about the same this year as last because he didn't have to deal with as many double teams from a year ago." Using a workmanlike mentality around the basket to demoralize the opponents, Burras averaged 21 points and 13 rebounds for a 16-12 team that fell to Hales Franciscan in the regionals. Unsigned, Burras, an academic qualifier, is being pursued by numerous mid major programs from throughout the Midwest. "I had some great players that went on to play pro ball and he would rank up with them," continued Tokarz. "Whoever gets him will be pleased with his rebounding strength and scoring in side with his workmanship."
Nathan Koster, Lewistown, 6-0, Sr.
Before being knocked out by Macomb in the regionals, Lewistown held the No. 1 spot in the AP team rankings. Koster, the team's catalyst and Mr. Everything might of had a little something to do with his team's success. "He's the quarterback of the team and leads us in almost all categories," said Lewistown coach Mel Kasper. "He's in the top echelon of basketball players in the state. He's the type of kid where if I asked him to score 35 points, he would do it." But an unselfish player, Koster prefers to distribute the ball and knows that winning will not come with him take all of the team's shots. Finishing with a 26-3 record, Koster averaged 24 points, six steals, six rebounds and six steals for the Indians. "He's going to Evansville and if they need a shooting guard, he'll do it," added Kasper. "Or, if they need a point guard, he can do that too. I've taught him nothing."
Stanley Gaines, Providence-St. Mel, 6-7, Sr.
On a team losing three starters and having two key young players transfer, this season looked bleak for Gaines and his Knights. But this year's Class A Player of the Year did all he knows how to do: make the best with what he has. Averaging 27 points, 13 rebounds, four assists and two blocks a game, Gaines uses his well-sculpted body, great athleticism and immense skills to the best of his abilities. A four-year starter, Gaines helped his team to the Elite Eight for the second time in his career (achieved that milestone as a freshman also). Playing under coach Tim Ervin, who played at Purdue University and was his team's captain his senior year, Gaines will follow his coach's lead and also play in the Big Ten, with Minnesota. "I think he'll fit in really well [at Minnesota] with the body, ball-handling, shooting touch and back to the basket moves," said Ervin. "He has such a great attitude. He should flourish at the next level."
Dana Ford, Tamms Egyptian, 6-4, Sr.
A player unlike any other that has ever come out of the deep southern Illinois school of Egyptian, Ford is a very, very special player according to fourth year Pharaohs coach Chuck Doty. Averaging 22 points on 51-percent shooting from the floor, along with eight rebounds and five assists for a 24-5 team that fell to Cairo in the sectionals, Ford will be playing his post prep ball at Illinois State next year. "We've never had a first team all-stater," said Doty. "He's the catalyst of our team. The more I watch him the more I think he'll be a point guard in the future. He's a great passer and a great penetrator. He's just an awful fine player."
T.J. Parker, Lisle, 6-2, Sr.
For Lisle coach Mark D'Amico, the turnaround of Parker from his junior to senior year was like night and day. The brother of San Antonio Spurs rookie Tony Parker, T.J. averaged a modest 13 points as a junior. Upping that to the tune of 22 points combined with five assists, four rebounds and three assists while shooting 58-percent from the field and 43-percent from the 3-point line, Parker has come full circle. "Just a phenomenal turnaround from his junior year," said D'Amico. "Mainly because he's so unselfish. Last year he was just trying to fit in, but we could see that he could do all those things on the court last year." D'Amico adds that Parker's numbers were all in approximately three quarters of play due to blowouts. Lisle won the Interstate Eight conference going undefeated and finished with a 25-4 record before losing to St. Mel in the sectional finals. Playing his way into a scholarship opportunity, Parker will be playing at Northwestern next year. "He's very quick," added D'Amico. "He draws the toughest perimeter player they got and he just shuts them down. Works at both ends of the court and has quickness and speed that very few people in the state posses. I can't say enough good things about him."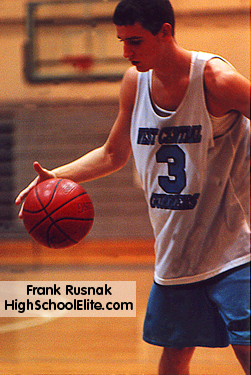 Jordan Roth (above) has led his Pleasant Plains team to state titles in two of the past three years.
2nd Team
Jordan Roth, Pleasant Plains, 6-7, Sr.
When he was a sophomore, Roth was the sixth man on the Cardinals state championship team. As a senior, he was the main catalyst in Pleasant Plains' second state championship in three years with 14 points in the championship game. Finishing with a final record of 32-3, Roth was the team leader in points (17), rebounds (10) and assists (4). "Jordan is a very versatile player and has come on strong lately with some of his best games of his career," said Pleasant Plains coach Cliff Cameron. "The last 7-8 games he's had 34, 31 and 25 point games. His point production has really increased late in the season." With terrific grades in the classroom, Roth has been contacted by Ivy League schools, but financially that looks like an unlikely option. "He's had a lot of calls and contacts," said Cameron. "Still has his heart set on a Division I but no offers. JuCo might be a possible option. He's a very smart kid on the court and in the classroom."
Nick Brooks, Robinson, 6-6, Jr.
Guiding his team to the Elite Eight, Brooks averaged 22 points, eight rebounds, three assists and two blocks a game for the 29-3 Maroons. "He's a legitimate inside-outside threat," said Robinson coach Gus Gillespie. "He rebounds well and doesn't force shots. Has really played unselfish for us. Nick's a very good athlete with very good skills." He has interest being showed from such Midwest universities as Iowa, Illinois, Notre Dame and Butler, among others.
Jason Guyette, Freeburg, 6-5, Sr.
Freeburg coach Norm Toenjes knows that his 6'5" star is going to be playing basketball after high school, but he just doesn't quite know where yet. Averaging 18 points and seven rebounds, Guyette was a key cog in the Midget's wheel as they were the only team in Illinois to finish the regular season undefeated. Guyette was the MVP of the Highland Shootout and all-tournament at the Bethalto and Columbia holiday tournaments. Freeburg's season ended abruptly when they fell to Madison in the regionals. "He's just a very outstanding offensive player," said Toenjes.
Joe Cortez, Lisle, 6-4, Sr.
With a smooth, effortlessness to his game, Cortez has terrific court-vision and knows how to create things for his team. With a well-versed game, he averaged 19 points, seven rebounds, five assists and four steals a game for the 25-4 Lions who lost to St. Mel in the sectional finals. Also a reliable shooter, Cortez shot 60-percent from the field and 35-percent from the 3-point line. A Division I prospect, he is getting interest from Furman in South Carolina and Eastern Illinois, but may opt to walk on at a high-major program. "He just wants to win," said Lisle coach Mark D'Amico. "Without him, I don't know what we'd do."
Justin Shrake, Pana, 6-1, Sr.
One of two returning starters for the Panthers, Shrake averaged 21 points, six rebounds and three assists before coach Gary Bowker's team bowed out to Warrensburg in the sectionals with a 25-5 record. "He's been our main scorer the past two years," said Bowker. "He really hit the weights over the summer. Now we can post him up sometimes too. He's a big time scoring threat. He really surprises a lot of people, but when he wants to he's a pretty good defender." The school's all-time leading scorer with 1,736 points, Shrake also broke the Panther record for points in a game with 51. A late qualifier, he is considering Matoon (IL) JuCo and Lake Land JuCo.
3rd Team
Michael McKean, Cissna Park, 6-5, Sr.
To point out the effect that his star player, and three year starter has had, Cissna Park coach Kevin Long simply points to his team's records the past three years: 24-10 three years ago, 29-2 two years ago and 28-4 this year with a sectional title. The school's all-time leading scorer with 1,730+ points, McKean averaged 23 points and eight rebounds this year while shooting 42-percent from the 3-point line and 65-percent from the field. "He's been a part of our success the past three years. Outstanding player who can score inside and outside. Not only a great player on the offensive end, but is an excellent defender. Best thing I can say about him outside of being the most all-around player that I've ever coached is that he is a better person than a player." Currently, he is receiving only Division III interest.
Nick Hill, DuQuoin, 6-3, Jr.
Described as a gym rat to the fullest degree by his high school coach Wendell Wheeler, Hill has honed his skills to allow him to carry a mega 28 point per game average. Receiving Division I interest, Hill helped the Indians to a 21-11 record before they fell to last year's state champions, the Pickneyville Panthers. Also possessing averages of seven rebounds and five assists, Hill is the school's quarterback, as well.
Justin Cerasoli, Providence-St. Mel, 6-4, So.
Oozing with skills, Cerasoli is a calm, fluid operator on the basketball court. Averaging 17 points, five rebounds and five assists for 16-12 team that advanced to the Elite Eight, Cerasoli was the team's quarterback, with the ball in his hands the majority of the time. The Knights leader in assists and second in points and rebounds to POY Stan Gaines, his versatility is evident. Also, he had five double-doubles on the year with three coming from points and rebounds and two being from points and assists. With a career high 42 points against Homewood Christian, the future is bright for this one.
Jon Foss, Princeton, 6-7, Sr.
Many times kids from small towns get caught up with their fame within their safety grounds and don't realize exactly where they stand until they get out and explore what else is out there. For Princeton's Jon Foss, that time came this past summer. "Most of his career he just played ball at Princeton," said Tigers coach John Rumley. "But this past summer he went up to 5star (basketball camp in New England) twice and saw what else was out there. That is when he really started to grow." Committed to the Patriot League's Colgate University, Foss helped Princeton to a 22-5 record before being knocked out by the state's third place finisher Bureau Valley in the sectionals. "He's an excellent passer and really does a lot for us. He brings a lot of flexibility to our team. Just a huge upside."
Garret Grimm, Macomb, 6-9, Sr.
Signed with Truman State (MO), Grimm averaged 17 points and seven rebounds for the 25-6 Bombers who lost to eventual state champion Pleasant Plains in the super-sectionals. Grimm was an all-tournament selection at both Canton for Thanksgiving and Western Illinois for Christmas. A unanimous selection for all-conference in the Olympic league, he possess a bevy of low post moves and is agile for his size.


Copyright © 1999-2000
High School Elite, All rights reserved.