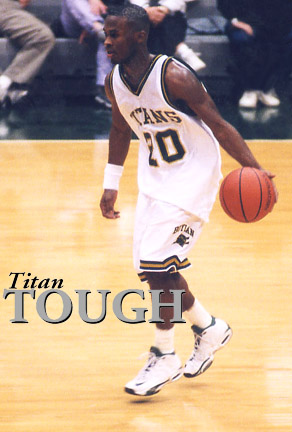 Headed to Illinois for football, Harris looks to work his
magic on the basketball court before he graduates.
Harris leads Boylan
By Frank Rusnak
On a team with five players over 6'5", it is the sub 6-foot point guard that brings the toughness to the Rockford Boylan basketball team.
---
"He's a natural leader and can guard anyone we ask him to."
Steve Goers
Rockford Boylan Coach
---
Steve Harris, a 5'11" 185-pound point guard on the hardwood and football superstar has been a solidifying force for the Titans as a three-year starter.
"Steve's the type of young where he brings the same toughness from the football field to basketball," said Boylan coach Steve Goers.
Committed to the University of Illinois for football, Harris is a versatile performer on the gridiron that could see time at various positions such as quarterback, wide receiver, cornerback and safety.
On the basketball court he has also achieved his fair share of success, averaging 12 points six assists, three rebounds and three steals for a Boylan team that is currently 29-2 entering Tuesday's (3/12/02) Rockford Super-Sectional against Moline.
"Steve brings versatility to the basketball court," continued Goers. "That's how he is on the football field too. He's a natural leader and he can guard anybody we ask him to."
Named the NIC-9 Player of the Year, Harris will help to put a roadblock in Moline's path.
The last time these two teams faced was also the last time the Titans advanced Downstate, in 1997 with a super-sectional win by two points.
The Maroons, who advanced Downstate last year, are currently riding a 15-game win streak and hold a 25-4 record led by Jay McAdams-Thornton--the team's only returning starter. Both teams cruised through conference play, going undefeated while being named outright champs.
"Moline is a tremendous shooting team," said Goers. "Thornton is very strong and experienced."
Boylan will counter with the help of Harris, fellow three-year starter 6'8" senior Jason Winkler (13 points) and juniors Eric Gillam and Matt Weber.
Gillam and Weber are both three sports stars at the Catholic high school participating in baseball and football, as well. But Goes insists that basketball was the first love for both.
The 6'6" Gillam received honorable mention all-state mention from the Associated Press while averaging 12 points, five rebounds and shooting a whopping 67-percent from the field and 82-percent from the free-throw line. "He's got very good hands and is very steady for us," said Goers. "He does all the intangibles. He's not the most athletic person, but he's very intense."
The 6'1" Weber is both a pitcher and quarterback while holding a sharp-shooting touch on the court. "Weber is throwing in the mid-to-high 80's and has major league scouts looking at him now," Goers continued.
Also getting help from 6'9" Ryan Lazzerini and 6'6" Adam Finley, Boylan will need to be working on all cylinders if they are to repeat '97 and head back to the promised land of Peoria for the Elite Eight.
Editor's Note: Boylan went on to lose against Moline by a score of 51-49 in OT. Harris was the game's high-scorer with 18 points.


Copyright © 1999-2000
High School Elite, All rights reserved.