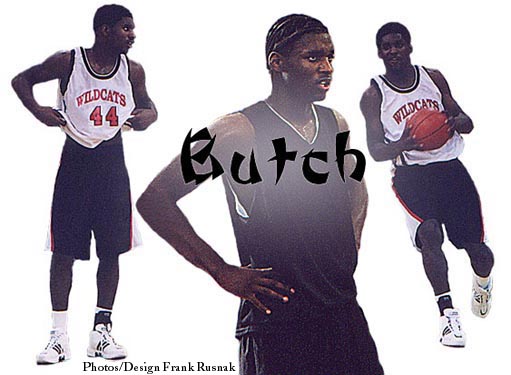 Called "Butch" when he was two years old, the name has stuck ever since
for Farragut's 6'6" power forward Elliott Poole.
Smile, unless you're guarding Poole
By Frank Rusnak
When opponents see Elliott Poole begin to post up for position, they know they are in trouble. But when he gets that little smirk on his face that says, 'Does this guy really think he can stop me?' then, it is far beyond trouble.
Poole, a 6'6" power forward, averaged 24 points, 14 rebounds, four steals, three blocks and three assists per game for a 22-10 Farragut team that fell to Westinghouse 62-58 last week (3-10-02) in the Public League Championship Game.
---
Butch was doing very well against my High School Elite team and we didn't have any one player who could stop him, and as a team it was much of the same. We didn't have any answer for him. So, I looked down my bench and said to one of my players, who is to remain nameless for the sake of his reputation staying in tact, "Can you guard Butch?" And with a pair of sad eyes and in a soft, timid voice he replied, "I'll try." Needless to say the player did not see the court any time soon, but it shows that the fear that he plants into other players is a tremendous one. --Sept.. 23, 2001
---
In the finals game, he finished with 26 points and nine rebounds while playing with nagging muscle spasms in his lower back.
"He's been hurt since the Curie game on Thursday of last week," said Farragut coach William "Wolf" Nelson. "Then, when we played Julian in the semifinals he came down and Lil' Mike (Wilson) went under him and he tried to avoid him. And we thought he was out for good. We didn't know what he was going to do. Then, he came back and snapped."
Finishing with 36 points and 20 rebounds in the Julian game to guide his team into the matchup against Westinghouse, Poole did all he could--despite the pain.
"For all that I've done for my team, I think I deserve the No. 1 player title for the city," said Poole.
Against Westinghouse, the Warriors did everything in their power to contain Poole, at times throwing four people at him. But with Farragut knowing he was their money-man, they continued to throw the ball into him and time after time, he would deliver. Whether with an easy lay-up or being sent to the free-throw line (16-17 for the game), Nelson couldn't have asked for anything more from his all-state player.
"Everything they did to him didn't faze him," said Nelson. "He was in a zone. The man did not miss his free-throws."
Despite a valiant comeback effort by the Admirals, they fell short in the end. But the efforts of Poole were not to fault, as he had his game working at its best -- smile and all.
"As soon as he gets his hands on it, you're dead. That's why he's smiling," said Nelson. "When he gets the ball, you're in trouble. He's going to either score or he's going to get fouled. He can do whatever he wants to do. He feels if you are dumb enough to step behind him, then he's got you at you're mercy. He's been dominating since his sophomore year."
Dominating as a sophomore, yes, but productive since he came out of grammar school at about the same height he is now. Starting as a freshman, Nelson threw him into the fire, desperately needing to replace some big shoes in the form of former Arizona star, 6'7" Michael Wright.
Throughout his tenure in coaching, Nelson has had a lofty resume of superstar talent, such as the legendary high-flying guard Ronnie Fields, current Minnesota Timberwolves player Kevin Garnett and Wright. Was Poole able to make a mark on the Admiral program as much as the aforementioned players were? According to Nelson, there's no doubt about it.
"Without question he ranks up with the best players that I've had," said Nelson. "Offensively as well as defensively you've got to put him in that same light as all the other great players that I've had. Not just one person can check him. I've been fortunate enough to have that one guy in the middle that can dominate and everyone has to respect.
"When he came in (out of grammar school), his footwork was as good as anyone I've ever coached. And he's got super quick hands defensively. Even last year his free-throw shooting was terrible. It's like a hundred percent improvement from when you look at him then, and you look at him now."
While some would describe Poole's play as physical or possibly mean, that persona is nothing new to him.
I don't remember it," recalls Poole, "but when I was about two years old, my mom said that I was always trying to kill our cat. That's why they gave me the nickname Butch. They say it means toughness."
And the name, along with the attitude (although he admits he has not tried to kill any cats recently), has stuck ever since.
"He's got the heart of a lion without question," states Nelson. "He refuses to accept the fact that he has whatever injuries he has and he just shakes them off and continues to play. When most kids would just leave the game, he wouldn't accept it like that. He never really complains. I would always say, "Well, I guess we can't play you tomorrow." But, but he'd just laugh at me and say, "Yeah right."
Still not a qualifier academically, he is hopeful about bringing his ACT score up with the help of his math teacher (and coach), Nelson. If he accomplishes that, he has a number one option to go to a four-year university and sit out the first year as a partial qualifier. If he doesn't get the necessary ACT score, he will either go to a preparatory school or a junior college, with prep school being the more likely option.
Whichever route he takes, Nelson is sure of one thing: "He's got a hell of a future."


Copyright © 1999-2000
High School Elite, All rights reserved.