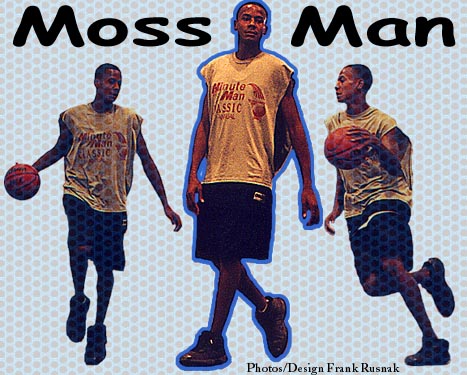 Looking like your normal, everyday high school kid, David Moss turns into
Moss-Man when he gets his eyes set on the front of a basketball rim.
Moss steps up play
By Frank Rusnak
He can't explain it, doesn't know how it happened and all he says is, "Something just clicked."
That is how David Moss best explains himself going from Thornwood's sixth man to its most potent offensive player in one year's time.
---
"Anyone who watched David Moss from last year to this notices a huge improvement in him with not only his game, but his body as well."
Kevin Hayhurst
Thornwood Coach
---
"Anyone who watched David Moss from last year to this notices a huge improvement in him with not only his game, but his body as well," Thornwood coach Kevin Hayhurst said.
A 6'5", 180-pound forward, Moss has elevated his play this year to average 13.5 points, 6.6 rebounds and 4 assists and help lead the Thunderbirds Downstate for the second year in a row with a 46-45 victory over Joliet in Tuesday's Super-Sectional at the United Center. But the improvements, according to Hayhurst, came during the off-season for Moss.
"He's such a self-motivated person," said Hayhurst. "During the summer he worked so hard in the weight room and also working on his shot and ball-handling on his own. He has become a real leader for our program. Last year he was a role player and was so unselfish and just wouldn't shoot it for us. At times we would get mad because we wanted him to shoot it more, but he just wouldn't do it."
Signing with Indiana State in November, interest from bigger schools would've undoubtedly came, according to Moss's teammate Melvin Buckley, who will be playing in the Big Ten next year at Purdue.
"He's a heck of a player," Buckley said. "Mentally he knew that he had to step up for us this year, and he did. Indiana State got themselves a steal. Any Big Ten program would kill for him now."
An all-stater, Moss still doesn't shy away from getting his teammates involved -- just as long as the end result is the same.
"I still have no problem with being unselfish," Moss said. "I just like to see other people score, just so long as we're winning."
And winning has not been a problem for Moss and his Thunderbirds the past two years.
After finishing as Class AA runner-up a year ago, Moss has helped lead Thornwood to a repeat of the SICA East Conference title (undefeated in conference play for the second year), as well as another trip to Peoria.
"We were a confident team coming into the season and we knew that we could get back to State," said Moss, who had 5 of his team's 10 fourth quarter points against Joliet. "Now we've just got to take care of business the rest of the way on out."


Copyright © 1999-2000
High School Elite, All rights reserved.