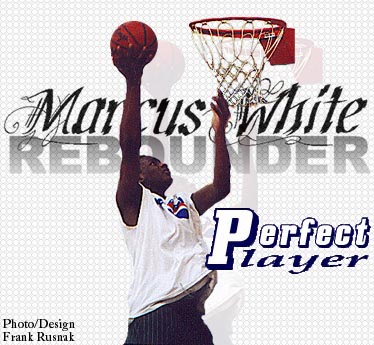 Whitney Young's Marcus White can rebound with the state's best.
In constructing the Perfect Player, you look for many attributes to make that player superior to others. You need him to be a good scorer, rebounder, passer, ball-handler, shooter, tough on defense, have good athleticism, his leadership abilities have to be second to none and of course he has to have the capabilities to become better with a wealth of potential.

In the next few weeks High School Elite will be taking a look at some of Illinois' top seniors in those particular categories and what it is that makes those players so elite in their own way. Note: Any one player will not be named as tops in more then one category.
Perfect Player: Rebounding
By Frank Rusnak
Faint of heart and shy of mass beware. The players selected in this category welcome the pushing, shoving, grabbing and all-around physical play down low in "the paint." It's where the big get busy and the little get out. There are those such as Lincoln-Way Central's James Augustine who use their towering height to snatch rebounds out of the air before any of his vertically challenged opponents can get within arms reach of the ball. Then, others such as Evanston's Stacey Moragne who are not the tallest of boardsmen, but are experts at using their girthy body to position and clear out potential rebounders. Players like Morgan Park's Marcus Arnold are able to use their size and strength to out-muscle boards from opponents.

But it is Whitney Young's Marcus White who reigns supreme as the chairman of the boards. The height is there at 6'7". The size is highly prevalent with a chiseled physique. Athleticism is not a problem and the footwork and positioning are two aspects definitely underrated on the DePaul recruit who averaged 14 rebounds a game.
The state's top rebounders

| | | | |
| --- | --- | --- | --- |
| 6'4" Stacey Moragne - Evanston Township | 6'5" Jabari Saunders - Joliet Township | 6'7" Jonathan Bell - Thornridge | 6'8" Jerald Hunter - Chicago Kennedy |
| 6'4" Darius Glover - Westinghouse | 6'6" Elliott Poole - Farragut | 6'7" Rome Sanders - Curie | 6'8" Ricky Cornett - H.F. Christian Academy |
| 6'4" Larry Ellis - Bloom Township | 6'7" Andre Iguodala - Lanphier | 6'7 Brandon Cole - Rich South | 6'9" Marlon Brumfield - Collins |
| 6'4" Joe Chapman - Bloom Township | 6'7" Robert Faulkner - Peoria Richwoods | 6'8" John Bowler - Notre Dame | 6'9" James Augustine - Lincoln-Way Central |
| 6'5" Chrris Burras - Leo | 6'7" Joel Box - Rockford Christian Life | 6'8" Marcus Arnold - Morgan Park | 6'9" Aaron Spears - Dunbar |


Copyright © 1999-2000
High School Elite, All rights reserved.