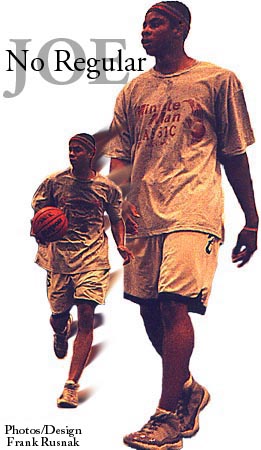 Marquette-bound Joe Chapman was one of the
state's fiercest competitors this past season.
Chapman a "warrior"
By Frank Rusnak
He could've. He should've. Why didn't he?
It was the tail end of Joe Chapman's season, one that on most accounts could be classified as disappointing for the team, and after just having his kneecap popped back in place, the 6'4" swingman rushed back to recovery--that day.
Already having committed to Marquette, having proved his worth as one of the tops in Illinois and developing a reputation amongst his peers in the South suburbs, one would think his quick comeback was all for naught as his team, Bloom Township, fell in the regionals against Thornridge, ending with a 17-12 overall record and putrid 3-8 mark in the SICA East.
---
"I was a post up man the last couple of years. It was nice to play down there, but when your a 6'4" power forward your not going anywhere like that."
Joe Chapman
Bloom Township High School
---
But figuring out Joe Chapman, and his reasons for coming back immediately, isn't quite that easy.
After going up for a dunk against conference rival Thornwood on Jan. 17, Chapman was clipped from below, forcing an awkward fall. Dislocating his knee, Chapman went to the emergency room after the game. Already having prior problems with his left knee from five years back when metal screws were placed in his knee--and still remain--to keep his ligaments together, this was not a good sign. Going back to the hospital the morning of the next day, he had his kneecap popped back in place.
What he did next was not a predicted move; but then again this is not your regular Joe.
Facing fellow SICA opponent Crete-Monee that night, Saturday, Jan. 18th, Chapman suited up.
"Most of the coaches didn't want me to come back, but it was always my choice," said Chapman, who played nine minutes in the game and totaled seven points in a victory.
OK, he played in the game, but he probably took the next week or so off for some R & R, right?
In his three years on varsity, this gutsy competitor has never missed a single game. Considering the punishment he puts his body through makes that feat all the more remarkable. Taking charge after charge, diving for loose balls, battling taller and stronger opponents in the paint, Chapman never finds time to coast while on the court.
"I'd probably play [the season out], even if I could go back and do it again," admitted Chapman. "That scholarship to Marquette, that's one reason why I got it, because you've got to play through injuries and everything else. And I'm competitive; you don't like to see your team go down when you know you can help them."
"Joe is a warrior," said Chapman's Illinois Wolverines AAU coach Ron Newnquist. "He has a work ethic second to none. He refuses to lose and he will do anything in his power to make sure that his team wins. Everyone feeds off of his energy; not everyone can match it, but they really feed off of it. He's all business on the floor."
Chapman's businesslike mentality comes from his younger days in high school, where he was forced to matchup against taller and stronger opponents down low.
"I was a post up man the last couple of years," said Chapman. "It was nice to play down there, but when you're a 6'4" power forward your not going anywhere like that. I moved my game out to the perimeter and that helped my game a little bit. I started to get some more recognition and see a ranking."
Taking the necessary steps during the off-season to make a fluid transition from the 4-5, to the 2-3, Chapman torched the nets to the tune of 50-percent (69-139) shooting from the three-point line, including 20 points, six rebounds and four assists a game.
Another part of his game that he fine-tuned was his first-step. Chapman stated that once he got past his man from the outside, it was elementary from there, with his ability to finish around the hoop--which he still possesses from his days in the post.
"I love playing with him," said AAU teammate and Illinois Wesleyan-bound Adam Dauksas. "He gets to the cup and finishes extremely well. I don't think I've seen anyone who could finish as well as him."
Called the best overall player Bloom coach Gary Meyer has coached in 20 years throughout the district, the praise comes heavy from Meyer.
"He's the hardest working kid we have, which a lot of times is hard to find a kid that is that good that is willing to work that hard," Meyer said. "He's the best kid that I've ever had at both ends of the floor. The thing that makes him so special is that he'll work just as hard at the defensive end as he does on the offensive end. On the offensive end, he's broadened his game. Last year he was more of a post player for us and this year he is more of a wing player and is a legitimate 3-point shooter."
Developing similar respect from coaches throughout his conference, Chapman was named CO-SICA East MVP along with Thornwood's David Moss. With the tie in voting, Chapman and Moss still have some unfinished business despite the completed season.
With regular games held at the Homewood Village Hall Gym with some of the South suburbs' finest on Sunday nights, the CO-MVP's regularly find themselves matched up against one another.
"We'll either always play one-on-one or we'll always stick each other in the games," Chapman said. "We usually split most of them, but we really don't keep count."
Planning to be a Communications and Business major at Marquette with a focus in Math, numbers are always running through Chapman's head and he knows exactly who has the lead.
"I think he might have the upper end," conceded Chapman. "He's got two more games."
Currently only at a self-described 90-percent health wise while improving, coupled with his competitive nature, don't expect the advantage to stay one sided for too long.


Copyright © 1999-2000
High School Elite, All rights reserved.