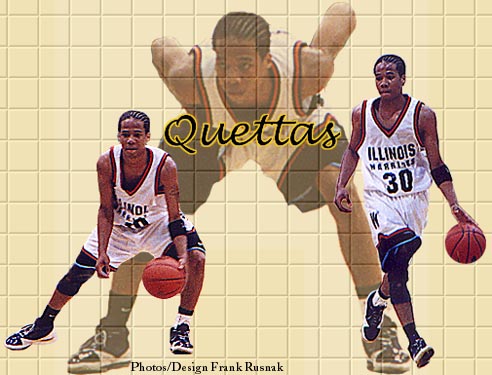 Wisconsin-bound Marcetteaus McGee, nicknamed Quettas (KEE-tus) has been wearing
a pair of shorts underneath his game shorts since he was in grammar school.
McGee to Wisconsin
By Frank Rusnak
He's a high-profile guard from the inner-city and he hasn't signed yet, so the reason he didn't sign is because of his poor academics. Oh, how little you know.
---
"I was like JuCo's, why are they sending me letters? I passed the ACT last year and my GPA is 3.2."
Marcetteaus McGee
Farragut High School
---
Farragut's 6'1" point guard Marcetteaus McGee has finally decided on his destination after high school, and no, it's not a junior college or prep school.
The three-year varsity player will attend Wisconsin next year and don't even think that he'll have to sit out his first year because he's only a partial qualifier.
"All year guys kept thinking that he hadn't signed because he hadn't qualified," said Farragut coach William "Wolf" Nelson. "No, no, no, I'd say; he hasn't signed because he hasn't decided yet."
Having a solid junior year, an eye-opening summer and steady senior year, the skills have never been in doubt regarding McGee. Averaging 15 points, six rebounds, five assists and three steals a game this past season while helping the Admirals to the city title game and an overall 22-10 record, McGee was the object of desire for many colleges. But while qualifying academically for D1 as a junior, the interest from lesser scholastic institutions would strike up expected question marks.
"I was like JuCo's, why are they sending me letters?" McGee recalled. "I passed the ACT last year and my GPA is 3.2. They were stereotyping; thinking because I was a Farragut athlete and because I didn't commit I didn't have the grades, but it was just because I didn't know where to go. It was like everyone's committing to their colleges and I'm still undecided, but I guess it paid off because I'm in the Big Ten now."
Choosing Wisconsin over Marquette and UIC, McGee is happy to be able to team with what has developed into a close friendship with already committed Badger, Alando Tucker from Lockport Township.
First meeting each other in May at a tournament in Minnesota where they were both playing for the Illinois Warriors, their relationship grew steadily. Taking a visit to Wisconsin this past weekend, McGee was looking for a companion to go with him.
"I liked Alando's game ever since I first saw him play," McGee said. "Then, we both happened to be on the [Wendy's All-Star Shootout] together. He told me to go down for a visit, so I told him to come down with me. We had a real good time, it was real fun and I know I'll enjoy myself there." (Note: After they arrived back from Wisconsin, Tucker and McGee headed for their practice for the Wendy's game in which Tucker broke his hand and now won't be able to participate in the game.)
When meeting head Wisconsin coach Bo Ryan on his visit, McGee was asked where he saw himself for the next few years of his life.
"Then Coach Ryan said the offer was on the table and I told him that I already told Alando that if you were going to offer me that I was going to commit."
McGee is also happy with his selection of Wisconsin, as it will allow him to stay close to home and spend time with his soon to be baby daughter. He boasts proudly of his baby, due in two weeks, who will most likely be named Aniyah.
"I love her and I don't care who knows," said McGee. "I would never deny my baby."
Obviously mature beyond his years in the classroom and off the court, his days with basketball started strong as well.
As a sophomore, he was one of three sophomore guards playing on varsity at Farragut. Senior Elliott Poole was already on varsity at the time -- Poole is currently deciding between UIC and UConn to Prop 48 at while leaning towards the Flames. Along with 6'1" Jason Smith and 6'2" Courtney McGarry, McGee was trying to find his niche with the elder-statesmen of the team. While McGarry was the quickest to make a statement, named as a starter, it was McGee who continued to elevate his game to greater lengths.
"When he came in, he couldn't even shoot the ball and I had to teach him basically how to run the point," said Nelson, remembering a not so glorious beginning for McGee. "But everything that the other guys wouldn't do, he would do it. He actually made guys quit because there were people that were playing that weren't getting the job done and he was. And Marcetteaus was a sophomore and listening and doing everything that I asked him to do and then some."
Making his presence felt early, it was Farragut's first game against a Red West foe, when they met with Austin during McGee's sophomore year. Although he totaled only a single free-throw throughout the game, he was not to be denied as he drilled a last second, game-winning three-pointer, to give him his only field goal in the game. With that being a small glimpse of what he was capable of, McGee did not show many more of those signs in his second year, but as a junior he took advantage of an open opportunity.
At the famed Proviso West Holiday Tournament, the more pubbed McGarry was out with the flu, when McGee made his public debut.
"My junior year really started at the Proviso West tournament," said McGee. "Courtney had the flu, so he wasn't on top of his game, so I felt I had to step it up. Once I stepped it up, my confidence stayed high ever since then."
But don't get it twisted, Nelson, who is also McGee's College Algebra teacher (McGee is getting a B in the class), feels that he ranks as one of the best guards that he's had basketball-wise, but his commitment in the classroom is what elevates his status even more.
"He is, without question, the first guard that I've had since Ronnie Fields [Chicago high school legend) that took me to this point," Nelson said. "To be the academic player that he is, he's by far the best student-athlete that we've had."
...Something that is to be taken into thought today, the first day of the Spring Signing Period, when McGee signs on the dotted line today, as a full qualifier.


Copyright © 1999-2000
High School Elite, All rights reserved.