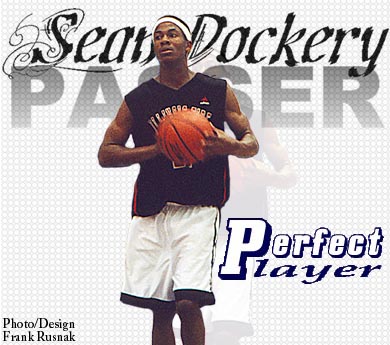 Julian's Sean Dockery can find an open man like no other.
In constructing the Perfect Player, you look for many attributes to make that player superior to others. You need him to be a good scorer, rebounder, passer, ball-handler, shooter, tough on defense, have good athleticism, his leadership abilities have to be second to none and of course he has to have the capabilities to become better with a wealth of potential.

In the next few weeks High School Elite will be taking a look at some of Illinois' top seniors in those particular categories and what makes those players so elite in their own way. Note: Any one player will not be named as tops in more than one category.
Perfect Player: Passing
By Frank Rusnak
It's not necessarily about being completely unselfish or giving more assists then the boy scouts. This is about making your scrub teammates look like superstars with pinpoint passes that even surprise them. This is about making the crowd stand up even if the receiver of the "ohhh" pass fails to convert. There are many good passers in the state this year, but one stands out above the rest.
The difference between Julian's Sean Dockery and others is simply indescribable. While some are known to drop a nice dime every now and again, the situation doesn't matter for Doc. He can thread a needle better then the best seamstress, drop dimes better than any banker or dish better then world famous chiefs. Between the opponents legs, around his back, over the shoulder, its all made to look so simple, yet each results with the same outcome of another completed pass brought to you by Doc.
The state's top passers

| | | | |
| --- | --- | --- | --- |
| 5'10" Chris Mroz - St. Patrick | 6'0" Jawan Stalling - Hales Franciscan | 6'1" Luke Rogers - Von Steuben | 6'4" Adam Dauksas - Homewood-Flossmoor |
| 5'11" Branden Dillard - Joliet Township | 6'0" John Pugliese - Neuqua Valley | 6'3" Joe Cortez - Lisle | 6'4" Dana Ford - Tamms |
| 6'0" Dee Brown - Proviso East | 6'0" Nathan Koster - Lewistown | 6'3" Dan Walser - Wheaton North | 6'7" Kellen Easley - Joliet Township |


Copyright © 1999-2000
High School Elite, All rights reserved.