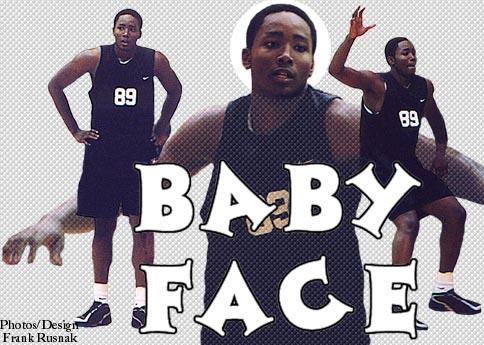 Originally committed to Ohio State, after a change of plans, Dunbar's Aaron Spears
will stay in the Big Ten, but instead will be with Illinois.
Spears signs with Illinois
By Frank Rusnak
Aaron Spears has a face that calls out 'Juvenile,' but his body is definitely that of a man's.
At 6'9" 250-plus pounds and a wing span more fitting of a B52- (7'1"), Spears is a 'project' in basketball terms. Playing ball since sixth grade, he only began to get serious about the game his sophomore year.
---
"I never would have thought that [Aaron] would be a Big Ten player when I first met him when he was a freshman."
Jason Straight
Former Dunbar teammate
---
"I never would have thought that he would be a Big Ten player when I first met him when he was a freshman," said Jason Straight, former Dunbar teammate and Midwestern Collegiate Conference Freshmen of the Year at Wyoming. "He got a lot of coordination over the last year and that big body helps a lot, too."
Improving his game as much as he did on the court, he topped that feat in the classroom, where he is set to qualify academically as a freshman at the University of Illinois, where he signed last week. Originally committing to Ohio State, the Buckeyes backed out on Spears, fearful of his academic standing. But Spears answered the challenge.
"I think the turning point for Aaron was being around so many other good kids; Charley Bass, Ricky Cornett, Mike Hall, Colin Falls and Andre (Iguodala) and talking to them, 'Hey, I got a 28 on my ACT,' or, 'I got a 3.3,' and he was playing serious ball," said Spears' Illinois Warriors AAU coach Larry Butler. "And they teased him a lot about his academics and that was what made him conscientious about that."
With the majority of his AAU teammates qualifying academically, he saw that he could make it, as well.
"He didn't want to leave the city -- he was thinking about going prep school (before his senior year)," said Warriors teammate and Wisconsin signee Marcetteaus McGee. "I said, 'You don't got to go anywhere, just get your grades in order.' Me and him did a lot of hanging out together. We got real close. I'm real happy for him because he used to always doubt himself, but I'd just always encourage him ... 'I know you ain't dumb. You just don't apply yourself. If you do, then everything will come. No teachers will want to fail you, they want you to get the good grades, just apply yourself.' He was real happy when he passed."
Averaging 22 points, 12 rebounds and four blocks a game for an 18-8 Dunbar team this past season, Spears was happy with the outcome of his senior season.
"I set some goals for this year just to prove a lot of things for myself," said Spears. "I wanted to make all-state and make all-city and make my team a winning team. I accomplished a lot of my goals this year."
A big, strong player, Spears has worked on his game enough to hold a variety of low post moves that he combines with soft hands and an even softer touch around the rim. A relentless worker on the low blocks, his conditioning is perhaps the biggest improvement of his game. But there is still much more to come from him at Illinois.
"I just saw that I would have a good chance to start right away at Illinois," said Spears, who's Dunbar coach Fate Michael got a degree from Illinois. "Brian Cook could be Big Ten Player of the Year then with Luther Head and Dee Brown whose Mr. Basketball and everyone else, I just realized how good we could be."
If his improvements throughout high school are indicative of what is to come when he heads off to Illinois in June to commence his collegiate career, opponents of the Illini better be forewarned.
"My sophomore year I started to see my improvements and I started to see how much basketball could do for me and what it did for other players," Spears said. "I always just kept working and working, and I knew if I worked hard enough I could accomplish a lot. The summer time of my junior year it was like a switch came on in my head."
If the switch stay on, the sky is the limit for this baby-faced assassin.


Copyright © 1999-2000
High School Elite, All rights reserved.