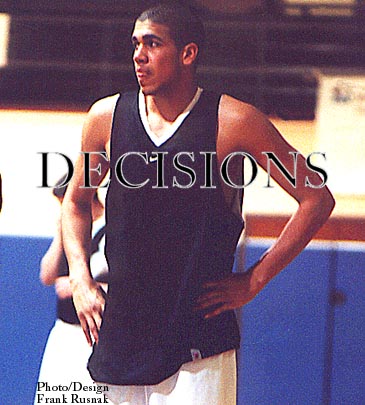 Sometimes life is more about the decisions that you learn off the
court then on it, which Rantoul's Blake Schilb can attest to.
Schilb forced to take a different route
By Frank Rusnak
We are all presented with decisions throughout our lives. It is how we handle those decisions that influences how our life is carried out.
Blake Schilb, a 6'6" three-year varsity starter for Rantoul High School, has made many decisions like any normal 18-year-old.
Picking UCLA to advance far in the NCAA tournament could be described as a good decision for Schilb, as the No. 8 seeded Bruins knocked off No. 1 seeded Cincinnati to advance to the Sweet 16.
---
"My mom was just very disappointed in me and was just very depressed. That's more hurtful than any kind of punishment."
Blake Schilb
Rantoul High School
---
His decision making this past year during real life situations, however, didn't equal the same status.
On Nov. 5th he was caught violating team policy while at a party on the weekend.
"I thought it was the end and that I was done for basketball until after high school," said Schilb.
Only stuck with a five game suspension (the first five of the season), when Schilb began the season he looked as if he hadn't missed a beat. Averaging 22 points and 11 rebounds in his first six games back, he was torching the nets.
Schilb broke out of his shell at the State Farm Holiday Classic where he went for back to back games of 28 points and 12 rebounds against Springfield Southeast and 31 points and 13 rebounds against Bowling Green Greenwood from Kentucky. Leading his team to the final four of the 16-team field, he was a unanimous first team all-tournament performer, something not even Peoria Notre Dame star junior Brian Randle nor Thornwood's DI players Melvin Buckley (Purdue) or David Moss (Indiana State) could claim.
Everything seemed to be going great for Schilb, it was thought he had learned his lesson, he was riding high and was enticing DI's such as Western Kentucky, South Florida, Illinois State and Southern Illinois who were showing interest.
"I thought that it could never happen again (getting caught) the way things were going," admitted Schilb, who was caught once again for violating team policy just six games after serving his first suspension. "I just wasn't thinking. I knew that basketball was over for this year when I got caught."
Not only was basketball ruined for his senior year, but also opportunities that at one point seemed abundantly available quickly went down the drain.
"I've ruined so many opportunities with the decisions that I've made," said Schilb. "Since I was dropped off the team no one treated me the same. It was like I was treated specially before I got caught, and it was like I was nothing special at all afterwards and they just look at me like some kind of alcoholic.
"My senior year the decisions that I made have been very poor. My mom was just very disappointed in me and was just very depressed. That's more hurtful than any kind of punishment."
Going from major colleges throughout the country having the Schilb household on speed-dial and their mailing address imprinted on dozens of stamped letters, to minimal prep school and junior college interest, times have changed.
He is now looking at Brewster Prep School in New Hampshire and Illinois Central Junior College as possible options.
"I am fortunate enough to get one more chance," said Schilb.
Trying to keep a low profile now on the weekends outside of playing ball and watching movies at his house, he is focused about pursuing his dream, and staying on a straight path.
"I'm really serious about basketball for the next level," he said. "That's my goal and I'd love to do that. Especially so that my mom doesn't have to stress out over money and such. Plus, I would feel like I disappointed her if I didn't keep playing."
With others throughout the state, including a notable forward on Champaign Centennial and a senior guard on Naperville Central, being punished for violating team policy with alcohol, it all comes down to being smart enough to put yourself in positions where situations to screw up won't arise, and if they do, to be prepared in handling yourself accordingly.
"If I could go back, I'd change nothing," Schilb said. "I learned the value of everything and that you shouldn't take advantage of what you have because there's not always another chance, but I am just grateful to have another one. And I hope that others could learn from my situation."


Copyright © 1999-2000
High School Elite, All rights reserved.