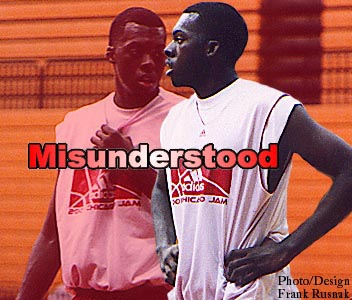 Morgan Park's 6'8" power forward Marcus Arnold will be joining
a stellar recruiting class at Illinois State next year.
Arnold signs with Illinois State
By Frank Rusnak
By looks alone it is understandable for one to be timid or even afraid in the presence of Morgan Park's 6'8" 220 pound Marcus Arnold. But to judge a book by its cover is not always fair.
---
With it being the inaugural year of the High School Elite PEP Fall Classic it was time for me to get my team together. Normally selecting from players that I witnessed throughout the year that I felt were under-hyped, this one individual had a different reason for donning one of my jerseys. While big guys are always at a premium, Marcus Arnold was a one-of-a-kind character with a serenity and refinement like few others. It was after that weekend where Marcus began receiving letters from some of the Midwest's top programs for his breakout performance. --Fall 2000
---
Quieter than a sleeping mime, Arnold carries the same stone-faced impression on his face no matter the situation and definitely isn't one to run off at the mouth.
"Just an excellent kid, great personality and sort of quiet," said Arnold's Illinois Fire AAU coach Mac Irvin. "He's so nice, he listens and he'll do what you ask. Everything I asked from him, he did it for me. So no complaints."
Signing with Illinois State, Arnold puts the cherry on top of one of the state's best mid-major recruiting classes. Along with 6'4" combo guard Dana Ford from Tamms, 6'6" combo forward Chris Burras from Leo and 6'5" shooting guard Neil Plank, originally from Mt. Zion, a transfer from Wisconsin, the Redbirds definitely have corralled a remarkable class.
"I'm really excited," said Arnold. "I think we can come in and do really good, and if we work hard we could get to the (NCAA) tournament after my first year."
Arnold, at one time a sup-par student in the classroom, almost didn't have the option to make the transition from high school to a DI college.
Raising his GPA from what was at one time a 2.1 to a qualifying mark of a 2.6 and his initial ACT try of 16 to an average of 19, Arnold's improvement can only be compared to that of his on-court development.
Not moving up to the varsity team until his junior year, Arnold made a splash when given the opportunity. On a team that would win the City title and grab third place in the state tournament by defeating Lyons Township, Arnold played an integral sixth man role for his Mustangs.
The only non-senior that saw any significant playing time on that crowning 2001 Morgan Park team, Arnold knew that he'd have to raise his level of play his senior year.
Going on to average 23 points, 12 rebounds and three blocks a game, Arnold combined an exceptionally soft shot with a menacing interior game, but was only able to help the Mustangs to a 16-12 mark on the year.
"When we went Downstate that was one of the best times of my life and I really enjoyed it," said Arnold. "I wish we could've went again, but there's a lot of people out there that can't even say they went down once, so that's something that I'm going to remember for the rest of my life."
If Arnold continues the hard work that he has exerted to obtain his current status, there are certain to be more shinning moments in his future. Just don't misunderstand his demeanor from his ultimate goal.
"I just try and be myself," said Arnold. "I'm kind of quiet spoken. I'm not really a loud type of person, that's just how I am. I just try and keep my composure all the time. I know if I get into a confrontation and trash talking and stuff that might take me out of my game and my ultimate goal, which is to win."


Copyright © 1999-2000
High School Elite, All rights reserved.