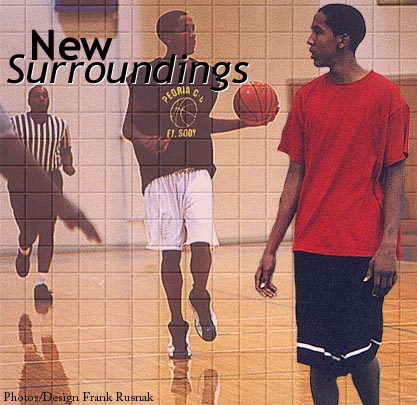 Former Peoria Richwoods prodigy Shaun Livingston
is now attending cross-town rival Peoria Central
New Surroundings
By Frank Rusnak
Peoria Central star junior Dan Ruffin is the catalyst of an above par, and, at best, good backcourt for this coming season. That is until he gets a little help from his friends.
The best player on Peoria Manual, sophomore guard Brandon Lee, will transfer to either Peoria Richwoods or Peoria Central, according to his father, Fred. The best player on Richwoods, sophomore guard Shaun Livingston, enrolled into classes at Central for his first day as a Lion on Tuesday, May 14. With the addition of Livingston, and possibly Lee, the two best guards -- and players -- on two other top Peoria teams, Central is looking like an early favorite to rule the Peoria area.
---
"I wish Shaun well. Sometimes people need a fresh start and that's probably what's best for Shaun."
Bob Darling
Peoria Richwoods Coach
--on Livingston's transfer
---
All friends, Ruffin, Livingston and Lee all attended the same Roosevelt Junior High together.
"We haven't really talked about it, but we all have goals about getting to State," said Livingston. "I know that Ruffin and those guys think they can get out of the Peoria section without me and Brandon, but with us it raises the chances."
Livingston came out of junior high with as much hype as anyone in Peoria did in the last 20 years. However, after two years on the Richwoods varsity that were plagued by pneumonia, a broken pinkie bone on his right foot, a broken right wrist, a pulled tendon in his left leg and an ankle three times sprained, he never got into a serious groove and the mystique died down. But while Livingston would sit on the sidelines, nursing one of his many injuries or illnesses, he waited patiently and took accurate notes of the action taking place, which included the Knights going Downstate his freshman year. Oh yeah, and he grew, and grew.
Now at 6'6", Livingston has started to blossom into a one of the nation's top guards for his class, again. With his game better suited for an And 1 video, Livingston is a Hot Sauced-Headache waiting to happen.
Running the point for his Ft. Sooy No Limit team at the prestigious Spiece AAU tournament in Fort Wayne, IN on May 3-5, Livingston guided his team to the title of the 48-team senior division, defeating Ohio Red in the championship game. Displaying an uncanny ability with the basketball in his hands, Livingston was rewarded with the MVP of the event.
For Livingston, his future at Richwoods was not looking bright, as him and his father, Reggie, saw a change of scenery to be in their best interests.
"I wish Shaun well," said Richwoods coach Bob Darling. "He's a great talent and I'm sure that he's going to reach his highest potential someday. Sometimes people need a fresh start and that's probably what's best for Shaun."
Where Livingston brings flair to the game, Brandon Lee also is a backcourt wizard, but without the mustard on the hotdog. A quick, hard worker, Lee is a silent assassin that will get the job done, proceed off the court in a businesslike manor, and tuck the win quietly in his pocket. Lee averaged 11 points, four rebounds, three assists and two steals a game this past year as a sophomore starter on Manual's varsity team.
"The plans have been in the works for us moving," said Fred Lee, whose been at Manual since 1994 as an assistant varsity and head sophomore coach. "I'm completing my masters degree, so I'll probably take a year or so off from coaching and I'm planning on moving anyway. I'm looking in the vicinity of Central and Richwoods. If something pops up before the school year ends, then we'll take it. But we probably won't move until the summer."
With a possible reunion in-store at what is called "the oldest high school in Illinois," Lions' fans will instead be looking forward, not back, at the bright future that lies ahead.


Copyright © 1999-2000
High School Elite, All rights reserved.