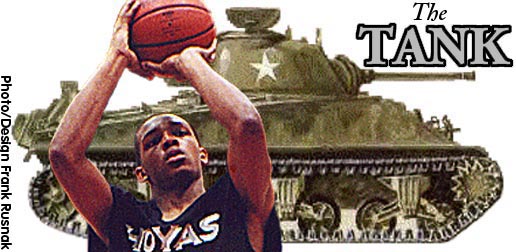 Stevenson's Reuben Trotter combines the power and drive of a tank to dominate his opponents.
All in the family
By Frank Rusnak
With a working knowledge between them on the basketball court and inseparable off the court, Stevenson's Reuben Trotter and Greg Zimny are so tight they consider themselves both best friends and brothers.
Averaging 16 points and 12 rebounds a game this past season for Stevenson, the 6'4" 210-pound Trotter possess the explosiveness to go over and the power to go through whatever the opposition throws at him. Headed to Lincoln (IL) Junior College next year, he hopes to emphasize his combo forward skills to the smaller version.
---
"One thing led to another and his mom agreed that it might be best if he moved out with us and I agreed to make it happen."
Jack Zimny
--on taking Reuben into their family.
---
Starting out his high school career on the Westside of Chicago, the story of how Reuben ended up for the past three years in the vastly different surroundings of the affluent north suburbs is a case of both friendship and love.
Enrolled at Manley High School, Trotter made the jump to the varsity as a freshman. Along with him, the only other underclassman on the varsity was current University of Illinois guard Luther Head.
"It was a good year because I got to play with Luther that year," said Reuben. "The only bad thing was that we weren't very good."
The next year, Reuben would find himself in totally different surroundings. But the road to those surroundings was paved all the way back in grade school.
"My eighth grade coach used to bring a bunch of inner city kids to play for North Shore Express (AAU team) and than Greg asked me to play for his Dad's team," said Reuben.
Greg's father, Jack, ran the Central Hoyas which was based out of the North suburbs. While the Hoyas and North Shore teamed for several tournaments throughout the summer, that is where the friendship between Reuben and Greg was birthed.
"We were at an AAU game and Reuben needed an ankle brace, so he asked me and I gave it to him," said Greg, a 6'0" 165 pound flame-throwing guard. "From then on, we just started talking and became friends."
Growing closer and closer with each game they played together over the summer, Greg eventually asked Reuben to stay the night at his house. With Reuben loving it at the Zimny's, and, even more so, the Zimny's loving it when Reuben was over, his visits came more frequently.
"After the first weekend with us, then it started to be almost every weekend after that," said Jack Zimny, an accountant for a real estate group.
Hanging out with Greg, meeting his friends, being introduced to the teachers at Stevenson, Reuben began to feel like Lincolnshire was not like a second home, but where he should be. With the Zimny's talking about bringing Reuben into their house full time and having him live with them, it almost came to fruition before Reuben started high school. Instead, he went to Manley as originally planned and continued staying with his mother in the city. While his basketball career got off to an above par start, teamed with talented teammates and a beginning on varsity, his academics and off the court situation wasn't what Reuben, or the Zimny's, hoped for.
"He did OK out there, but grade-wise he messed up," noted Jack Zimny. "Unfortunately, he probably had too good of a time."
Continuing to spend an abundant amount of time with the Zimny's, Reuben was practically living there, holding residency there.
While Jack and Greg would pick Reuben up on Fridays right after school, they wouldn't bring him back until later in the evening on Sunday. And with Reuben and Greg's first years of high school over with, it was time for Reuben to spend a second summer in a row at the Zimny's.
"Literally, he'd be over every weekend, then it came down to driving him home, and he spent the whole summer," said Jack Zimny. "One thing led to another and his mom agreed that it might be best if he moved out with us and I agreed to make it happen. We'd take him to play ball, introduce him to people, go to Great America, go to family birthday parties, and do all the things that regular kids do. He got to know a lot of Greg's friends. By that time that he actually enrolled into Stevenson, it was relatively easy. He already knew a lot of people within the school. When he walked in, he wasn't a stranger."
Having played spring-league basketball with Stevenson prior to enrolling there, he began to feel accustomed to the school and looked forward to his first season on the team. However, the IHSA "came down on a real tough ruling," according to Jack Zimny, and didn't allow him to play his sophomore year.
Greg, however, was picking up the slack left by Reuben's absence. The Stevenson varsity started off the year 3-7, then went on an 11-game winning streak after they brought Greg up from the sophomore team.
While Greg was getting it done on the court, Reuben was excelling in the classroom under a different structure.
"It was tough at first," he said about his transfer. "That's a big adjustment I had to make, but I think it had helped me out a lot. Academically, I went from mostly D's to now B's. The classes are harder, but I also get more help when I need to."
Throughout the summers, Reuben and Greg continued to play with the Hoyas, who also featured Southern Illinois signee Tony Young (Schaumburg) and Bradley signee Joey Paul (Highland Park).
Greg was able to get his shot to go Division One as well, at the AAU Nationals in Orlando, Florida during this past summer.
In the Hoyas' first game of the tournament, Greg rang off 24 points and 10 assists, but that wasn't what caught Stamford University's eye.
"I hit 25 threes in a row during half time of that game," remembers Greg, who averaged 17 points and five assists this past year for a 19-9 Stevenson team. "That's what really impressed them."
After Samford came to Stevenson for a school visit and Greg visited the school, he signed on November 15.
"Samford led the nation in threes two years ago, so I think I should fit in pretty good there," he said. "They run the Princeton-style of offense with no set positions and a lot of backdoor cuts and handoffs. They basically either shoot a three or a lay-up."
Reuben almost went Division One, also, with several in-state schools such as Loyola and Northern Illinois inquiring. However, his poor academics from Manley came back to haunt him, which will send him the junior college route, which he then hopes to take to a Division One university.
With both players set for college, there is no telling what is in store for the Zimny's and Reuben. But one thing will always stay the same: they will always stick together as family.
"Pretty instantly he became part of the family and we consider him a son," said Jack Zimny. "We pretty much are Rueben's family for life now, it's not just a three year visit."


Copyright © 1999-2000
High School Elite, All rights reserved.