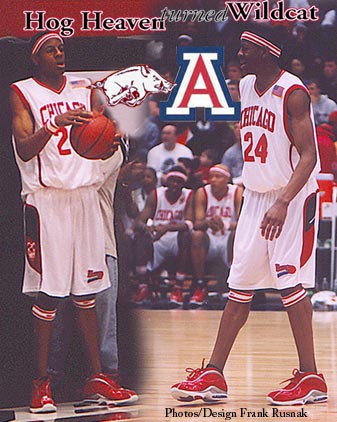 Originally headed to Arkansas, Andre Iguodala has since
backed out of his commitment and signed with Arizona.
Iguodala OKed for next year
By Frank Rusnak
After the season Springfield Lanphier's Andre Iguodala had planned on competing in track and field and bettering his third place state finish in the high jump last year. But his whole schedule has changed since he committed to the Arizona Wildcats.
---
"I want to hear Dick Vitale say he's a PTPer."
Andre Iguodala
Springfield Lanphier High School
---
A 6'7" swingman Iguodala signed with Arkansas in early November after he fell in love with Razorback Coach Nolan Richardson and the style of play he implied. Iguodala then went on to lead his team to the state finals in March where they fell to Westinghouse. After finding out Nolan had his contract bought out at Arkansas, Iguodala hurried to try and get out of his binding letter of commitment.
Being granted his dismissal from Arkansas, he then opened his recruiting back up to such programs as Georgia Tech, Kansas and Maryland. But deep in his heart he already knew where he wanted to go.
"Arizona was in my top three before, but I knew that's where I wanted to go after Nolan left," Iguodala said. "I just said I was considering other schools because I didn't want to close everyone out."
A friendship between Iguodala and McDonald's All-American and fellow Arizona-bound player Hassan Adams also made his decision much easier to go with the Wildcats. Rooming with Adams, a Southern California-native, at the Nike All-American Camp and teaming on his five-on-five team, the two developed a close friendship.
Along with Adams coming in, Arizona is expected to return its entire starting lineup which made Iguodala decide to have a change of plans with his summer schedule. While he did have revenge on his mind in the high-jump, he knew that if he dispersed his time between two sports now, he wouldn't be at the level he hoped for when he arrived at Arizona.
"I was going to do track, but they are going to be loaded at Arizona so I figure I don't want to ride the bench, so I've got to be ready," he said. "After the first track meet (at Proviso West) I pretty much decided since (Jason) Gardner was coming back I mine as well work on my game and get ready."
Leaving for Arizona in July to take summer classes and get ready for his freshmen year, Iguodala is still was optimistically waiting on word from the National Letter of Intent Committee until this past week (5/21/02) when he found out that he was released, and will be able to play as a freshman.
Now, he's ready to set the NCAA on fire and show the nation that it was a mistake to overlook this 6'7" swingman who now holds a chip on his shoulder.
"When season comes I want to be known as the Freshman Defensive Player of the Year and go after anyone," stated Iguodala. "I want to hear Dick Vitale say he's a PTP'er."
You can almost hear the words protruding through Vitale's lips now.


Copyright © 1999-2000
High School Elite, All rights reserved.