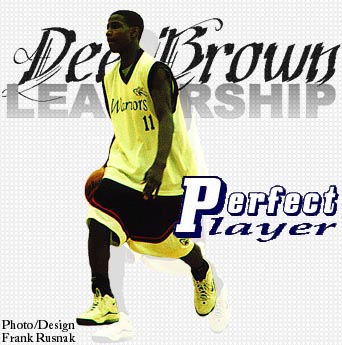 Proviso East's Dee Brown is a constant jabber-mouth in
directing his players where to be and guide his team to victory.
In constructing the Perfect Player, you look for many attributes to make that player superior to others. You need him to be a good scorer, rebounder, passer, ball-handler, shooter, tough on defense, have good athleticism, his leadership abilities have to be second to none and of course he has to have the capabilities to become better with a wealth of potential.

In the next few weeks High School Elite will be taking a look at some of Illinois' top seniors in those particular categories and what it is that makes those players so elite in their own way. Note: Any one player will not be named as tops in more then one category.
Perfect Player: Leadership
By Frank Rusnak
Being a leader is taking your team under your arms and directing them to where they should be. A good general of a team has the respect of his teammates and doesn't abuse that respect. Among the state's top leaders, most were of winning teams, and that is no coincidence.
For guys like Adam Dauksas of Homewood-Flossmoor, Tim Brasic of Riverside-Brookfield and Justin Wilson of Sycamore, they provided the team with whatever was needed at that particular instance. All able to run the point guard position, they would get the team involved, pick up a teammate down on himself or be the go to guy and generate points by themselves.
Elliott Poole of Farragut nearly carried his team to a city title, before Darius Glover of Westinghouse willed his team to victory and a state championship. Jay McAdams-Thornton from Moline and Joe Brownfield of Pekin both had the respect of all their teammates from their wealth of experience on the varsity and already went through the trenches of tough situations.
Then there were players such as David Moss from Thornwood and Jeremy Massingale of Thornridge who laid all they had out on the floor every game and their teammates realized that and fed off of it, as they displayed quiet leadership abilities.
The state's top leader, however, did not solely lead by example. Proviso East's Dee Brown did the intangibles and gave 100 percent every time he took the floor, but he also led vocally. A four-year starter and the captain of the Pirates, Dee was not afraid to get in one of his players' faces or tell them what he expected out of them. Headed to the University of Illinois next year, Brown will look to jump right into the Illini's rotation, but should we expect quiet freshman tendencies from Dee next year as a rookie. Not if you know him well enough.

The state's top leaders

| | | | |
| --- | --- | --- | --- |
| 5'11" Steve Harris - Rockford Boylan | 6'2" Nick Reineck - Rochelle | 6'4" Jeremy Massingale - Thornridge | 6'4" Joe Chapman - Bloom Township |
| 6'1" Tim Brasic - Riverside-Brookfield | 6'2" James Romey - New Trier | 6'4" David Moss - Thornwood | 6'4" Jay McAdams-Thornton - Moline |
| 6'1" Joe Brownfield - Pekin | 6'3" Adam Dauksas - Homewood-Flossmoor | 6'4" Justin Wilson - Sycamore | 6'6" Chris Burras - Leo |
| 6'1" Derrick Clanton - Waubonsie Valley | 6'3" Joey Paul - Highland Park | 6'4" Darius Glover - Westinghouse | 6'6" Elliott Poole - Farragut |


Copyright © 1999-2000
High School Elite, All rights reserved.