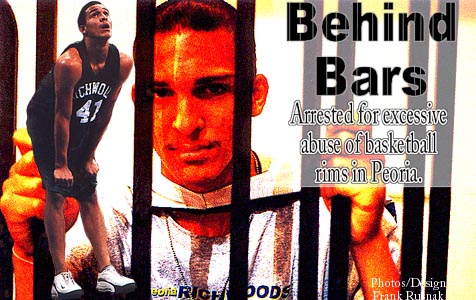 A supreme athlete, and ferocious attacker of the rim, Robert Faulkner
will join former Richwoods teammate Marcus Jackson at South Plains next year.
Faulkner to JuCo
By Frank Rusnak
Robert Faulkner doesn't believe in lay-ups. And, really, there isn't much reason for the wiry 6'7" Peoria Richwoods star to; not when he can dunk better than the most avid Krispy Kreme downer.
"If I see an opening to the rim, I'm going to dunk it," said Faulkner, who decided he will attend South Plains (TX) Junior College next year. "There shouldn't be any lay-ups."
---
"If I see an opening to the rim, I'm going to dunk it. There shouldn't be any lay-ups."
Robert Faulkner
Peoria Richwoods High School
---
Faulkner's game, however, went beyond the crowd-pleasing throw-down this past season. He garnered second team High School Elite All-State honors while averaging 17 points and 10 rebounds a game for a 22-5 team. With such a successful culmination to his high school basketball career, his senior year for the Knights almost did not transpire.
While Faulkner admittedly was involved with the wrong crowds in his days at Richwoods and got into his share of trouble, butting heads with Knights' coach Bob Darling was only natural.
"When he came to high school, you'd probably think he'd never make it through high school with the demands that the basketball program puts on you," said Darling.
"Towards the end of my junior year, me and Coach Darling didn't have a good relationship," added Faulkner. "Then, I stopped going to open gyms, and then I stopped going period."
Missing all of the summer tournaments that Richwoods participated in, word was starting to spread that Faulkner wasn't coming back. And he certainly didn't have a reuniting with the team planned in his head. But things changed when Lilly Faulkner, Robert's foster-mother, intervened on his decision making.
"I wasn't going to come back, I was just going to play AAU then I was going to be done with basketball," remembered Robert, whose last name was Turner prior to the adoption. "[Lilly Faulkner] said either play or get out. She didn't want to see me go down the wrong route and she just wanted to see me do better than what I was doing."
Heeding Lilly's advice, Robert is grateful for that and many other things that she has provided him. Adopted about a year ago, Robert and Corey Faulkner, Robert's 16-year-old brother who was also adopted around the same time, are happy for the stability that Lilly has provided.
"He'd been a foster kid all his life and he's been bounced around a little bit as a kid," said Darling
Living with Lilly for about the past eight years, it was made official for her to be Robert and Corey's mom last May.
"I was just happy to get out of the system and have a little family," said Robert. "She treats me like I'm her son, and I'd thank her for a lot that she's done for me."
After Lilly's persistence to get Robert to apologize to Coach Darling and rejoin the team, Robert was more than willing.
"I wanted to go back, but I just needed a little push," admitted the recently turned 18-year-old Robert.
After missing several open gyms as punishment, Robert was set to be reunited with his former teammates by the time preseason conditioning came around.
"The first day of conditioning I just decided to go in there with a good attitude and get done what I had to do," said Robert. "It was the best year for me there. It was fun; I got to lead the team. I really stepped up my game a lot and got back on the right track."
Looking to stay on the right track at South Plains, Robert will have a good friend and former teammate in 2001 Richwoods-graduate Marcus Jackson waiting for him at the Texas Junior College.
In Jackson's freshman year as a Texan, the 6'8" combo forward averaged 10 points and seven rebounds a game, while peaking the interest of several high-major colleges.
"Me and Marcus are good friends, we talked a lot at Richwoods," said Faulkner. "Me and him both were the big men so we had our own special relationship. I spoke with him and he told me it was real cool down there, and then I knew I was going to go there."
With a summer of hoops still left for Robert, which he looks to play in the Hersey Hawkins League at Carver Park with Marcus, every step in the right direction, is a step that a lot of people doubted he would take.
"Robert has come a long way," added Darling. "He struggled through it, but he continued to grow and he's proved to people that he's done something that a lot of people didn't think he could do. He's come a long way but still got a ways to go."


Copyright © 1999-2000
High School Elite, All rights reserved.