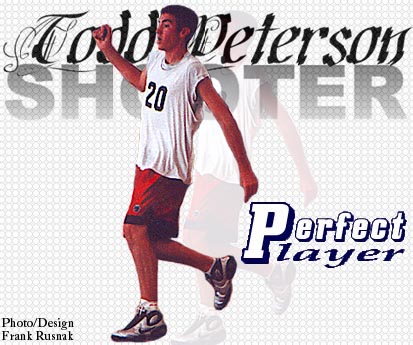 Pekin's Todd Peterson has more range than a satellite dish on his shot.
In constructing the Perfect Player, you look for many attributes to make that player superior to others. You need him to be a good scorer, rebounder, passer, ball-handler, shooter, tough on defense, have good athleticism, his leadership abilities have to be second to none and of course he has to have the capabilities to become better with a wealth of potential.

In the next few weeks High School Elite will be taking a look at some of Illinois' top seniors in those particular categories and what it is that makes those players so elite in their own way. Note: Any one player will not be named as tops in more then one category.
Perfect Player: Shooting
By Frank Rusnak
Being a good shooter is not about being able to catch fire every once in a while and run off a couple three-pointers here and there. Being a real shooter is having marksman like accuracy and more range than a satellite dish.
Illinois has produced a heavy crop of great shooters this year from throughout the state. There is Jamaal Brown who helped lead Chicago Westinghouse to the Class AA state title and is able to catch fire in the blink of an eye, as he did in the Wendy's All-Star Shootout running off four consecutive three-pointers to help lead Team Chicago to victory.
Of course there's Downstate gunner, Justin Shrake from Pana who broke almost all of his school's shooting and scoring records and several IHSA state tournament marks. Rick Harrigan from Brother Rice was touted as the best shooter who came through a school known for producing some of the state's best in the long-range category. He was also awarded with the Lawless Award, honoring the top Chicago Catholic League player. And of course Jim Maley from Lyons Township has a torch capable of running the scoreboard up from anywhere on the court, but there is one that has a slight advantage over the others when it comes to a shooter supreme.
Don't let the fact that his shot wasn't utilized as much as it could've been fool you. Don't let his height at 6'8" be a deterrent from his smooth-as-silk stroke. And don't let his ability and willingness -- for the betterment of the team -- to venture into the post make you think any less of his long range abilities.
Todd Peterson was put into an awkward situation this year when his Pekin team, deep with guards, lost its starting center Matt Hagen to injury. While he was asked to make a new home in the painted area, Peterson didn't lose touch of his on-target shot with range that needed to be respected once he stepped foot in the gym. One, two, five, 10 feet away from the three-point arc; doesn't matter to Peterson as he had a green light anywhere on the court. Headed to Northern Illinois University, Peterson will be able to utilize his perimeter abilities more to his liking next year.
The state's top shooters

| | | | |
| --- | --- | --- | --- |
| 5'10" Jamaal Brown - Westinghouse | 6'1" Lance Marcum - Centralia | 6'3" Justin Shrake - Pana | 6'4" Ted Rosinski - New Trier |
| 5'11" Anthony Mastronzi - Bartlett | 6'1" Courtney McGarry - Farragut | 6'3" Rick Harrigan - Brother Rice | 6'5" Joe Chapman - Bloom Township |
| 5'11" Matt Neaville - Urbana | 6'1" Anthony Beaird - Moline | 6'3" Troy Watson - Homewood-Flossmooor | 6'5" Jason Guyette - Freeburg |
| 6'0" Greg Zimny - Stevenson | 6'1" Dave Gershenzon - Glenbrook South | 6'3" Michael Lang - Gordon Tech | 6'5" Keelan Amelianovich - Neuqua Valley |
| 6'0" Mitch Gilfillan - Peoria Notre Dame | 6'1" Emmanuel Ford - Providence St. Mel | 6'3" Matt Kuhns - Mahomet-Seymour | 6'6" Benyamin Robinson - DuSable |
| 6'0" Dee Brown - Proviso East | 6'2" Greg Klos - Glenbard North | 6'4" Bryan Smaha - Maine South | 6'7" Jim Maley - Lyons Township |
| 6'0" Jawan Stallings - Hales Franciscan | 6'2" Nick Reineck - Rochelle | 6'4" David Moss - Thornwood | 6'7" Melvin Buckley - Thornwood |
| 6'1" David Harper - Manley | 6'3" Mike McGraw - Litchfield | 6'4" Logan Glossor - Mt. Zion | 6'8" Marcus Arnold - Morgan Park |


Copyright © 1999-2000
High School Elite, All rights reserved.