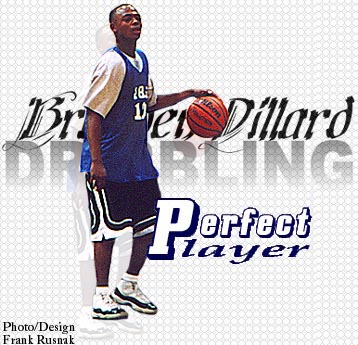 Branden Dillard has an unparalleled dribbling ability
that he has honed since he was younger.
In constructing the Perfect Player, you look for many attributes to make that player superior to others. You need him to be a good scorer, rebounder, passer, ball-handler, shooter, tough on defense, have good athleticism, his leadership abilities have to be second to none and of course he has to have the capabilities to become better with a wealth of potential.

In the next few weeks High School Elite will be taking a look at some of Illinois' top seniors in those particular categories and what it is that makes those players so elite in their own way. Note: Any one player will not be named as tops in more then one category.
Perfect Player: Dribbling
By Frank Rusnak
A supreme dribbler is always something that any casual fan can appreciate. Watching a good dribbler in action is poetry in motion, with the ball seemingly attached to the player's hand by a string, obediently staying by it's owners side with every intricate cut and turn. Making a defender look silly or creating a basket opportunity for themselves or a teammate are things that players with great handles can do with ease.
Players that have developed reputations with the rock in their hands are guys like Luke "The Juke" Rogers from Von Steuben, who makes the Northsiders do splits before catching up to the quick-as-a-blink pg. Chris "The Wizard of" Mroz is always capable of making fellow Catholic Leaguers look senseless in their ill-attempted efforts of containing the smooth guard. Dee Brown "The one man fastbreak" is nationally known for his dribbling exploits and ability to break down his opponents out of Proviso East. Shawn "Silver-quick" Stokes has hands that work in overdrive, making the ball nothing but a blur going between his legs, around his back and past defenders.
But there is one that stands out amongst this group as having a superior handle. Branden Dillard began making his reputation at Downers Grove South. He torched the nets using his blinding speed and wizardry handle. Then, moving onto Joliet Township for his senior year, the 5'10" point guard was put into a system where the rest of his team could (come close to) keeping up with him and his fastbreak antics. Sharpening his skills with the ball as a youngster walking around the block with the ball, Branden his fine-tuned his game to the point where he can pull an And-1 move off during the midst of a game while being tightly defended. Taking his game to Highland Junior College in Freeport, IL, Branden will be sure to make many defenders look hapless when he arrives there this Fall.
The state's top dribblers

| | | | |
| --- | --- | --- | --- |
| 5'7" Mychal Wilson - Julian | 5'11" Al Stewart - Manley | 5'11" Mitch Gilfillan - Peoria Notre Dame | 6'3" Sean Dockery - Julian |
| 5'8" Adam Teising - Naperville Central | 5'11" Dominique White - Urbana | 6'0" Dee Brown - Proviso East | 6'3" Adam Dauksas - Homewood-Flossmoor |
| 5'10" Shawn Stokes - Thornton | 5'11" Aaron Wellington - De La Salle | 6'1" Luke Rogers - Von Steuben | 6'3" Joe Cortez - Lisle |
| 5'10" Chris Mroz - St. Patrick | 5'11" Anthony Mastronzi - Bartlett | 6'1" Jibril Hodges - Rich East | 6'7" Andre Iguodala - Springfield Lanphier |


Copyright © 1999-2000
High School Elite, All rights reserved.