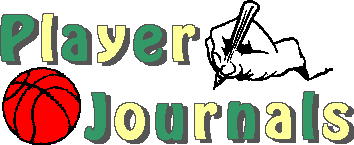 Player Journals is a section of High School Elite dedicated to telling you how it is straight from the players themselves. Each year High School Elite selects one of the state's top rising seniors from Illinois' Class A and from Illinois' Class AA that represents Illinois proudly on and off the court. In addition, players that feel comfortable writing and expressing themselves on a venue such as High School Elite is another characteristic that is imperative. Going into its fifth year of existence, the success and progress of High School Elite's Player Journals has been immense. The summer of 2003 we are expanded to the female game with a truly special player in Naperville Central's Candace Parker who'll be the best women's player ever before it's all said and done.
Good luck to everyone this season.
See you on the court!
-Frank


Rankings | Teams | Archives
H.S. Elite Forum | Contact | H.S. Elite PJ's
Copyright © 1999-2000
High School Elite, All rights reserved.